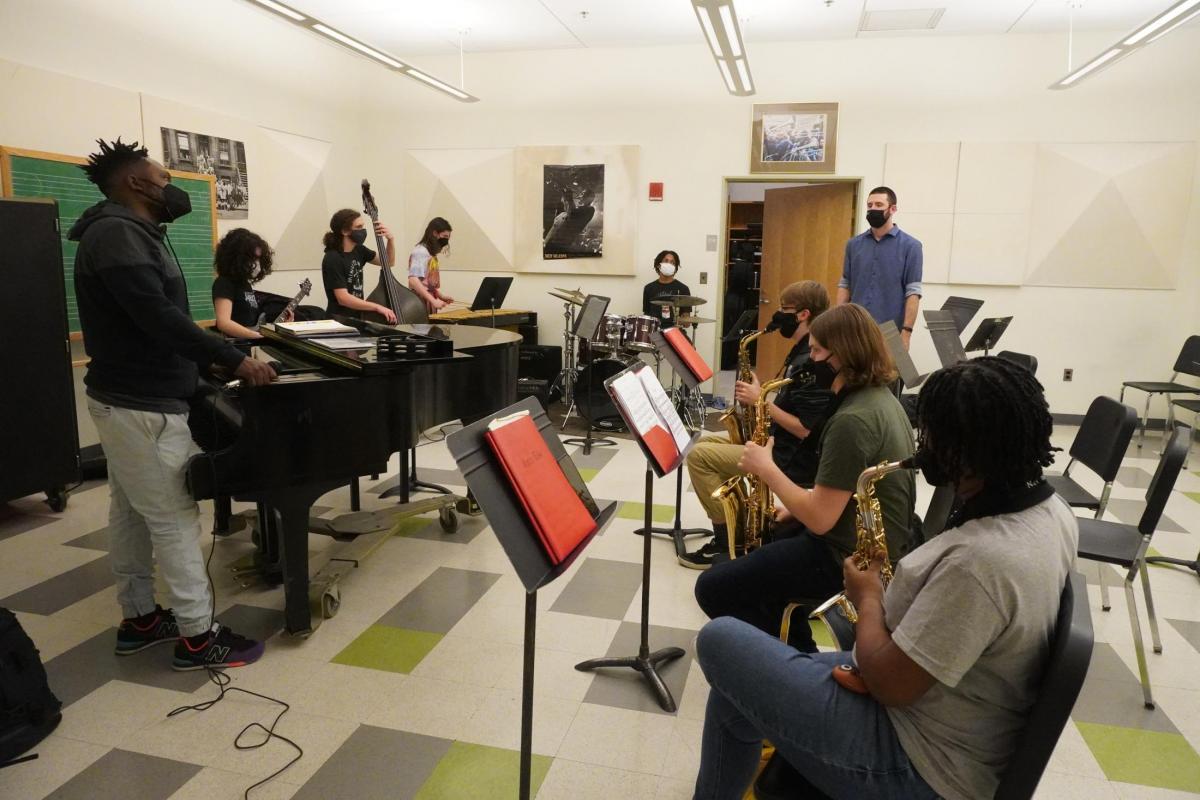 —Courtesy of Baltimore School for the Arts
It's a cold and drizzly February afternoon. Mt. Vernon is particularly quiet. But on 712 Cathedral Street, inside the Baltimore School for the Arts' historic Mark K. Joseph building, echoes of creation can be heard in the main entryway, adjacent to the Tupac Amaru Shakur Theater.
We climb a winding staircase near the lobby, and follow the sounds of an orchestra until we reach the Aaron and Lillie Straus Foundation Recital Hall, where Mark Hardy's students have been working on a Stephen Sondheim medley. In two weeks, their tribute to the recently departed music giant will debut before an audience, marking the return of a beloved springtime tradition at the public arts high school.
Last year, it went virtual in light of the pandemic. But on March 3, Expressions, BSA's beloved annual fundraiser and gala which highlights the accomplishments of students in a series of elaborate performances, is set to make a comeback in the high school's Schaefer Ballroom. With three performances on March 3, 5, and 6, Expressions will be on view both in-person (masked at 50 percent capacity) and virtually via livestream. (Those interested in tuning in from home can purchase a "party pack" that includes tote bags with student artwork and a package of Fisher's popcorn.)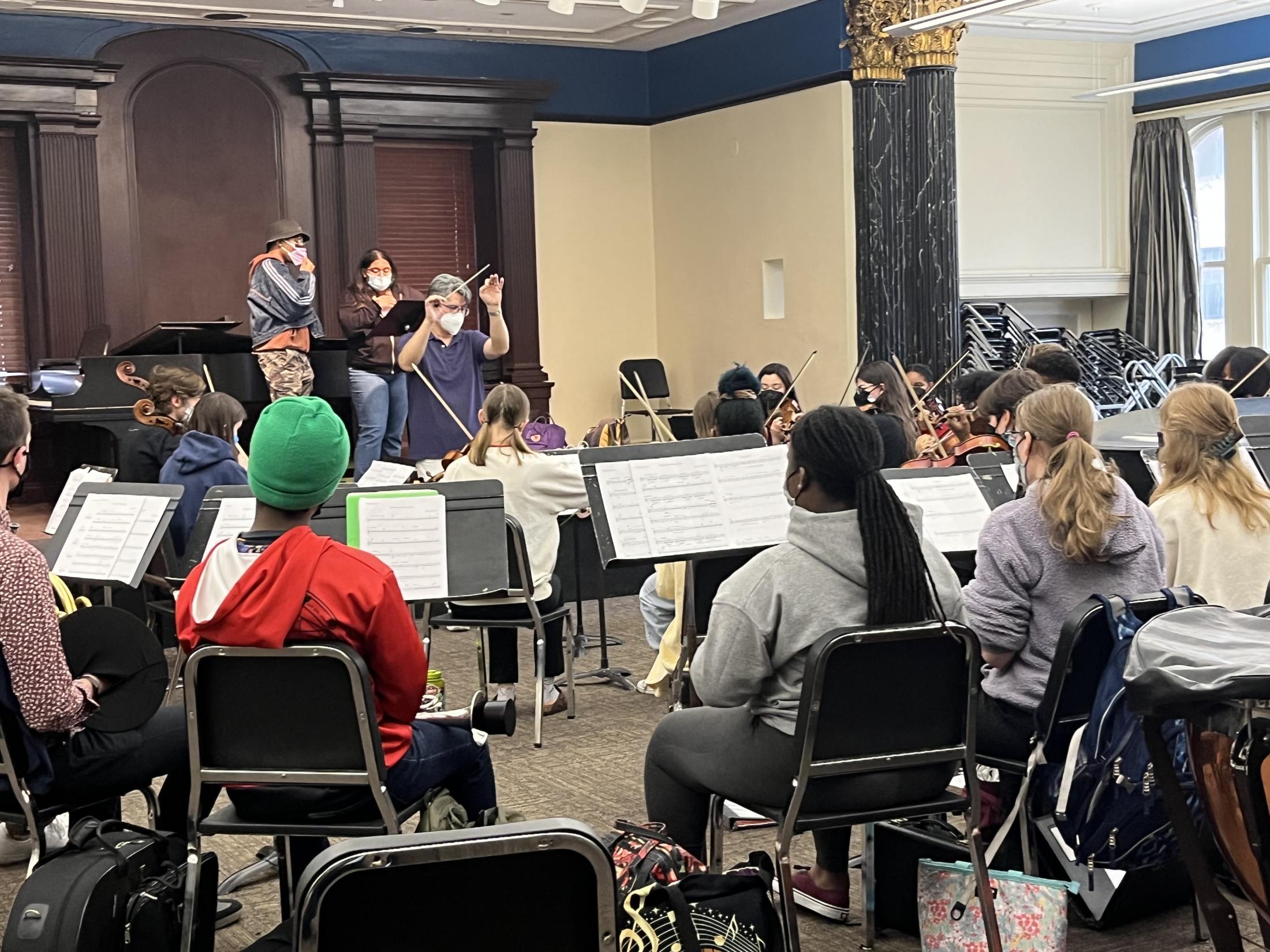 Appropriately, this year's program, chaired by BSA class of '98 alum and board member Shanae Williams McLean, intends to share the "Stories Behind the Mask." 
"Often, people feel like the art-making process is really mysterious," says Roz Cauthen, the school's interim executive director. "What we want to be able to do is provide people a glimpse into what it's like being a student at BSA: the struggles, the joys, the frustrations, the highs and the lows. We've had to slow down a little bit for things like COVID testing and contact tracing, but that hasn't stopped our students' creativity and their desire to continue to perform and produce and write. That's what it's all about."
Upstairs, in the high school's Darielle D. Linehan Dance Studio, Laura Halm Hamilton's students are receiving instruction from Charm City-bred performing artist Darius Barnes, who attended BSA himself before pursuing studies at the School of American Ballet in New York. This is their fourth day of rehearsal.
"Darius has all of these different perspectives and approaches to movement that I thought would be really exciting for the dancers to be able to engage in," Hamilton says, "as well as something that would really put them out there in a way that's both interesting and joyous to watch."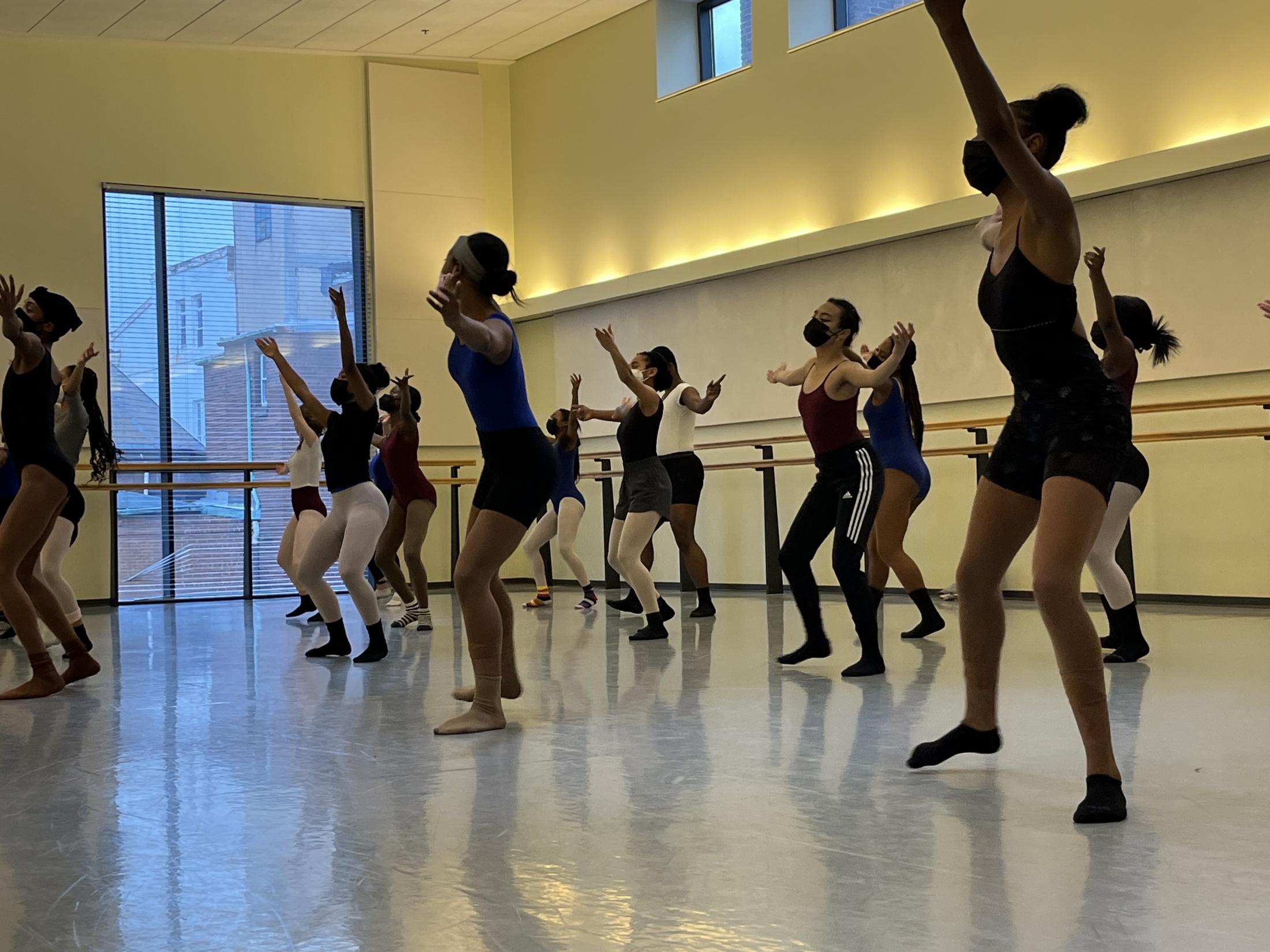 This Thursday through Sunday, her students' contribution to Expressions will join five other performances (among these are homages to the Baltimore club music scene and luminary playwright August Wilson). Members of TWIGS, BSA's after school program for kids throughout Baltimore City, will play the guitar. And according to Hardy, the high school's director of choral activities, this year's Expressions will offer a glimpse of its backstage production through video footage.
"One of the things that I love about this particular show is, in a way, it feels the most like the real world," Hardy says. "It's not just a music department or theater department production. It's everybody pulling in the same direction and working to put a show together. There's camera crews and lights and makeup and costumes. [Students] really get a sense of what things would be like in the professional world."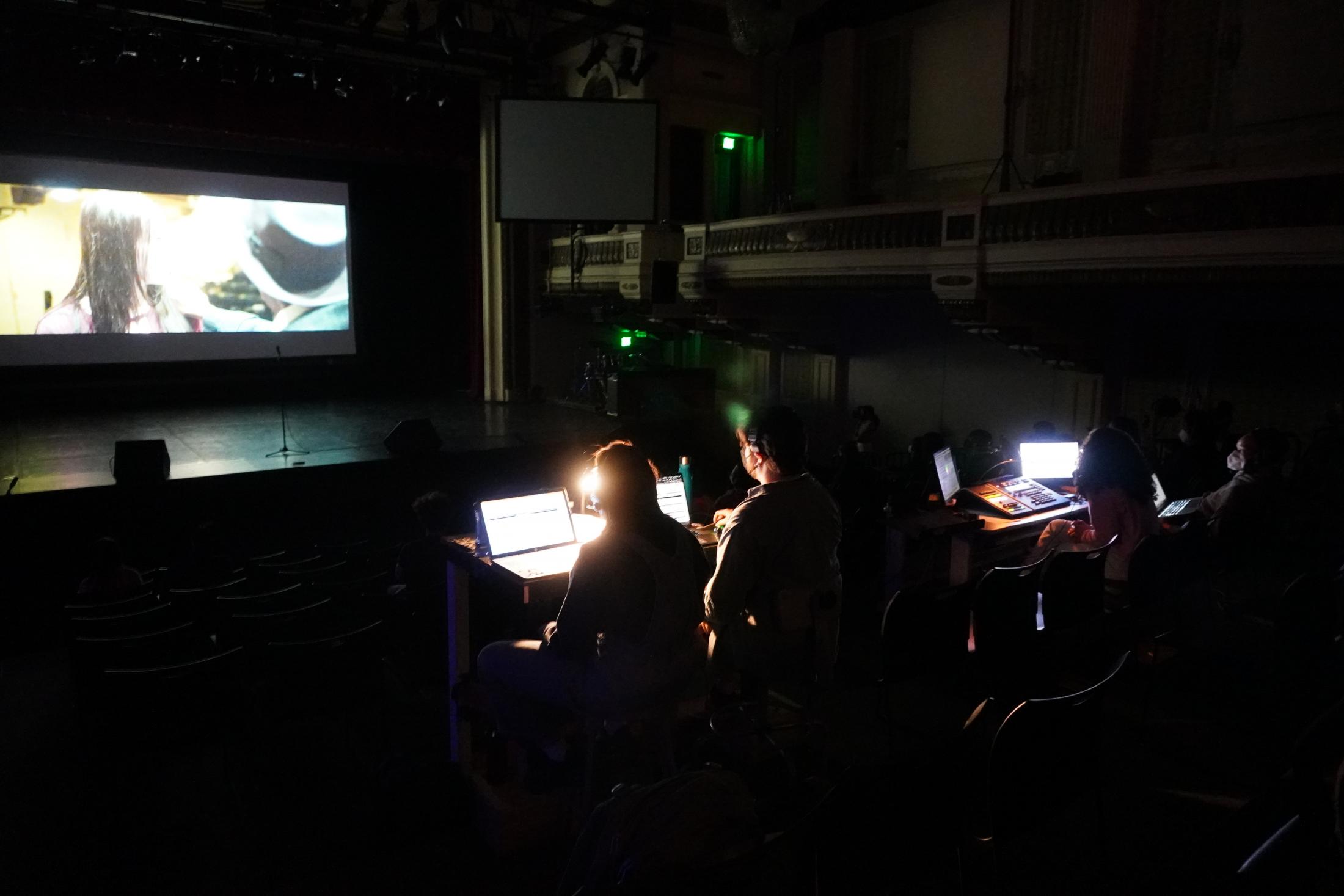 And as they prepare for a new life outside of high school, Hardy's students Aaron Gillis and Sabine Kearley are eager to make use of the pertinent experience they gained throughout their time at BSA. Gillis, 16, who will take to the Expressions stage to cover Sondheim's "Take Me to the World," this week, hopes to pursue theater in Los Angeles. Kearley, 17, who will sing the beloved composer's "Not a Day Goes by," will be moving to New York next year to focus on musicianship. Both are looking forward to performing with their classmates in a face-to-face production.
"There's a different energy when you have people reacting to you, and you can actually see their faces. That's something we just couldn't have through Zoom," Kearley says. "It's obviously terrifying, but it's also really invigorating and exciting." Like Gillis, she's excited to perform in front of family: "This year, they'll have the chance to see me on stage."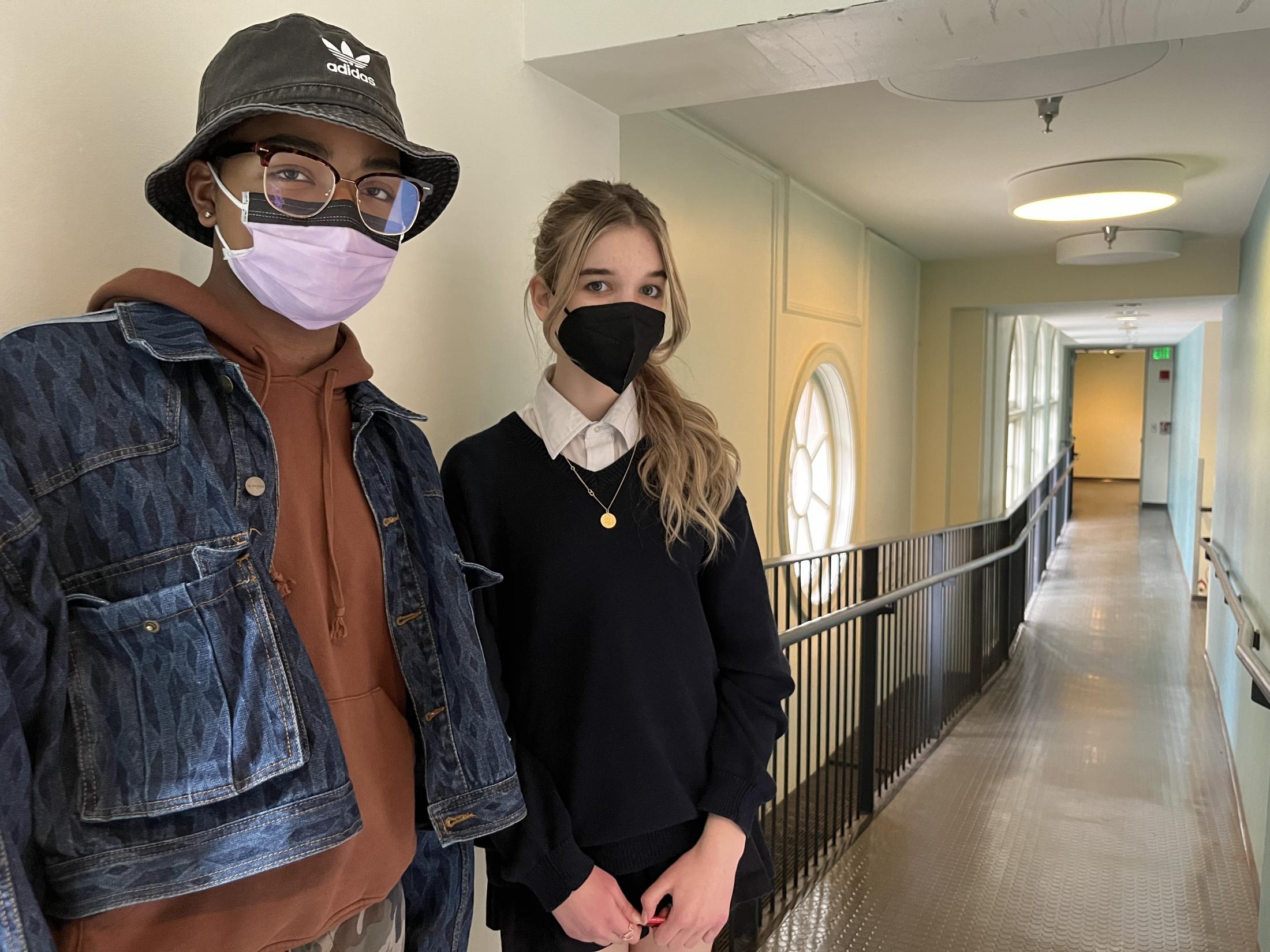 And as they watch Expressions, Cauthen hopes that students' families (and community supporters) are reminded of the determination staff members and students have displayed throughout a time of difficulty.
"Everybody just wants to forget COVID and get back to normal," she says. "I don't know if there will ever be that type of normal. But I'm proud of the fact that we've been able to stay resilient, continue to do our work, and lead with empathy."