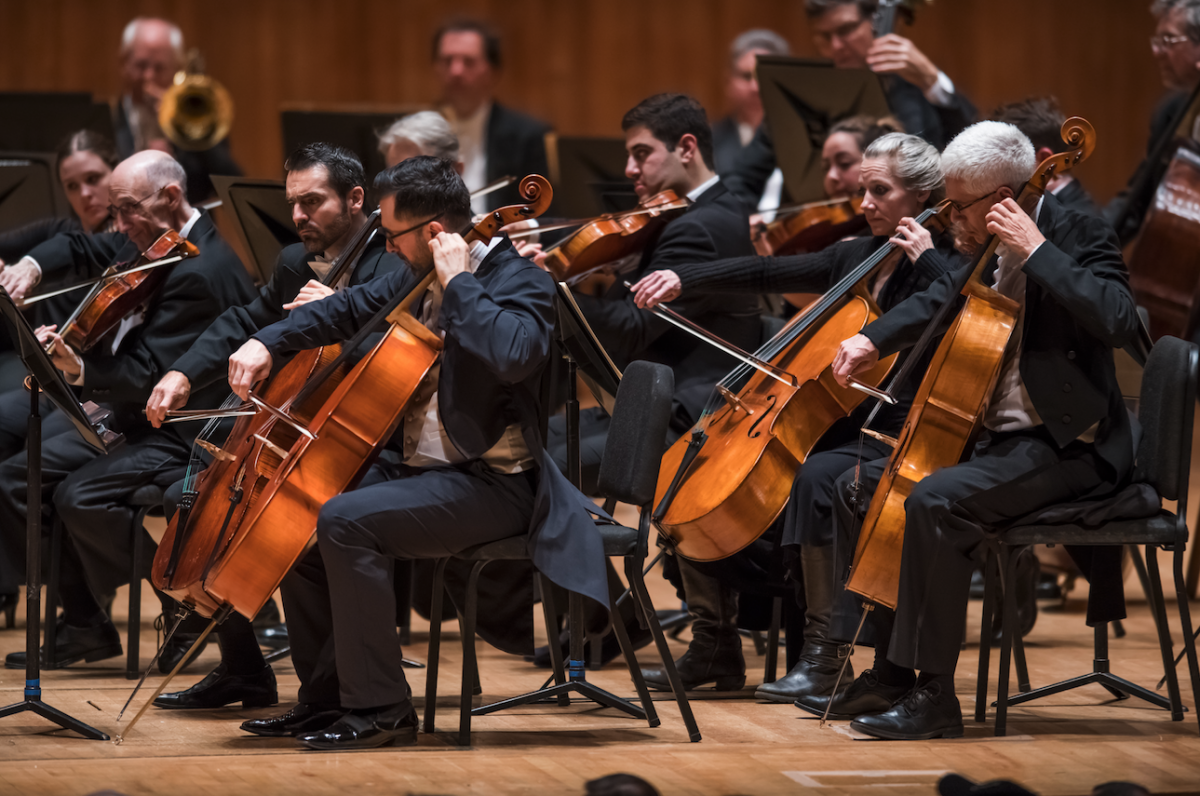 BSO
Yesterday morning, the musicians of the Baltimore Symphony Orchestra woke up without a contract. In an ongoing, contentious dispute, the current agreement between the players and the administration expired today, leaving the fate of the century-old symphony hanging in the balance as the BSO continues to face financial struggles.
This is the second time in less than six months that the players will be arriving to work with no contract. Last fall, their contract, or collective bargaining agreement, was expired for nearly two full months before both parties agreed to an extension through January 15. Around the same time, the administration released a proposal to cut the ensemble's 52-week schedule to 40 weeks, effectively eliminating the summer season and decreasing player base salaries, which the musicians rejected.
"The situation that they've proposed is so grave—draconian," says Brian Prechtl, a percussionist with the symphony and co-chairman of the Baltimore Symphony Musicians Players' Committee. "It affects all of us who have decided to make our homes and our lives here in Baltimore."
The BSO declined further comment due to ongoing negotiations, though in a statement released last night, they stated that "the BSO Board of Directors and management greatly appreciate and value the members of our orchestra and admire their superb musicianship."
Cutting 12 weeks from the orchestra's schedule might not seem that significant to the average concert-goer, but for an ensemble that is paid weekly, the changes would reduce salaries by at least 20 percent and adjust benefits including fewer vacation and sick days. (At press time, both pay and benefits will continue under the terms agreed upon in the expired agreement.) The players have received cost-of-living raises by a total of six percent over the past two years after a 19 percent pay cut in 2010 following the recession.
"This proposal is extremely regressive," says Greg Mulligan, a BSO violinist and fellow co-chairman of the players' committee. "If we were to accept it, it would damage not only our ensemble but affect our concert-goers and donors."
The musicians call the move a demotion of a"full-time, world-class symphony orchestra into a part-time regional orchestra." According to The Sun, only about 15 other orchestras operate on a 52-week schedule, which the BSO has done for more than 35 years.
"We think we need to be playing more in our Baltimore community, not less," says Prechtl. "We're just not accepting this reformatting of our season and downgrading our orchestra to a regional orchestra. We're just not."
The current situation has been one of many contract disputes over the past several years, and just another drop in the bucket for an orchestra that has struggled with periods of financial constraint and player-management conflict throughout its 102-year history. What makes this dispute different, according to Mulligan, is that the symphony is made up of 75 players, including two music librarians, compared to 98 in 2000. The current contract calls for a minimum of 83 players.
"It's getting laughable that we continue to call ourselves a major orchestra while having significantly fewer full-time musicians than our peers," says Mulligan.
For example, the New York Philharmonic, Philadelphia Orchestra, Cleveland Orchestra, and Boston Symphony all have around 100 musicians. In recent years, similar reductions, in size and pay, have taken place at symphonies like the St. Louis Symphony and the Atlanta Symphony Orchestra, though the former has recently negotiated to increase the players' base salary to $100,000 (compared to the BSO's $82,742 base) and the latter has just agreed to add 11 new positions with a 3-percent pay increase.
The musicians fear that lower salaries, combined with a shorter season and a reputation for in-fighting, will inspire fewer and fewer substantial musicians from considering the BSO a worthy place of employment. Mulligan and Precthl both mentioned that a number of the ensemble's current musicians are looking for other jobs or considering retirement.
The BSO has an annual operating budget of $28 million, but in the face of issues encountered by symphonies across the country—changing demographics, local economics, declining attendance, and inconsistent fundraising (though revenue from contributions is currently at an all-time high)—it has lost $16 million over the past decade, or an average of $1.6 million each year. The symphony cut more than $1 million from the budget in 2016 through layoffs, administrative streamlining, and the elimination of all professional development, as board chair Barbara Bozzuto noted in an op-ed to The Sun last November.
"In spite of successful fundraising, our costs have outrun our revenues in recent decades," she wrote. "It is not enough to raise more funds. Our business model needs alignment between an exceptional product and market demand."
After "a careful analysis of our current financial situation," the administration has concluded that it is "not feasible to maintain our current business model as a 52-week orchestra," according to a statement released in November by president and CEO Peter Kjome, who arrived at the BSO in early 2017 after a six-month vacancy following the department departure of Paul Meechum. Without restructuring, tours such as last fall's successful trip of the United Kingdom and Ireland with maestra Marin Alsop—their first overseas visit in 13 years—will also be "highly unlikely," according to Bozzuto's op-ed.
In late December, donors and supporters banded together to form a "Save Our BSO" committee in response to the administration's proposal. "Management's proposal may be one that would produce lower costs, but, in doing so, we believe it will exacerbate the BSO's problems retaining its musicians and will seriously hinder the BSO's ability to attract the caliber of musicians who have made the BSO a world class orchestra," they wrote in a letter to the symphony's board of directors in December, calling for better use of the organization's endowment trust in this time of financial need.
The purpose of the $62.3-million endowment trust "is to support the long-term sustainability of the organization, while honoring the intent and directives of the donors," according to the proposal. Each year, the BSO draws more than $3.5 million from the trust for operation, which the musicians have suggested increasing as a short-term solution. "We are certainly not supporting raiding the endowment," Prechtl says. "But right now, when we're throwing our hands up. We believe there are other places we could apply ourselves, other things that we could try. Until those happen, this feels very, very premature. We don't believe they've actually done everything that they could."
In the months since the proposal's release, the BSO musicians and administration have met for intermittent negotiations, as they did yesterday as well. "We're hoping that at some point we'll be able to have a more constructive dialogue," Prechtl says. "For the time being, [management] has articulated that they would not lock the musicians out and we have articulated that we will not strike." The last strike ended in 1989 after 22 weeks, which, at the time, was the longest of its kind in American history. But the musicians will play on, like during the BSO Pulse concert with Dan Deacon this Thursday or this weekend with performances of the Sibelius violin concerto both at the Strathmore and Meyerhoff.
"There is just something in our ethic that will change almost nothing about how we play," Prechtl says. "When you do this for your living, the performance is a sacred space. It's a sacred time and we leave all of our reservations and resentments off the stage. I have been really proud; I really think the orchestra is playing better now than it ever has. It's just so precious to us. This is not just a job. This is our great passion. When you come and see the orchestra play, you will still see an incredible performance."
That being said, they'll still be handing out leaflets about the contract negotiations at future performances, much as they did throughout the end of last year, when musicians popped up in various places across the city, such as outside of the Meyerhoff or at impromptu performances inside Penn Station or along the median of North Charles and Centre streets as part of what could best be characterized as an ongoing goodwill tour.
"A hit to any one of us is a hit to all of us," says Mulligan of the impact on the larger city. "We give short shrift to Baltimore sometimes. It's a very cool, creative, artistic, cultural city, and to have the biggest musical organization taken down a notch—or three—would certainly hurt. . . . We love to play, we love to play for Baltimore, and we're going to keep doing that for as long as we possibly can."