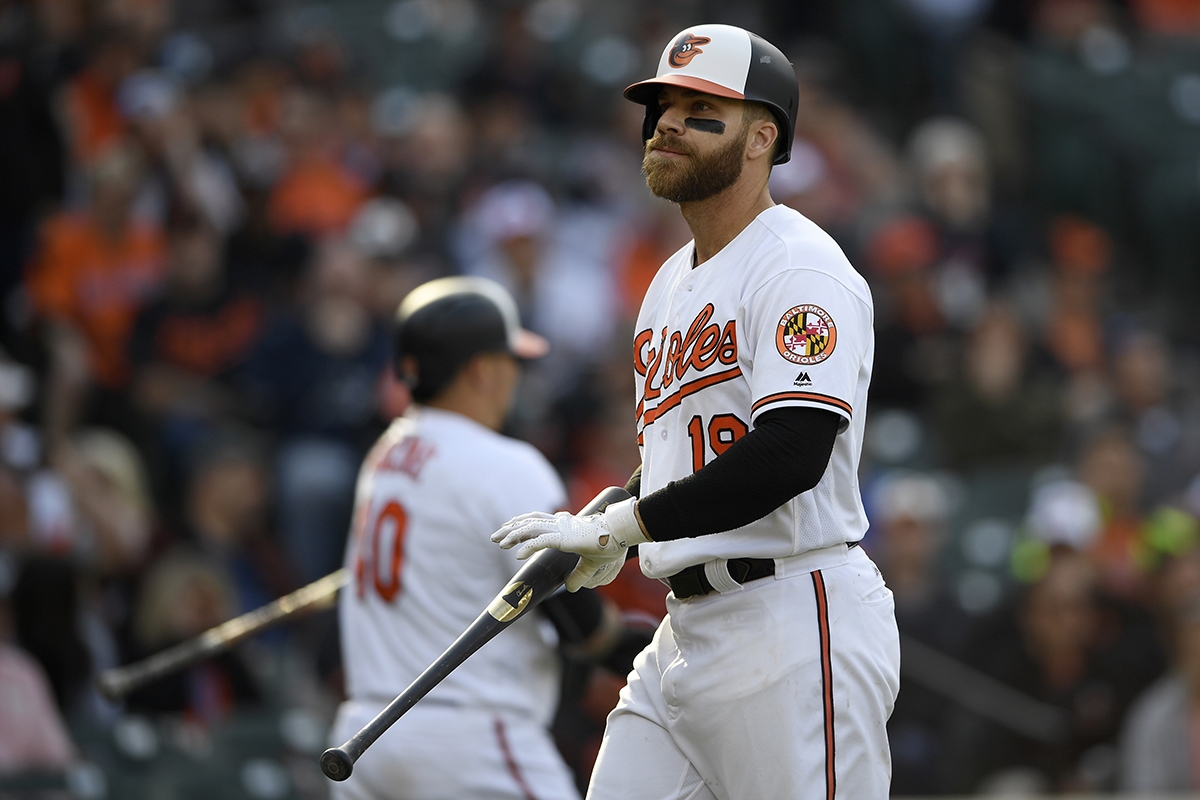 AP Photo/Nick Wass
Chris Davis is having a terrible, horrible, no good, very bad month. Given how stuffed baseball's history books are, it takes something truly remarkable and special for players to supplant themselves within their annals. Unfortunately for Davis and Orioles fans, Davis has done so for all the wrong reasons.
He's gone 53 consecutive at-bats and 61 straight plate appearances without a hit—the worst such stretch in Major League Baseball History for a position player. Davis' atrophy is unprecedented, and considering his large salary tag, he's left fans at Camden Yards in a state of paralysis when it comes whether to boo or cheer when he comes to the plate. On one hand, you have to feel for the guy; on the other, this is his (very well-paid) job.
But! There is some light at the end of the tunnel. And when, inevitably, Davis does get a hit, the city of Baltimore will rejoice, and, thanks to restaurants and bars across the city, celebrate with free stuff. They've gotten a bit cheeky, promising specials and celebrations for when a Davis at-bat does not end with him sheepishly walk back to the dugout. We compiled some of the best promotions to take advantage of for what is sure to be momentous occasion.
Hair of the Dog
There's a scene in the Will Ferrell-starrer Semi-Pro where, if Ferrell's Flint Tropics score 125 points, everyone in the stands gets a free corn dog. Hair of the Dog in Federal Hill is taking a similar approach for Davis' first hit: Corn dogs! 1649 S Hanover St. 410-814-0342
Lee's Pint & Shell
There are no two words more pure in the English language than "open bar." Lee's Pint & Shell knows this, and they're planning on celebrating Davis' first hit by opening the floodgates. The rules: you need to be there at the start of the game. When Davis does get a hit, you get a two-hour open bar including Smirnoff Crushes and Natty Boh, effectively turning those jeers into cheers. 2844 Hudson St. 410-327-2883
Bartenders Pub
The special Bartenders offers has stood long before Davis' streak, but it's still centered around his production or lack thereof. Every time Davis gets a hit, the bar will give away a Dr. Pepper shot, an eight-ounce Miller Lite pony with a shot of Amaretto. The bar popularized this concoction, and this practice has drawn some national attention. Unlike the other spots offering deals, Bartenders plans on continuing this tradition past when the streak is broken. 2218 Boston St. 410-534-2337
Power Plant Live
Though it might not be fitting at the moment, Davis' nickname is "Crush," so the promotion that Power Plant Live is running is apt. They're gotten in on the fun, promising 1,000 free Smirnoff Orange Crushes when Davis gets a hit. They're willing to up the ante, too—if it's a home run, the number increases to 1,500. 34 Market Pl. 410-727-5483
The Penthouse Club Baltimore
Look no further than The Penthouse Club as evidence that support for Davis is coming from all sorts of places. On the day that Davis gets a hit, the gentlemen's club is offering free lap dances. We'll leave it at that. 615 Fallsway 410-528-1117