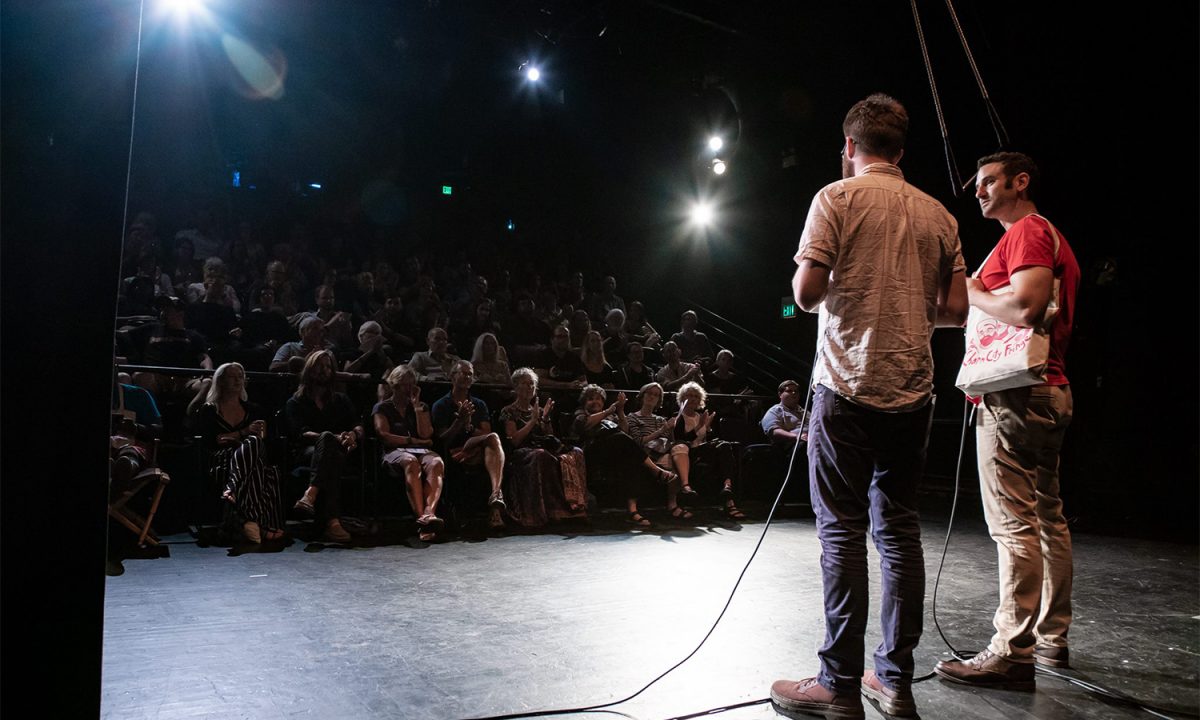 Charm City Fringe Festival
Visual Art
Rethink the way African-American male bodies are viewed at this new exhibition featuring artists Christopher Batten, Schroeder Cherry, and James Williams II. Observations are both welcomed and obscured in these three contemporary painters' works. Stop by Oct. 10 from 5-8 p.m. to celebrate the pieces at the opening reception. Oct. 10 through Nov. 9. Catalyst Contemporary, 523 N. Charles St.
Elizabeth Catlett spent a lifetime using her art to advocate for social and political change, lending her support to Mexican workers and African-Americans living under racist policies during the Jim Crow era. Starting this month, dozens of her sculptures and graphic prints will go on display at the Reginald F. Lewis Museum, beginning a long stretch of programming surrounding the iconic artist-activist. Oct. 26 through March 1, 2020. Reginald F. Lewis Museum, 830 E. Pratt St.
Literature
Grab your littlest ghouls and head to The Children's Bookstore for this story time with local author Rachel Kolar, who will read from and sign her book of spooky retellings of classic nursery rhymes. Enjoy such spirited new versions as "We Willie Werewolf" and "Mary Had a Little Ghost," and don't forget to grab your own copy of Mother Ghost: Nursery Rhymes for Little Monsters. Oct. 19. 1-2 p.m.The Children's Bookstore, 4717 Harford Rd.
Baltimore's own jack of all trades and Discovery Channel superstar Mike Rowe is coming home to share some highlights from his new book, The Way I Heard It, featuring a collection of 35 true(ish) stories about figures you think you know. Grab your copy at the door and join hosts from The Ivy Bookshop for a moderated Q&A and audience questions. Oct. 19. 7-9 p.m. Church of the Redeemer, Baltimore, 5603 N. Charles St.
Music
Johann Brahms' "Symphony No. 4" represents a transitional period from the lush Romantics to the very beginnings of the 20th century's modernists. Join Baltimore Symphony Orchestra conductor Marin Alsop for an evening of food, drinks, and lively conversation as she reveals the importance of this 19th-century master work. 7 p.m. Oct. 19. Joseph Meyerhoff Symphony Hall, 1212 Cathedral St.
Theatre
Charm City Fringe is back and ready to spread its stories all over the Bromo Arts & Entertainment District. Catch such exciting new pieces as WombWorks' The Channeling of Ms. Sybby Grant, Amanda Erin Miller's The Jew in the Ashram solo show, and Tres Brujas Productions' exploration of witchcraft and Virginia Woolf, Modern Witches. There are 10 days of productions across six venues to explore, so we suggest you start making your checklist now. Oct. 10-20. Various locations.
As we roll ever closer to an election year, August Wilson's final play feels as timely as ever. Resident company member Dawn Ursula will be joined by Charles Dumas, Anton Floyd, Jamil A.C. Mangan, and Jason B. McIntosh on the Everyman stage for this tale of real estate developer Harmond Wikins' run at becoming Pittsburgh's first black mayor. Oct. 15 through Nov. 19. Everyman Theatre, 315 W. Fayette St.
Everyone knows someone who swears that thing that went bump in the night was more than their imagination. Meet a few more at this month's iteration of the Stoop Storytelling series featuring takes of all things strange and supernatural. Be sure to come early for cocktails and live music from local rockers Super City. 7 p.m. Oct. 24. The Senator Theatre, 5904 York Rd.
Film
Greenmount West Community Center and Advocates for Children and Youth are celebrating Youth Justice Month with a whole day of programming at the Baltimore Museum of Art. In addition to self-guided tours of Generations: A History of Black Abstract Art (the ticketed exhibition will be free all weekend long) and an evening concert, the day will feature screenings and panels of both PUSHOUT: The Criminalization of Black Girls in Schools and Rethink Baltimore. 12-5 p.m. Oct. 26. Baltimore Museum of Art, 10 Art Museum Dr.