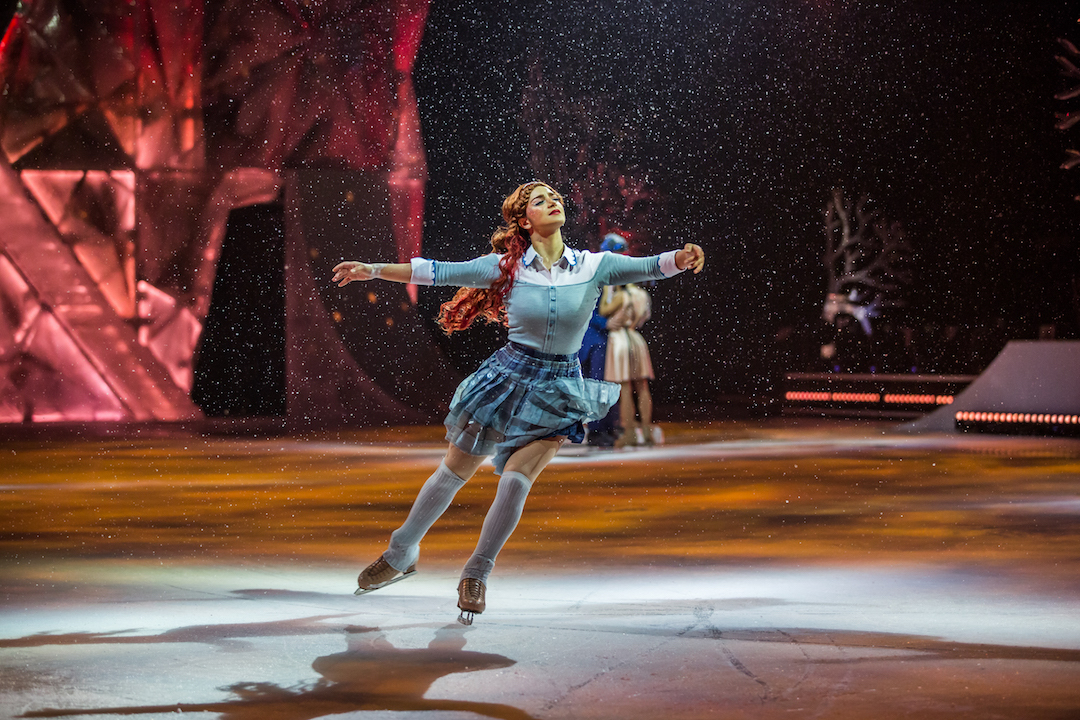 Photo by Matt Beard, costume by Marie-Chantale Vaillancourt
Visual Art
Young Blood
Art has the power to reflect the culture in which it was made, often expressing ideas that cannot be articulated as effectively through words alone. In the case of the exhibit Young Blood at Maryland Art Place, we see—through painting, sculpture, installation, photography, and animation—what inspires and stimulates the minds of our local creative youth culture. Each year, MAP celebrates recent Baltimore-area masters of fine art grads with an exhibit of their work.
This year's Young Blood showcases pieces by graduates of Maryland Institute College of Art; University of Maryland, College Park; University of Maryland, Baltimore County; and Towson University, including Caroline Hatfield, Mollye Bendell, Mitchell Noah, Madeline Stratton, Ryan Lytle, and Sara Kaltwasser. Through Aug. 25, with an opening reception from 6-9 p.m. July 11 and an artist talk at 1 p.m. Aug. 18 at MAP, 218 W. Saratoga St.
Sondheim Artscape Prize exhibition
From sculpture to photography to painting, fiber art, and video installation, work by this year's Janet & Walter Sondheim Artscape Prize finalists is visually spellbinding, and the artists don't shy away from exploring such issues as spirituality, race, gender, and immigration. Baltimore-area visual artist finalists Erick Antonio Benitez, Nakeya Brown, Sutton Demlong, Nate Larson, Eunice Park, and Stephen Towns are each exhibiting selected works at the Baltimore Museum of Art through August 5. The winner will be announced during a ceremony at 7 p.m. July 14 and awarded a $25,000 fellowship. Exhibit runs through Aug. 5, awards ceremony at 7 p.m. July 14 at the BMA, 10 Art Museum Drive.
Summer '18
The current show at C. Grimaldis Gallery in Mount Vernon revisits the exhibitions shown over the past year while giving a little preview of what's to come. This survey exhibition features pieces by British sculptor Anthony Caro, abstract expressionist Grace Hartigan, and Korean light artist Chul Hyun Ahn. It also debuts work by 2018 Guggenheim Fellow Rania Matar, Colin Van Winkle, and 2017 Rome Prize recipient Beverly McIver. Through Aug. 18 at C. Grimaldis Gallery, 523 N. Charles St.
Intimate Women
Intimate Women, currently on view at Full Circle Gallery, explores the relationship between women's minds and bodies through photography-based collage and sculpture by women artists. Their inner worlds are revealed through stories of culture, gender roles, and sexuality. As curator JiaJia Chen puts it in a statement about the show, "Every work in the exhibition is an adjective, presenting personal but universal subject matter from different perspectives." Artists include Asha Holmes, Jianan Liu, Layla Choi, Michelle Cuevas, and Rachel Hartman. Through Aug. 4 at Full Circle Gallery, 33 E. 21st St.
Music
Jack Novotny Sextet
The Jack Novotny Sextet will bring their original music, composed in the spirit of the great jazz masters, to An die Musik. They've studied the nuances, style, and flavor of works by icons such as John Coltrane, McCoy Tyner, Wayne Shorter, Charles Mingus, and Ornette Coleman, and expand upon and integrate those ideas into their own pieces, rather than duplicate the originals or even replicate improvs.
"Performing new material that has never been heard is exhilarating for our group," says Jack Novotny, saxist in the group. The sextet also includes bassist Juini Booth, pianist Benito Gonzalez, trumpeter Marlon Jordan, tenor saxophonist Edwin Bayard, and Baltimore drummer Nasar Abadey as a guest, filling in for regular drummer Mark Lomax II. Novotny will play tenor/soprano saxophone and flute. 8:30 and 10 p.m. July 12 at An die Musik, 409 N. Charles St,.
Literary Arts
John Lingan
Rockville-based John Lingan, who has written for the Oxford American, New York Times Magazine, and others, brings us his debut book, Homeplace: A Southern Town, a Country Legend, and the Last Days of a Mountaintop Honky-Tonk. Lignan spent four years researching the early-American town of Winchester, VA, in the Blue Ridge Mountains. He first went there to seek out Jim McCoy, a honky-tonk owner and the DJ who first gave Patsy Cline airtime. What he uncovered though was a story about a town facing an identity crisis. He'll launch his book tour this month with a reading and signing at Bird in Hand. 7 p.m. July 17 at Bird in Hand, 11 E. 33rd St.
Miscellanea
Cirque du Soleil Crystal
Cirque du Soleil's show Crystal explores the artistic limits of ice through jaw-dropping acrobatics on the ice and in the air—synchronized skating and adrenaline-pounding extreme skating will be performed alongside traditional circus arts like trapeze. This dreamlike world is brought to life with visual projections and an original score. July 5-8 at Royal Farms Arena, 201 W. Baltimore St.
Artscape
Our beloved Artscape returns this month, taking over 16 blocks of Baltimore and boasting three outdoor stages, 11 indoor venues, over 200 concerts, an artist market with more than 150 vendors and craftspeople, plus large-scale projects showcasing visual and performing arts, visual art exhibitions, film, street theater, and youth-focused entertainment. Performances include theater, dance, comedy, and more. And all of the above is free. It's a great way to celebrate the city and all the arts in one fell swoop. 11 a.m.-9 p.m. July 20 and 21, 11 a.m.-7 p.m. July 22 at Mount Royal Avenue & Cathedral Street, Charles Street, Bolton Hill, and Station North Arts & Entertainment District neighborhoods.
Ratscape
After a two-year hiatus, the wonderfully bizarre Ratscape will return this year in conjunction with Artscape. A lineup of more than 40 local bands spanning rock, rap, punk, experimental, hardcore, and more will perform free shows at the Ynot Lot, an outdoors venue in Station North, throughout the weekend: JPEGMAFIA, Jeff Carey, and Bound by the Grave on Friday; Butch Dawson, Joe Bidan, and Homosuperior on Saturday; Wume, Sneaks, and HexGirlfriends Sunday. The grassroots festival is produced by Baltimore Music Preservation, aka Joshua Christy Schuelpner, Mike Franklin, and Caroline Devereaux. 2 to 10 p.m. July 20-22 at the Ynot Lot,1904 N. Charles St.