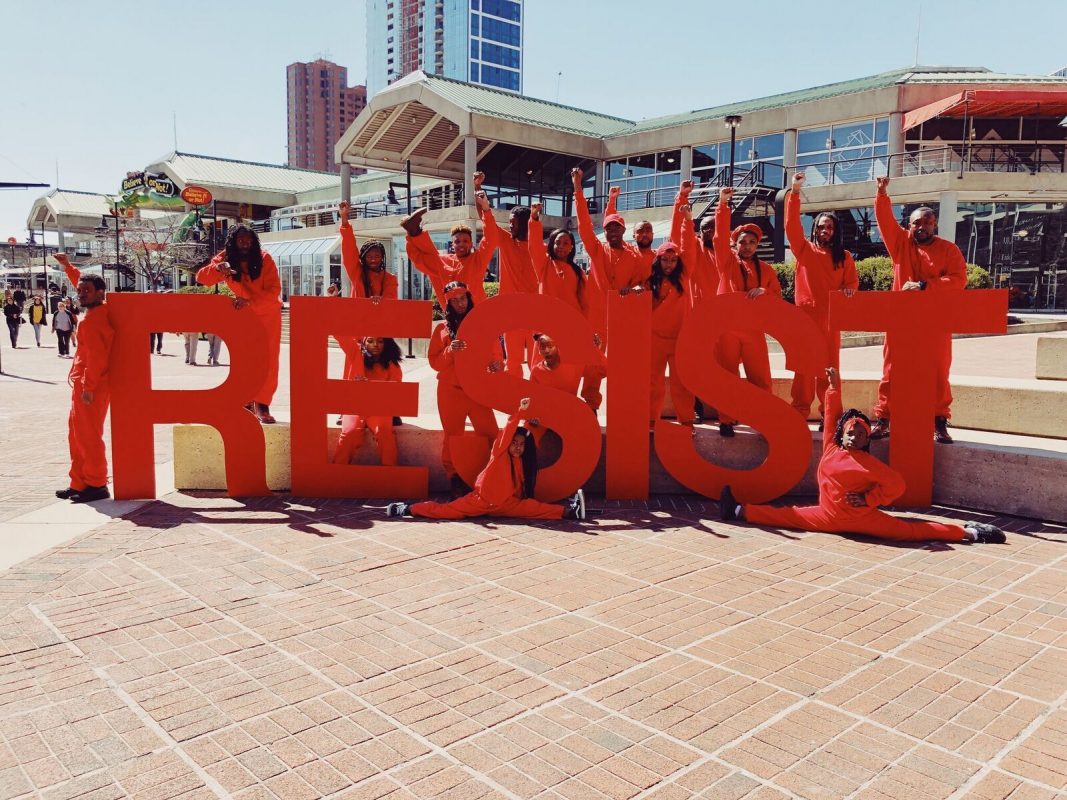 Courtesy of TT The Artist.
Visual Art
The Janet & Walter Sondheim Artscape Prize Finalists Exhibition
Don't miss your chance to catch some of the art world's brightest rising stars at this exhibition celebrating the seven finalists for the prestigious Janet & Walter Sondheim Artscape Prize. The winner of the $25,000 fellowship will be named in July, but works by Negar Ahkami, Akea Brionne Brown, Cheeny Celebrado-Royer, Schroeder Cherry, Phylicia Ghee, Jackie Milad, and Stephanie Williams will stay on display through August 11. June 15-Aug. 11. The Walters Art Museum, 600 N. Charles St.
RAW Baltimore Presents: Impact
This gathering of independent artists will bring beauty, fashion, music, digital art, and more to Baltimore Soundstage. Whether you're looking to pick up something to hang on the wall or be inspired by creative new takes on genderqueer fashion and vegan beauty, there's something to be found for everyone at this showcase of local talent. 7 p.m. June 28. Baltimore Soundstage, 124 Market Pl.
Music

Outer Spaces Record Release
Grab some friends and head to Current Space's backyard for this outdoor show celebrating the release of dreamy indie-pop act Outer Spaces' new record, Gazing Globe, featuring guests Smoke Bellow, Cigarette, and Wheatie Mattiasich with Steve Santilla. The sticky summer evening will fit perfectly with Cara Beth Stalino's exploration of what it means to lose someone but find yourself all over again. 7-11 p.m. June 29. Current Space, 421 N. Howard St.
Theater

Mortified: PRIDE Edition
Some of us dread those childhood journal entries and notebooks full of poems coming back to haunt us. Mortified embraces them. This Pride-themed version of the Creative Alliance storytelling series will feature adolescent artifacts exploring sexual and gender identity, coming out, and other experiences from the LGBTQ+ community. 6 p.m. and 8:30 p.m. June 15. Creative Alliance, 3134 Eastern Ave.
A Midsummer Night's Bash
Say a fitting farewell to Single Carrot Theatre's Remington home with full night of Shakespearean shenanigans. Start the evening with the troupe's raucous performance of Drunk Shakespeare [and other dead white guys], then stick around for bites, drinks, dancing, and more at the Howard Street theater. 7 p.m. June 22. Single Carrot Theatre, 2600 N. Howard St.
Literature

D. Watkins in Conversation with Lisa Snowden-McCray
Five years ago, D. Watkins found a national audience with his viral essay "Too Poor for Pop Culture." Now a professor, Editor at Large for Salon, and founder of the BMORE Writers Project, Watkins has become an essential voice. In honor of the fifth anniversary of his first print publication, Watkins joins Baltimore Beat editor Lisa Snowden-McCray for a conversation about how things have and haven't changed since that first essay and what his latest book, We Speak for Ourselves, can add to the story. 7 p.m. June 26. Red Emma's, 1225 Cathedral St.
Barbara Bourland—Fake Like Me
Humor, mystery, and sharp observation abound in Barbara Bourland's follow-up to 2017's I'll Eat When I'm Dead, Fake Like Me, in which she moves the focus from a Manhattan magazine to the dueling egos of the contemporary art world. Settle into Greedy Reads' cozy Fells Point home for a conversation with Bourland and BMore Art's Cara Ober to celebrate the new release. 7:30 June 21. Greedy Reads, 1744 Aliceanna St.
Film

First Look: Dark City: Beneath the Beat
This celebration of community and Baltimore Club comes from one of the genre's greatest voices, TT The Artist. Head to the SNF Parkway and follow the red carpet in for a first look at Dark City: Beneath The Beat, TT's documentary following some of the city's best local musicians, DJs, poets, dancers, and producers as they build and perpetuate a close-knit creative community that rises above Baltimore's less-than-sterling reputation. 6:30 p.m. Red Carpet Pre-show, 7:15 p.m. Film Presentation, 8:30 p.m. Director Interview and Q&A, June 26. SNF Parkway Theatre, 3 W. North Ave.