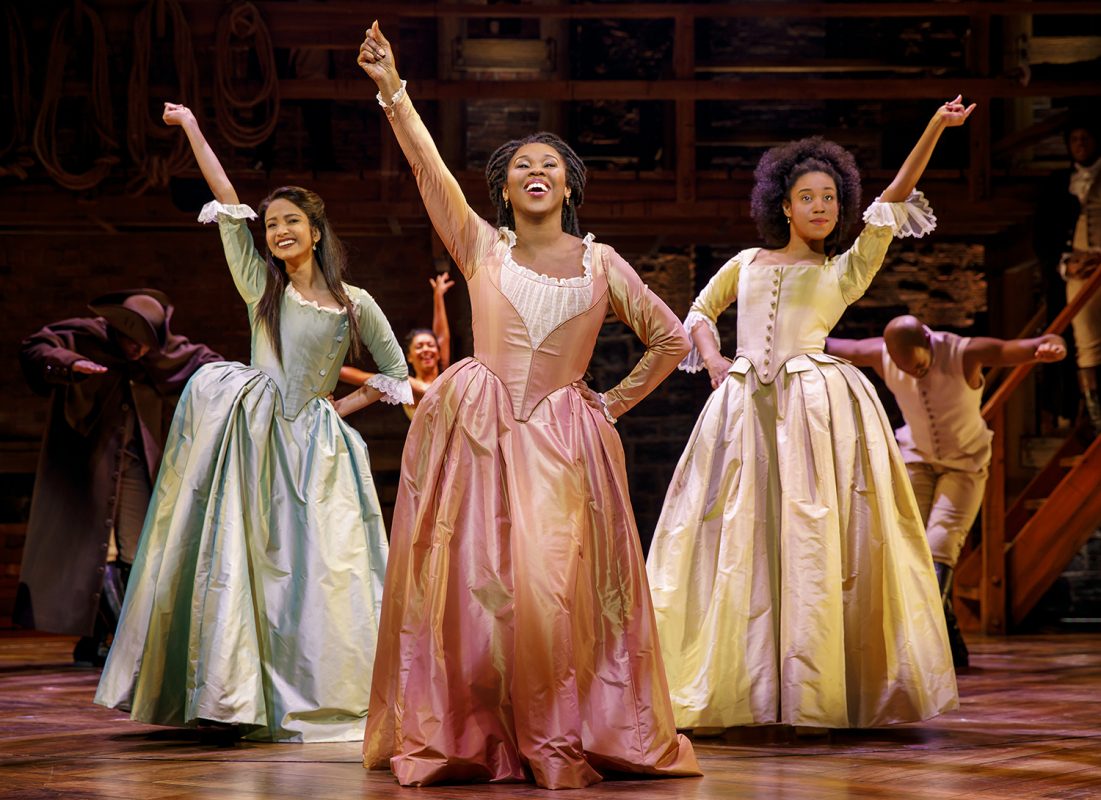 Photography by Joan Marcus
News
On Dec. 4, the Maryland Board of Public Works approved a $300,000 grant for improvements to the Arena Players theater—the oldest continuously operating African-American theater in the country. Designated for "the acquisition, planning, design, construction, repair, renovation, reconstruction, site improvement, and capital equipping of Arena Players theatre," the funds will go toward infrastructural updates to the beloved local cultural space.
There's good news for those that missed their shot to see Hamilton during its first visit to Baltimore this fall. The Hippodrome announced this week that the hit musical will return in summer 2021, taking the Eutaw Street stage from June 8-July 3.
Visual Art
Filling in the blanks in the stories of our past can help us create a better informed future. Nikole Hannah-Jones, creator of The New York Times' "The 1619 Project," will explore this idea alongside activist and art collector Pamela J. Joyner and Baltimore artist Zoë Charlton at this latest installment of the BMA's groundbreaking conversation series. 6-10 p.m. Dec. 17. The Baltimore Museum of Art, 10 Art Museum Dr.
The holidays are creeping up quick, but this annual market featuring dozens of local artists and crafters can help you find the perfect thing for the art-lover on your list. Meet the people behind the works and browse items from talented local creators such as Press Press, Dana Bechert, and James Bouché. Dec. 14. Current Space, 421 N. Howard St.
Literature
Restaurants come and go so quickly that it's often hard to keep track of what used to be where. Some places, however, stick with us. Stop by Eddie's of Roland Park to pick up a signed copy of Suzanne Loudermilk and Kit Waskom Pollard's exploration of the places and plates that helped build Baltimore into the food city it is today. 2-4 p.m. Dec. 14. Eddie's of Roland Park, 5113 Roland Ave.
Music
This rip-roaring group from the Eastern Shore is back with a brand new album, Seven True Stories, and they're ready to celebrate with Baltimore's bluegrass-loving crowds. Pack into Creative Alliance to hear live renditions of new tracks such as "Reverie" and "Real America," then grab your copy of this DIY collection of mostly true tales. 7:30 p.m. Dec. 19. Creative Alliance, 3134 Eastern Ave.
Catch up with Catonsville's Jeremiah Lloyd Harmon post-American Idol at this full night of local talent. Settle in and enjoy the good vibes from electronic artists Amy Reid and Infinity Knives before Harmon takes the stage with dreamy tracks such as "Almost Heaven" and "Learn to Love." Doors 6 p.m. Show 7 p.m. Dec. 17. Ottobar, 2549 N. Howard St.

Theatre
There really is no place like home. Celebrate ArtsCentric's new space by joining the company for their first show in Remington, a fitting trip to the land of Oz with The Wiz. This retelling of L. Frank Baum's classic tale featuring an all-black cast swaps out the 1939 movie's show tunes for a soul, R&B, and pop soundtrack you'll be humming all the way home. Dec. 13 through Jan. 12. ArtsCentric, 2600 N. Howard St.
Film

Celebrate your friendly neighborhood video store's first birthday with a party at Ottobar featuring vintage dance tunes and tons of giveaways from cinephile favorites such as A24 and Criterion. A few dollars gets you entry to the festivities, but generous partygoers can bring in a movie or two off the wish list in exchange for admission and raffle tickets, as well. 10 p.m. to 1:30 a.m. Dec 13. Ottobar, 2549 N. Howard St.