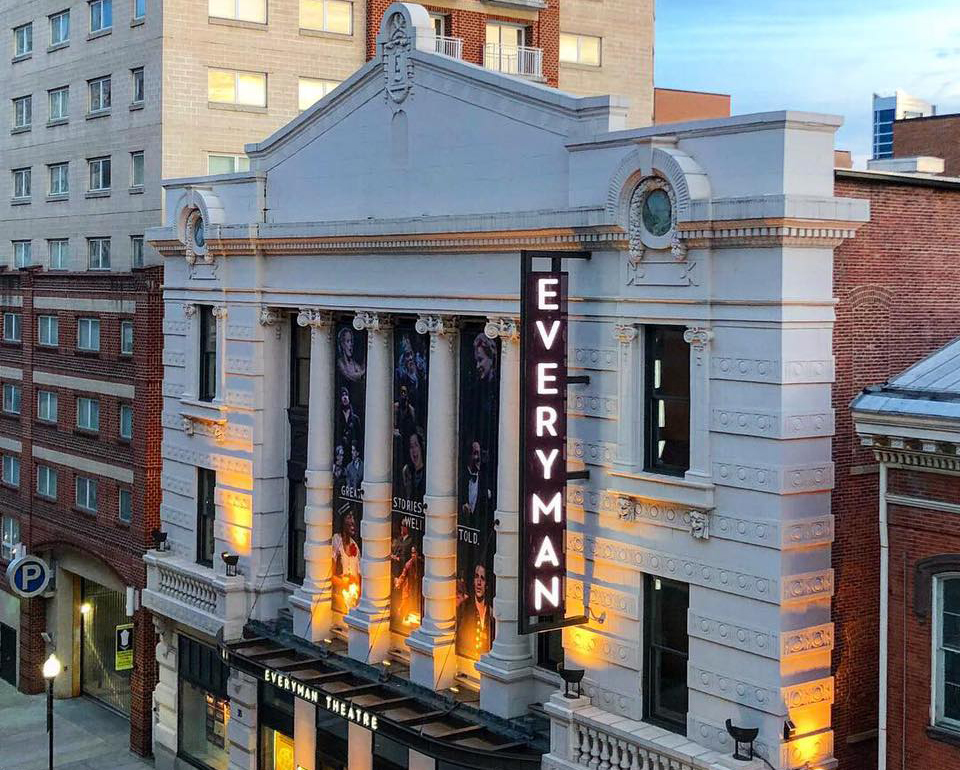 New voices take the spotlight this month at Everyman Theatre, where three new plays, all written by women, will premiere in a brand-new space.
The inaugural New Voices Festival will feature Queens Girl: Black in the Green Mountains; Berta, Berta; and Cry It Out over eight weeks of performances, all hosted in the intimate new 211-seat theater on the second floor of the downtown venue.
"We didn't have relationships with any of these playwrights a year ago, and it's nice to have new creative juices," Founding Artistic Director Vincent Lancisi told us this fall. "The creative forces that are flowing through this organization are intense and very, very special. And we're working with some artists, writers, actors, and directors that are infusing us with a new vibrancy that is showing up on our stages."
Those artists include playwright Angelica Chéri, who has rewritten the ending of her Berta, Berta for the Baltimore performance, as well as playwright and Orange is the New Black and Shameless alum Molly Smith Metzler, whose Cry It Out will be directed by Lancisi. The third playwright, Caleen Sinnette Jennings, is certainly no stranger to Everyman, having staged much-lauded (including a Best of Baltimore win) performances of Queens Girl in the World and Queens Girl in Africa at the venue last season. Everyman commissioned this final installment of Jacqueline Marie Butler's story specifically for the festival, and it will be directed by resident company member Paige Hernandez, who also led last season's performances.
"There's a lot of new audience members out there, but even the older audience members are really interested in these new works," Lancisi said. "Some of our most seasoned theatergoers are really curious about the new work. Queens Girl was our quickest single ticket buy because they saw Queens Girl [in the World] or [in Africa] and loved them and they can't wait."
Chéri, Metzler, and Jennings will all be on hand during the festival, and Reginald L. Douglas—recently named Associate Artistic Director of Studio Theatre in Washington, D.C.—will join Hernandez and Lancisi as the director of Berta, Berta.
Performances begin March 3 with the world premiere of Queens Girl: Black in the Green Mountains. Here's a bit about what to expect from each of these great works from new voices:
Queens Girl: Black in the Green Mountains
What's it about?: We rejoin Jacqueline Marie Butler, out of Queens and now out of Africa as she heads off to college in Vermont. Set against the backdrop of the Vietnam War and Kent State killings, the story finds Jackie grappling with black and white culture and where she fits between them.
Who's in it?: Previously played by Dawn Ursula and Erika Rose, the role of Jacqueline is now being taken on by D.C.'s Felicia Curry.
When can I go?: March 3 through April 12.
Berta, Berta

What's it about?: This 1920s tale of conflict and love is inspired by the prison work song of the same name. After a Mississippi man commits crime that dooms him to prison, he shows up on Berta's doorstep in search of love—and maybe absolution.
Who's in it?: Everyman newcomers Clinton Lowe and Myxolydia Tyler star as Leroy and Berta. Some may remember Tyler's turn as Camae in The Mountaintop at Center Stage in 2013.
When can I go?: March 17 through April 26.
Cry It Out
What's it about?: Take a journey a few hours north to Long Island, where this dark comedy follows new mothers finding common ground in the joys and absurdities of parenthood.
Who's in it?: Resident company members Megan Anderson, Beth Hylton, and Tony Nam are joined by 2020 Helen Hayes Outstanding Lead Actress nominee Laura C. Harris.
When can I go?: March 31 through May 3.