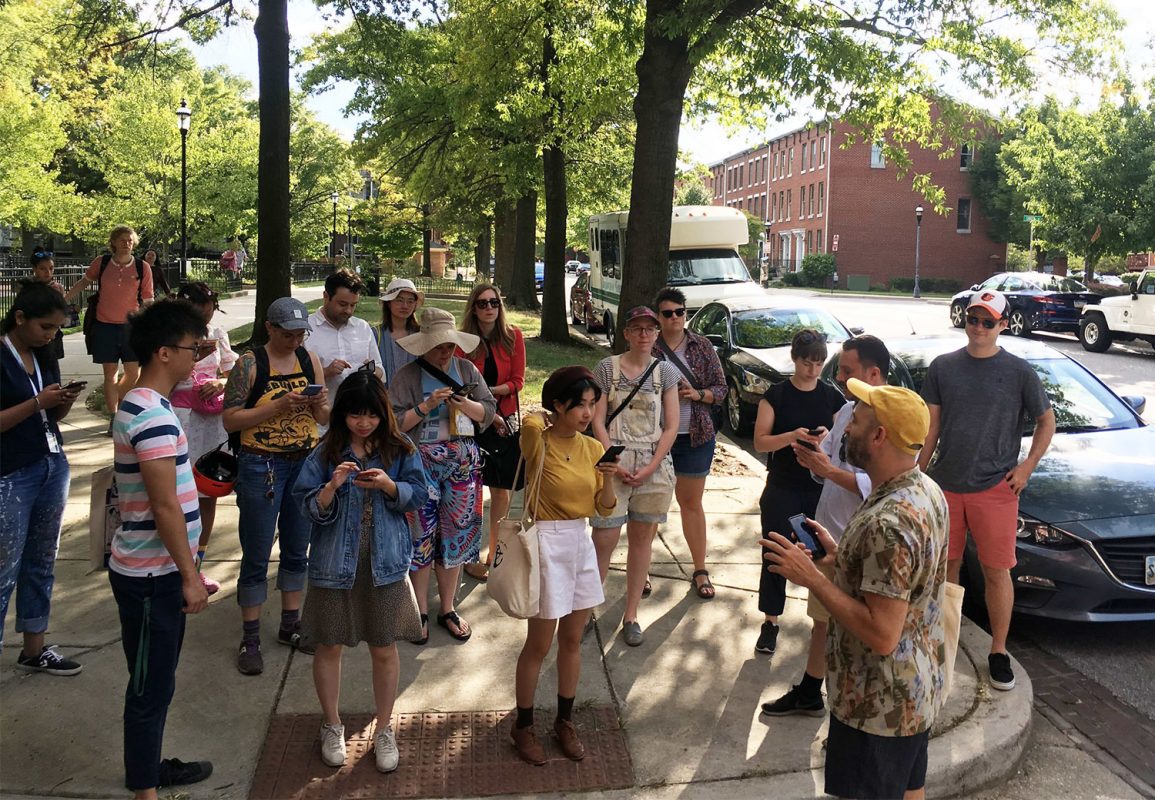 Gallery Cardinal
Tumble down the rabbit hole. Trip through an immersive installation. Stumble upon an interactive performance. At Hidden Paths: An Exhibition About Walking As Art presented by Cardinal in Bolton Hill, audiences can experience artist-led tours to experiential and visual artworks situated in communities around the gallery's walls.
"We're inviting people to go on these artist-led walks and learn from artists how to look at their neighborhoods," says Alexander Jarman, Cardinal's co-founder and curator. "Some people will be walking down streets they've never walked down before."
With installments running through November 8, the exhibit features seven artists—many of whom are Baltimore-based—including Todd Shalom, Miguel Braceli, J$Fur, Malcolm Peacock, Ada Pinkston, and Graham Coreil-Allen. They offer a broad range of in-person and virtual tours designed to illuminate lesser-known facts and newly imagined encounters in the area.
The exhibition opened with an improvised tour from Shalom, founder of New York City walking-as-art festival Elastic City, which included a printed guide and talk about "tactics and strategies for how to show up and occupy a place when creating walking art."
Throughout September, interdisciplinary artist J$Fur shared ambient soundscapes from around Baltimore, and Braceli and award-winning textile artist and MICA professor Susie Brandt hosted talks about their current projects. The last three tours in the series will be presented by conceptual artists Pinkston and Peacock, as well as visual artist Coreil-Allen.
During Peacock's walk on Saturday, October 5 at 2 p.m., he will present "I Guess I'm Stuck With Me," which he describes as "a work that explores themes of codependency and interdependency focusing on a range of lived experiences that took place in Baltimore between the years 2016-2019." The interactive piece encourages audiences to come in pairs to the main branch of the Enoch Pratt Library with a fully charged cell phone (or device with internet access) and headphones.
"This work has to do with presence, physical presence and the absence of it," Peacock says. "I want whoever experiences it to have an experience that places them in a position of reflection, but also urgency in regard to the ways they are navigating their past experiences—which are really palpable and alive in the present."
At the conclusion of the tour, Peacock will post links to downloadable audio files so that others who could not attend can still have the opportunity to experience the work.
On October 19 at 2 p.m., trans-media artist Pinkston will present the "Post-Colonial Historical Monuments Tour Artist-Led Walk"—an interactive, ritual-based, performance on the corner of Mosher Street and West Mount Royal Avenue.
The work explores and interrogates the history of confederate monuments in Bolton Hill. During the performance, Pinkston will read excerpts from womanist scholars, including Audre Lorde and bell hooks, on a loudspeaker to facilitate dialogues about the relevance of confederate statues.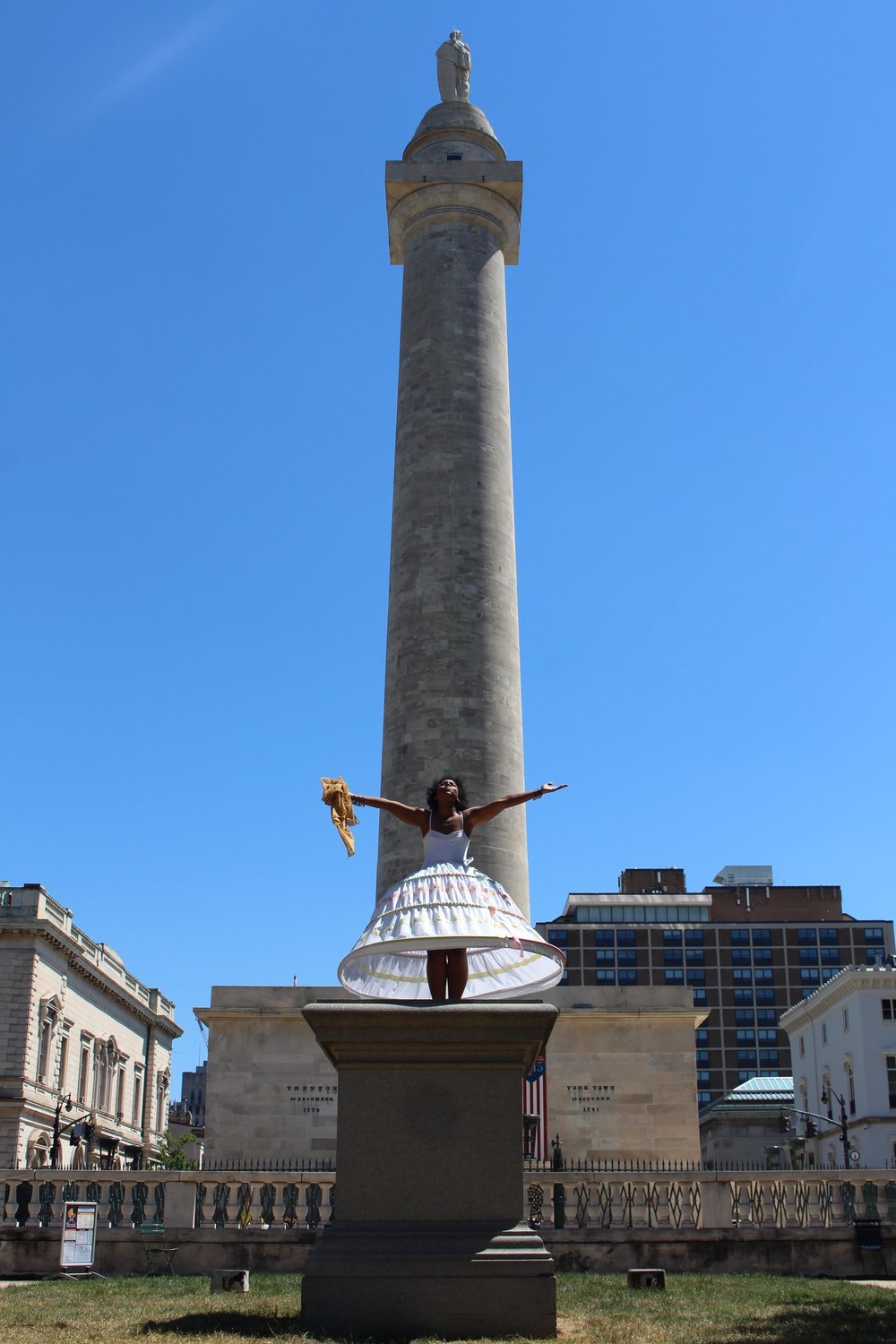 —Ada Pinkston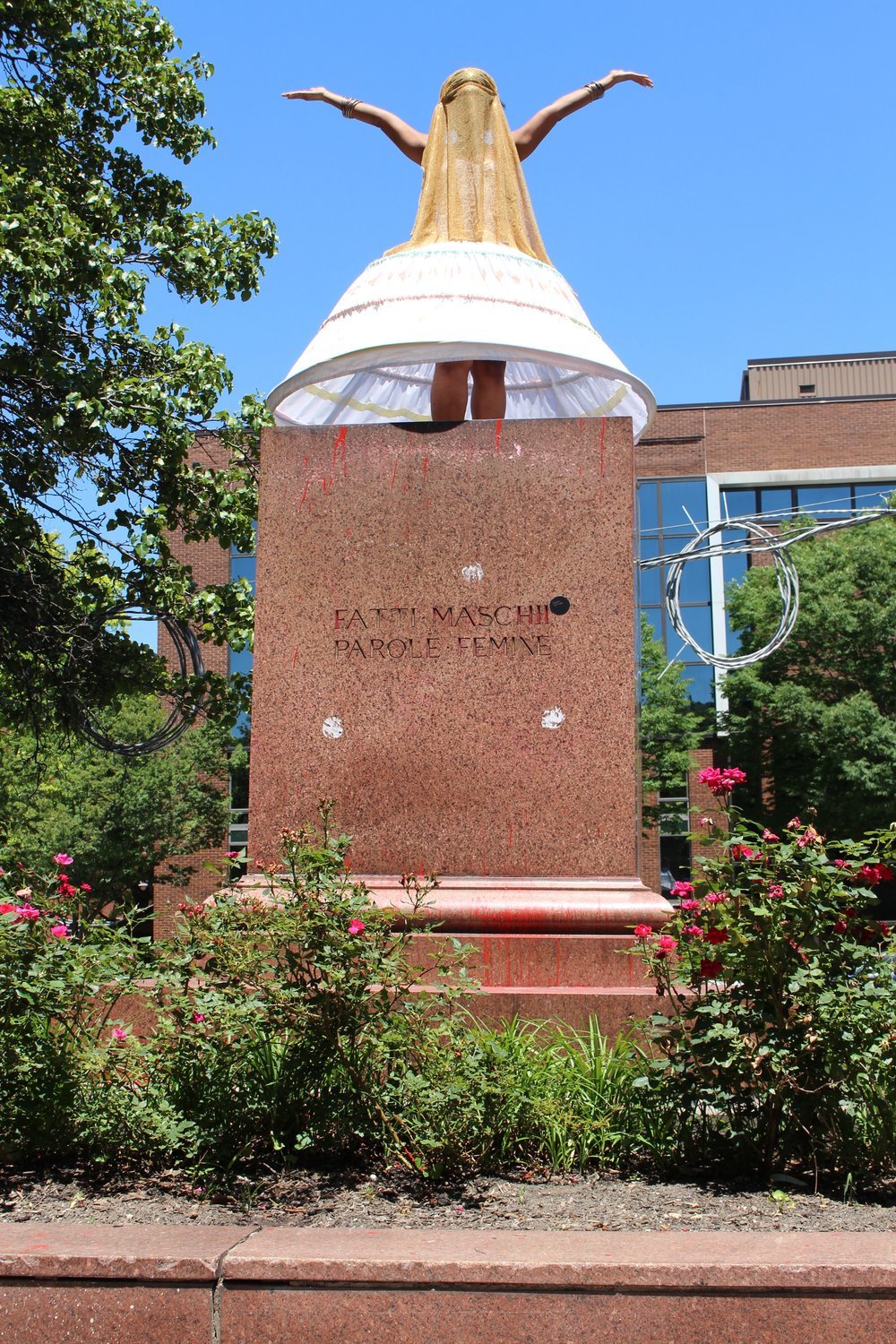 —Ada Pinkston
After the performance, visitors can grab a copy of Pinkston's zine that documents participant responses to workshops conducted by the artist in Baltimore, Washington, D.C., and Dallas about the removal of confederate monuments.
Hidden Paths will conclude on November 8 at 7 p.m., with a 90-minute tour led by Coreil-Allen, a public artist and OSI Community Fellow. His piece titled, "Arches and Access Evening Wander," leads audiences through Druid Hill Park. Attendees will meet the artist at the Druid Hill gates on Madison Avenue to, "explore monuments to community connectivity and a riptide of traffic priorities between the Druid Hill Park gate and the Jones Falls Expressway."
The work is presented as part of The Access Project for Druid Hill Park (TAP Druid Hill), led by a coalition of artists, residents, city officials, and community partners to increase activation at the park.
Coreil-Allen is especially looking forward to exploring, "the challenging impacts of surrounding highways on local neighborhoods, engineering behind the ongoing reservoir construction, and efforts to better access Druid Hill through participator transportation planning and public art."