She's Got the Beat
The Go-Go's Dundalk-born drummer credits her local roots for making her rock and roll dreams come true.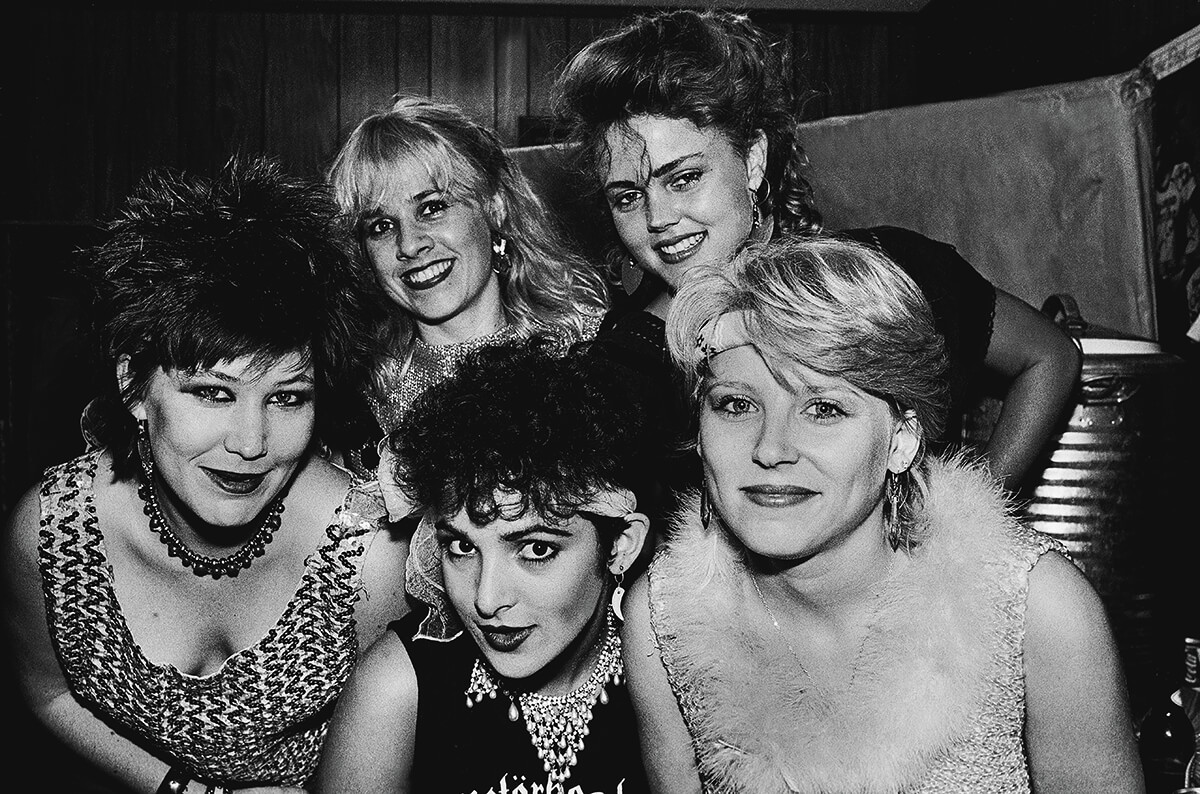 A lot of people would wince if their child's choice of a musical instrument was the drums, but Gina Schock's parents were supportive from the start.
It helped that John Schock, a stevedore on the Baltimore waterfront, and June Schock, a Dundalk hairdresser, both were big music lovers with eclectic tastes that ranged from jazz to rock and roll.
"My dad always had a set of [paint]brushes in his truck," recalls the famed drummer of the Go-Go's, "and he would play along with music with the brushes on the dashboard while he was driving. I grew up with him doing that all the time. He wasn't really a player-player, but he sure had good rhythm, and so did my mom. They were bad-ass dancers."
Schock still has Super 8 footage of her parents jitterbugging in the basement of their home during a party. The couple also frequented downtown dance venues like the Famous Ballroom (today the Charles Theater) in the 1960s, when Baltimore was a destination for Count Basie, Duke Ellington, and John Coltrane.
Schock also remembers her parents as hard workers—for a decade, they owned a take-out breakfast and lunch joint on Clinton Street adjacent to Pier One—with big hearts who always managed to make time for others, including treating neighborhood kids to hayrides and hosting birthday parties on their screened back porch. That neighborly goodwill was paid forward when Schock began drumming in earnest.
"We had bay windows in the front of our house, and I would open those windows in the summertime and just bang my brains out and all the neighbors would be like, 'Oh, that's little Gina Schock playing drums,'" says Schock, a smile in her voice. "That's the kind of neighborhood I grew up in. Everybody was cool."
"THAT'S THE KIND OF NEIGHBORHOOD I GREW UP IN. EVERYBODY
WAS COOL."
Gina Schock's resume reads like that of a rock and roll Renaissance woman: Drummer for the mega-hit '80s all-girl group the Go-Go's, as well as Baltimore bands Scratch n' Sniff, Edie & the Eggs, and House of Schock. Songwriter, including co-penning the title track for Miley Cyrus's Breakout album and four songs on Selena Gomez & the Scene's Kiss & Tell debut album. Not to mention photographer and author.
This month, she adds Rock and Roll Hall of Fame inductee to the list along with Go-Go's bandmates Belinda Carlisle, Jane Wiedlin, Charlotte Caffey, and Kathy Valentine. The first all-female rock band to write their own songs, play their own instruments, and have a No. 1 album on the Billboard charts, the Go-Go's will land in the Hall of Fame exactly 40 years after their chart-topping debut album, Beauty and the Beat, was released in 1981.
"This is like getting the Academy Award if you're an actor," Schock says. "I feel very lucky and grateful, and everybody in the band feels the same way."
The 36th annual ceremony will take place at 8 p.m. October 30 in Cleveland.
"My God, my phone blew up," Schock says of the day this spring when she learned the band had been voted in. "It was so full I had to stop answering 'cause it was just a million emails and a million text messages from all my friends. People I haven't talked to in probably 40 years, but it was coming from all over the place—'congratulations, congratulations.' It was warm in my heart. It was really a beautiful thing. You forget how many friends you have, and things like this are a great reminder."
Also this month: Schock's photograph collection, Made in Hollywood: All Access With The Go-Go's, will be published by Black Dog & Leventhal, an imprint of Hachette Book Group. The hardcover features Polaroids and other photos that the drummer snapped of her bandmates, as well as posters and other memorabilia from Schock's personal trove.
In November, Mr. Musichead, a Los Angeles gallery devoted to the art and images of music, will host a showing of 30 prints from the book.
The origin story of how Gina Schock set out on her musical career path, retold many times, nonetheless bears repeating.
In 1969, Johnny Schock—her then 18-year-old brother—took his 11-year-old kid sister to her first rock concert, Led Zeppelin opening for The Who at Merriweather Post Pavilion. The ticket stub, which she still has, shows an admission price of $3.75.
The takeaway for the preteen future Go-Go would prove priceless, however. "I had an epiphany," Schock recalls more than a half century later. "I knew from that moment on that I had to be on that stage. I didn't care what instrument I played, but I knew that's what I wanted to do."
(In September 1982, Schock would return to the Columbia amphitheater with the Go-Go's as the headlining talent. She still regards that performance as one of the top five of her life).
Going forward, every penny of her allowance and the money from summer jobs, including working at her parent's luncheonette, went to buy records, music magazines, lessons, and instruments, notably her first drum kit. Unlike bass and guitar, both of which she had tried her hand at, the drums didn't require outside lessons.
"I had the drums set up in my bedroom, and I would come home from school every day, put headphones on, and play with my favorite records," she says. "I didn't need someone to teach me. It was something that was in me. It was my gift. It all seemed very natural to have all four of your limbs going at different times," she adds with a laugh. "It seemed easy to me, so I just continued playing 'cause it felt right."
Meanwhile, she attended Sacred Heart of Mary in East Baltimore through the eighth grade and then The Catholic High School of Baltimore on Edison Highway, an all-girls Roman Catholic college preparatory school. There, she buddied up with three other girls, including Rosie Folck, then Rosie Patti, with whom she remains best friends to this day.
Folck recalls the teenage Schock as "bold" and sometimes "headstrong," as well as fun-loving, qualities that frequently ran her afoul of the nun charged with enforcing Catholic High's disciplinary code. Infractions included wearing rock band T-shirts beneath her button- up white uniform blouse.
The only one of her friends with a car, Schock, the self-described "leader of the pack," would chauffeur the trio to local nightclubs including Girard's, Club Charles, The Hippo, Gus' (in Dundalk) and Keystone Korner, fake IDs in tow. Or sometimes they would cruise around, almost always with a case of Miller High Life pony bottles on board.
Schock's partying side coexisted alongside incredible focus. "I didn't care about school," she recalls, though history was, and is, a favorite subject. "I was all about music."
Stints drumming in local punk rock bands, including Scratch n' Sniff with guitarist George Kondylas, bassist Charles Freeman, and lead singer Danny Brown, soon followed. Some of her first gigs were at Baltimore's storied punk rock venue, the Marble Bar in the Congress Hotel on Franklin Street. But the game changer was Edie and the Eggs, the punk rock, celebrity-exploitation quartet centered on Edith Massey, an actress in five John Waters films. The band's name is a nod to Massey's ovum-obsessed character in Pink Flamingos.
By then Schock had graduated high school and moved out to a studio apartment on North Broadway in Fells Point. Coincidentally, Massey recently had relocated her thrift shop, Edith's Shopping Bag, to Fells Point. Most afternoons, the indie actress could be found holding court from behind the shop's front counter, gabbing with friends and fans, including Schock, a frequent walk-in.
Schock remembers Massey fondly, as a "crazy, insane mother figure," a "talking machine" and "sweet old lady," who reveled in her late life alt-film fame. According to Schock, Massey announced she was going to put together a punk band with gigs in Philadelphia, New York, Los Angeles, and San Francisco. Would Schock want to be her drummer? Eager to spread her wings beyond the Baltimore club scene, Schock didn't hesitate. Today, she looks back on that opportunity as a pivotal point on her path to rock stardom.
"Edie allowed me to take my first plane ride at the age of 21, to fly to Los Angeles and San Francisco. We played at The Warfield in San Francisco, and the Nuart Theatre in L.A. And we drove up to New York, and I got to play in spots like Max's Kansas City and CBGB."
By the time Schock got back home to Baltimore, she had decided to make her move to either New York, Los Angeles, or San Francisco. Ultimately, she settled on L.A. for its artist-friendly cost of living and vibrant punk rock scene. In the winter of 1979, still just 21, she traded her red Ford Monarch and its white leather interior for her father's pickup truck, packed up her drum kit and PA system, pocketed her $2,000 in savings and two grams of cocaine, and hit the road with her other high school pal, Babs, riding shotgun. (Schock's been drug-free for more than 20 years.)
"My last words were to all my friends in Baltimore: 'The next time you see me, I'm gonna be a rock star.'"
Worried but supportive, her parents had one parting plea: "Please don't join any cults." Once arrived, she hit the ground running, posting her name in music stores on and around Sunset Boulevard, and got into bands right away.
"The novelty of a girl drummer appealed to a lot of dudes and bands," she says.
She was couch surfing with friend Steve Martin (no relation to the famous comedian), whom she met during the L.A. leg of the Edie & the Eggs tour, when, at Steve's urging, she went to see a local punk band, the Go-Go's, at Club 88. The group had only two songs to their credit, one of which Schock remembers they replayed as an encore.
"When I saw the Go-Go's play, they were a fucking mess," Schock recalls with a laugh. "But they were having so much fun, and I thought, 'Wow, it's so neat to see these five girls having a great time, and they're not so serious about it, 'cause I was so serious. I needed that."
Soon after, she was introduced to Wiedlin and then bass player Margot Olavarria at a house party in Santa Monica. "They were looking for a drummer, and, of course, I had seen them play, so I wanted to join the band."
With Schock enthroned behind the drum kit, the band hit its stride nearly overnight. As the house band for the Whisky A Go Go, a key club in the New Wave and punk rock scene, the Go-Go's opened for visiting bands including two British Ska groups, Madness and The Specials.
From December 1979 through June 1980, they toured England with both bands, paying the plane fare and other travel costs out-of-pocket. The tour birthed several steamy romances with the men in the other bands, notably Wiedlin and Terry Hall, lead singer for the Specials. "Our Lips Are Sealed" was born from love letters Hall sent to Wiedlin once the Go-Go's returned to the States.
"MY LAST WORDS WERE TO ALL
MY FRIENDS IN BALTIMORE: 'THE NEXT TIME YOU SEE ME, I'M GONNA BE A ROCK STAR.'"
Onstage, however, the reception the Go-Go's received was the opposite of warm. As chronicled in the 2020 documentary film The Go-Go's, they were frequently heckled and even spat upon by white nationalists (known as the National Front in England), who resented an all-female "puff punk" band taking over the stage. At the back of the stage, Schock was out of spitting distance, though she, like her bandmates, frequently found herself dodging beer bottles and barware.
When the Go-Go's got back to the U.S., they learned that their song "We Got the Beat," which had been released as a single in the UK on July 1980, had blown up, getting airplay from rock stations around the country and becoming the hot new club song of the summer.
Still, an album deal remained elusive. Time and again they were told that all-girl bands didn't sell records. "We were turned down by 20 record labels," Schock remembers. "Nobody wanted to touch us 'cause we were five girls and there wasn't a hugely successful female band out."
The Go-Go's debut album, Beauty and the Beat, was released on July 8, 1981, and spent six weeks at No. 1 on the Billboard charts. Hit singles followed, including "Our Lips Are Sealed" (1981), "We Got The Beat" (1982), "Vacation" (1982), "Head Over Heels" (1984), and "Turn To You" (1984). Last summer, the reunited Go-Go's released "Club Zero," their first new song in 19 years. "Club Zero" shot to No. 7 on Billboard's Rock Digital Song Sales.
Unlike some who have achieved stardom, Schock has remained refreshingly down-to-earth. She retains her Baltimore accent, including sometimes pronouncing Baltimore as "Bawlmer" and waxing eloquent on the finer points of crabbing, learned from summers spent helping her dad cast crab nets at the family's shore home in Annapolis.
According to Folck, even at the height of fame, Schock was never too busy to mail off a postcard from wherever she was touring and managed to make it home to Baltimore for Christmas.
Schock's upcoming trip home to Charm City will be bittersweet. Helped by Folck and her brother Johnny, she will clean out her childhood home, the house in Dundalk her parents had for more than 70 years.
"It's gonna be rough, and it's going to be a mixture of things. For us, it's gonna be beautiful and sad and, you know, it's heavy," she says.
Schock's mother, June, died in 2018. Schock moved her father to her San Francisco Victorian, which she shares with her dog, Penny. John Schock, aged 97, passed away during the writing of this story.
Love of family and hometown pride have buoyed her through myriad career highs and lows, including the Go-Go's contentious May 1985 breakup. (The band reunited in 1990 and continues to perform together, with bookings into January 2022).
"I'm still passionate about music," Schock says. "It was a wonderful gift that was given to me. Some people go through their whole lives, and nothing moves them. They don't know why they're even here, what they're doing. I know why I was put here."
Meet the Authors: 
Kendell Shaffer has published a YA novel, Kalifornia Blu and sold a TV pilot, Downtown, to ABC Studios and a TV movie, Team Julia, to Lifetime Television.
Hope C. Tarr is the author of 25 novels for Penguin, Harlequin and Macmillan. She is a SPJ-winning freelance writer whose work has appeared in Baltimore magazine, USA Today, and The Irish Times. She is also a co-writer with Emmy award winner Linda Yellen on Stolen Kiss, an indie feature in development.
Hope and Kendell started writing together in journalism class at St. Paul's School for Girls in Baltimore. They are developing a TV pilot based on Hope's Suddenly Cinderella novels.