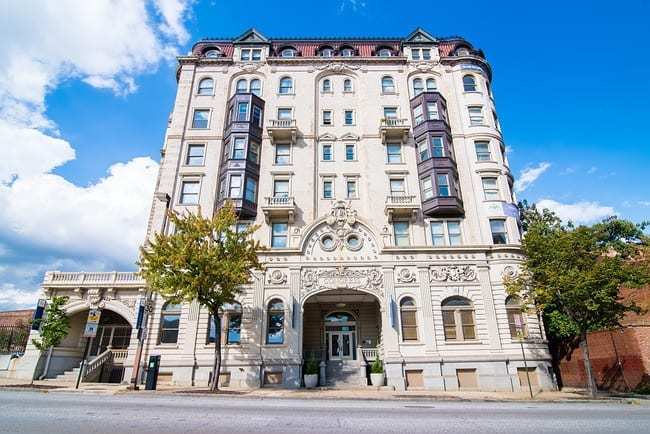 Zahlco Development
As a teenager living in Carroll County in the early '80s, David Koslowski always dreamt about going to the Marble Bar beneath the old Congress Hotel on West Franklin Street. The local music veteran, now co-owner of record store cafe Baby's on Fire in Mt. Vernon, remembers being an avid listener to WCVT—Towson's indie-rock radio station that predated what is now WTMD.
"When they did the concert calendar you would hear of Talking Heads or Iggy Pop playing at the Marble Bar," he says. "And I was like, 'I gotta get to that place. That's where my tribe is.'''
Unfortunately, Koslowski just missed being old enough to get in. It was around that point that Maryland changed the legal drinking age, and by the time he turned 21, the storied subterranean music venue had already closed its doors. It wasn't until last year, when the Baltimore Architecture Foundation hosted its annual Groundhog Day fundraiser in the long vacant space, that Koslowski finally got to experience the place he had envisioned going to for so many years as a high school kid.
For one night last February, former Marble Bar alums and architecture enthusiasts packed the basement venue to sip cocktails from W.C. Harlan while marveling at the original moldings and 72-foot namesake bar. The soundtrack for the evening was provided by indie-pop rockers Super City, along with a playlist spun by Koslowski—who featured acts (including local punk legends Reptile House and Thee Katatonix) that played at the bar in its heyday.
"It was a really fun mix of people," says Kathleen Lane, executive director of the Baltimore Architecture Foundation. "Both people who remember being in the space, and architects who could almost help them see the importance of the details that are still intact in the building."
The party was the first time the bar had been activated in more than 30 years. Even if only for a few hours, it gave nostalgic fans an opportunity to revisit the place that was once frequented by the likes of REM and The Psychedelic Furs. But now, the owners of Mobtown Ballroom in Pigtown have stepped in to spearhead a more permanent revival.
Come fall, owners Sarah Sullivan and Michael Seguin will debut a new iteration of the space. Their vision is for the Marble Bar, which will keep its name, to be a community cafe that features an all-day food menu with strong coffee and cocktail programs.
"We want it to be a spot that people can make their second home," Sullivan says. "They can come in the morning to get coffee and a bagel and read the paper, or park themselves during the day to do their work. And then in the evening come in for a casual date or just to hang out in a comfortable, cool spot that is affordable—kind of like a European-style cafe."
Although live music won't necessarily be the focus of the new concept (Sullivan mentions possible piano showcases and smaller jazz trios), the owners are being thoughtful about honoring the history of the property in other ways, like showcasing old photographs and collecting stories from former regulars for new customers to read. Of course, they are also planning to preserve architectural details including the vintage moldings.
"I know what it's like to have grown up in a place and then have it close, get knocked down, or be replaced with something new," Sullivan says. "We really want it to be a monument to the people who used to spend all their time there."
Built in 1903, The Congress Hotel complex—which included the downstairs bar and two theaters connected to the building by covered passageways—brought in big vaudeville acts like Charlie Chaplin, Will Rogers, and Eddie Cantor in its early years. The basement originally operated as a German rathskeller (aka a basement bar) before being reimagined into a home for emerging punk and new wave bands in the '70s and '80s.
"Everyone knows buildings through their own experiences and memories," Lane says. "So the best kinds of adaptations and revivals are those that can retain a sense of that history, yet also create new opportunities for the future."
Koslowski agrees, mentioning the trajectory of other historic arts spaces like the Club Charles: "Now it's an icon of the city for the next generation," he says.
As the Mobtown team begins restoration work, Zahlco Development—which owns the bar and Congress Apartments upstairs—is beginning to transform the historic Mayfair Theatre around the corner into a retail-and-residential property. There's also talks of converting the outdoor area between the two buildings into a community hub with seating and a stage for open-air concerts in the summer. Ideally, the greenspace would boast a seperate entrance to the Marble Bar.
Sullivan says she's most enthusiastic about the venue becoming a place where people from all backgrounds can come and interact with one another—a vibe similar to what she has established at Mobtown Ballroom.
"Watching what happens when the character of the space and the character of the people come together is really cool," she says. "It's this idea that the place is this thing that was once living and breathing on its own, and to reanimate that with the personalities of people today is really exciting."