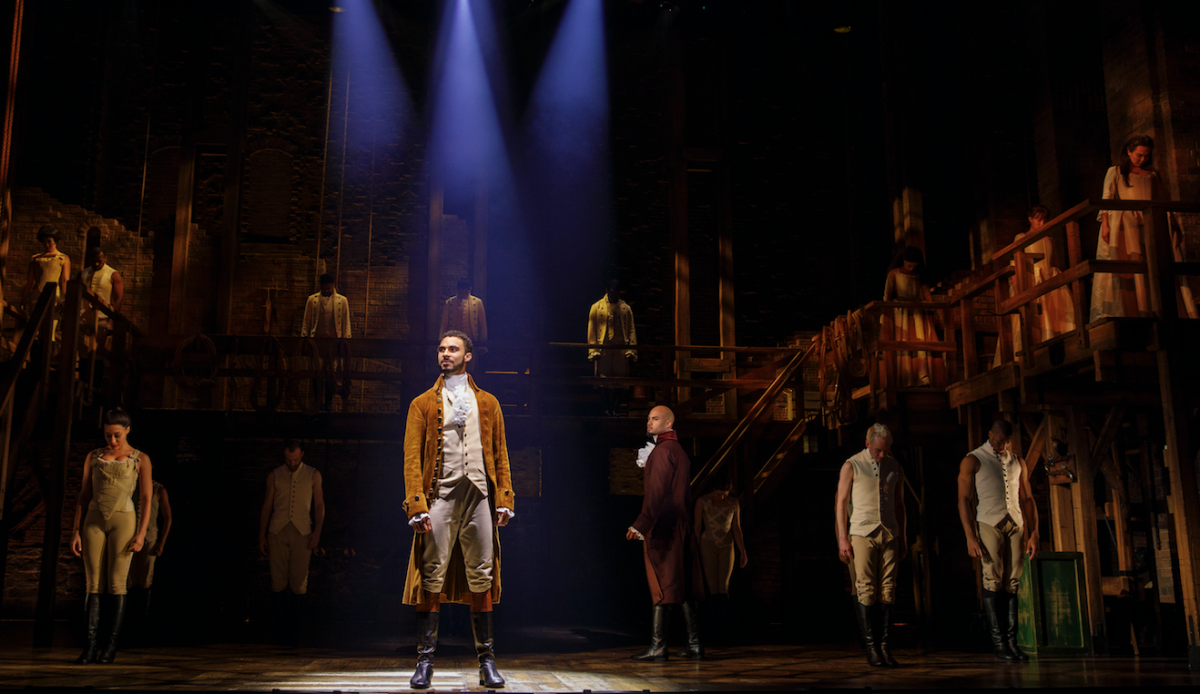 Hippodrome at France-Merrick Performing Arts Center
It's finally happening. Hamilton, the award-winning, record-breaking musical about one of America's most fascinating founding fathers, is on its way to the Hippodrome Theatre in Baltimore.
Those who signed up through the one-week Ticketmaster Verified Fan registration will have the jump on getting their shot at seats, but that's not the only way to make sure you see this Broadway smash. For those willing to do things the old-fashioned way, there will be a limited number of tickets available at the Hippodrome box office. Get there early to try to avoid those high(er)-priced resale tickets online.
Hamilton won't take the stage until June 25, but in the meantime, we caught up with cast member Olivia Puckett, who plays Peggy Schuyler/Maria Reynolds, to talk about touring, telling stories, and what it's like to have history's eyes on you.
What has it been like to tell this story?
It has been an honor and, honestly, a dream come true. This show has shifted the global impact of musical theater and made the medium accessible in an unprecedented way. It's always exciting when I meet people after the show and they normally don't see musicals but they felt compelled to see Hamilton.
What are you looking forward to in bringing Hamilton to Baltimore?
It'll be exciting to bring Hamilton to a city that hasn't yet hosted the show, especially a city with as rich a history as Baltimore. Plus I want to eat all the seafood—all day, every day.
What challenges are there in touring with the show as opposed to performing in one place for a prolonged period of time?
Tour definitely comes with a unique set of challenges. The constant moving around can be a shock to the system, so I have to be diligent about establishing routines and finding even a tiny bit of stability when possible. Having my dog, Queen Esther Solange Puckett, on the road with me certainly helps. This is my third time touring, and even though I've gotten pretty used to the challenges that come along with it, it's always exciting getting to explore cities I might not have otherwise. How is this show different from your previous experiences?
The diversity, inclusivity, and representation in this show is different from so many of my experiences in the past. It's rewarding and gratifying. I get to really own my space as a brown woman, and it rocks.
Why do you think Hamilton resonates with so many people?
It is a fundamentally an American story that people are somewhat familiar with, but the modern music and diverse cast that reflects the American experience today make it accessible to audiences and makes them interested in history in a new way.
What have you learned from this show?
I won't lie and say I knew a ton about U.S. history prior to joining this cast. If I had to take a test on Alexander Hamilton's life, I would hopefully get an A now!
What parts of your character do you most identify with?
I definitely relate to Peggy's sassiness and anxiety. Maria is a bit of a stretch for me, but I love her tenacity and willingness to do what she must to survive in this crazy world. I hope people are inspired by the women in this show. Without female figures, none of these men would have accomplished even half of what they did.