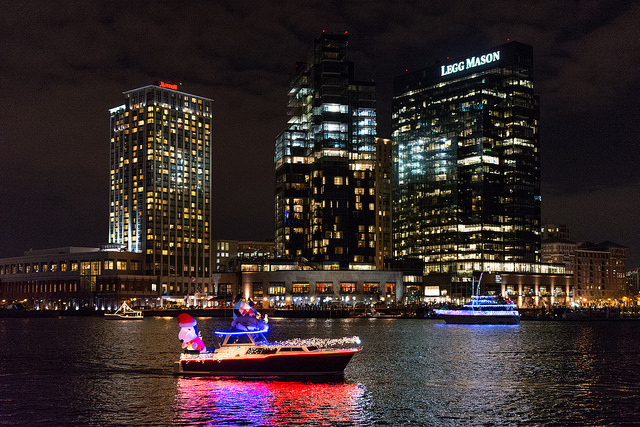 Photography by Patrick Gillespie
If you're not quite in the holiday spirit just yet, Baltimore has more than a few fixes to tame your inner-Grinch. There's nothing like Christmas lights to conjure up those warm and fuzzy feelings and, luckily, lights are already abound. No matter what part of the city you reside in, there's a light show or event nearby that the whole family will absolutely love. So bundle up, grab your hot cocoa (or bring your mug full of spiked nog), and check out some of these kid-friendly events that will be sure to have you feeling all the holiday feels this year.
Here are six of the best Christmas light shows to take the family to:
11/29: Belvedere Square Tree Lighting
You can't miss the ginormous tree in the middle of Belvedere Square Town Center. But on Thursday, November 29 at 7 p.m., that thing is getting lit. With drinks from Grand Cru—like hot spiked cider and mulled wine—you can get lit, too, or at least stay warm and cozy in the chilly winter air. There will be carol singers from Stages Music Arts belting out familiar tunes, food vendors from 5-8 p.m., and a mitten drive to help the needy. Basically, it's everything you need to get in the holiday spirit. 540 E. Belvedere Ave. 5-8 p.m.
12/1: Fells Point Parade of Lighted Boats
On Saturday, December 1st at 6 p.m., the 31st Annual Parade of Lighted Boats will begin. The parade starts at the Anchorage Marina on Boston Street and the boats will be visible along the waterfront from Canton, Fells Point, Harbor East, the Inner Harbor and Federal Hill. So no matter where you post up, you can see the glorious lights shimmering on the water. It's a boat-lovers Christmas dream come true. 2501 Boston St. 6-8 p.m.
12/2: Holiday Pagoda Lighting in Patterson Park
It's almost time for the 4th Annual Patterson Park Pagoda Lighting. On Sunday, December 2nd from 4:30 to 6:30 p.m., come watch the beautiful lighting ceremony, complete with live music and plenty for the kids to enjoy. There will be a table full of crafts, gift vendors to shop from, a toy drive, and even a visit from the man of the season himself. Ho! Ho! Ho! 27 S. Patterson Park Ave. 4:30-6:30 p.m.
12/6: 47th Annual Washington Monument Lighting
On Thursday, December 6, the 47th Annual Monument Lighting takes place in Mount Vernon Square. The event is from 5-8 p.m., and there's plenty more to do and see than just the lights—though it's a spectacular sight on its own. There's also a fireworks display, a Christmas village that the kids will love to explore, plus food and drinks from dozens of vendors. Still need more to get into the Christmas spirit? How about music from BSO Kids, The Morgan State University Choir, and more for all to hear. Afterwards, head over to Wet City to warm up with holiday cocktails, craft beer and festive specials by Chef Brad. 699 Washington Place. 5-8 p.m.
12/14: 12th Annual Lamp Post Lighting in Canton
Come on down to Canton Square for the 12th Annual Lamp Post Lighting on Friday, December 14 at 5 p.m. O'Donnell Square will help you find your festive vibes as you vote on your favorite decorated lamp post and storefront. Slurp some free hot chocolate, or purchase a tasty cup of eggnog and some treats. There will be caroling, live music, raffle prices, and photos with the Clauses—making this holiday lighting ceremony one the whole family will absolutely love. 2917 O'Donnell St. 5 p.m.
To 12/24: Christmas Village in West Shore Park
Every weekend at West Shore Park from now until Christmas Eve, there's a special theme at the downtown Christmas Village. Whether it's a bratwurst eating contest, a lantern parade, or a shopping weekend, there's something for everyone to enjoy. You can't miss the beautiful lights, trees, and decorations. But while you're there, don't forget to snap a picture with Gingy and Old Saint Nick himself! 501 Light St. 11 a.m.
To 12/31: Hampden's Miracle on 34th Street
Christmas in Baltimore just isn't complete without a visit to the lights on 34th Street. No matter how many times you've cruised along the miracle of spectacular decorations that only Baltimore could put together in it's 72 years, it never quite gets old. Sometimes you can find a hot cocoa vendor and maybe some treats, but you can always count on kind-hearted folks that are happy to open their doors to families—as there are always more decorations inside the homes to explore. The lights stay on until December 31st, so whether you go early or late, don't leave Hampden off of your holiday check-list. 720 W. 34th St.