How to Build an Art Collection, According to Local Experts
Tip no. 1? It starts with figuring out what you like.
In a penthouse with a breathtaking view across the city, with the waterline of the harbor shimmering in the distance, Rachel Rabinowitz sits beneath a neon sculpture that spells out "America" in black typewriter font. A 2005 work by artist Glenn Ligon, "America" glows with a white background in the evening, a statement on race in its eponymous country.
"It was a prescient piece as it came out at the dawn of the Obama era," says Rabinowitz, a broker with her own firm, Guerilla Construction, which connects creative professionals with unconventional spaces. She shares the apartment with her husband (and fellow art enthusiast), Joseph, and their daughter.
Rabinowitz and her husband began their collection in 2005, long before their penthouse years, when they purchased an architectural abstraction painting by Sarah Morris, striking for its bright colors and geometry.
"We were, I think, sharing Joseph's dad's Buick at the time," she laughs. "We should've put the money toward a car. Instead, we bought a painting."
While Joseph developed his artistic eye through architecture (he's the principal of Guerilla Architecture), Rabinowitz's love for art is practically genetic. Her grandparents, Israel and Selma Rosen, amassed one of Baltimore's largest and most acclaimed collections of modern art, and her mother and sister are both artists.
But Rabinowitz put in the time to develop her own eye, working as a docent at the Baltimore Museum of Art, at auction houses, and C. Grimaldis Gallery, a contemporary and modern art gallery near The Walters Art Museum.
As an art history major in college, Rabinowitz realized she wasn't cut out for the academic side of art appreciation but was drawn to the sales aspect. She's always wanted to own her own gallery, a dream that will finally become a reality later this year when she opens Guerrilla Gallery, an 18,000-square-foot space in Towson that will focus on mid-career artists from the Baltimore-Washington region.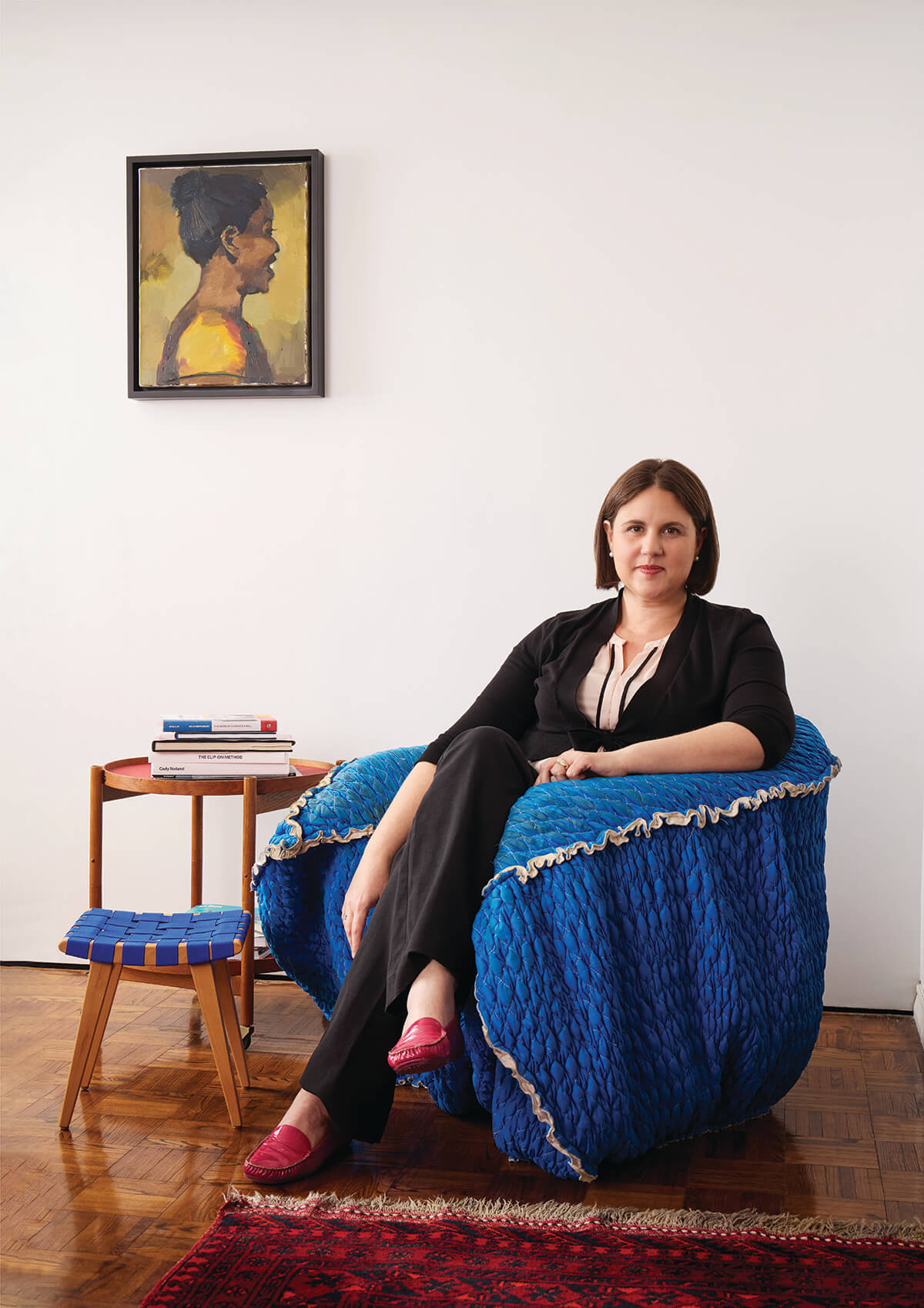 Rabinowitz was obviously knowledgeable when she started collecting and knew to buy "real deal" artists from established galleries.
Someone with a love of art but no experience collecting may find getting started a tad more intimidating.
First rule, says Kristen Hileman, an independent curator and art advisor with more than 20 years of experience working as a museum curator, is don't be afraid to ask questions.
"Collecting can mean different things to different people," says Hileman. "But I think the approach that brings the most joy and reward is one where you're deciding to commit to engaging with art over time because you learn from it and love it and enjoy the community you get involved in."
But, she cautions, there's a step before engagement and that's deciding what interests you.
"Do you want to bring things into your home that are beautiful? Or that ask you questions? Do you like abstraction or do you gravitate to representational work? You need to do a little soul-searching."
There are those who own art and those who collect. The difference is intentionality, Hileman explains.
Rabinowitz, for example, says she and Joseph look for pieces that capture the cultural zeitgeist of an era. They have many Black artists from the '70s and '80s through contemporary—who were once underappreciated and thus easier for them to afford, though that is no longer the case—and pieces that represent the "funk" of the 1970s.
"I'm looking for things that are iconic of their period," says Rabinowitz. "My litmus test is to look at a piece and say, 'Can I have a dialogue with this piece?'"
Myrtis Bedolla is the founding director of Galerie Myrtis Fine Art & Advisory, specializing in 20th- and 21st-century American art with a focus on work created by African-American artists. She has some basic rules she shares with new collectors, which she says are the same rules she follows when acquiring work for her own private collection.
"Visit art fairs, galleries, and museums to discover your aesthetic," she says. "Read books on art history and collecting art, join art-collector groups, and attend museum lectures and visit artists' studios."
Rabinowitz likens art education to learning about wine. You start with what you like, you read books, attend tastings, speak to vintners, and try many things.
"Don't just go to one gallery or one museum or only look at Instagram; the art world is not a straight path," says Rabinowitz. In addition to going to lectures and meeting artists, she likes the online education offerings at art21.org and points to the local creative online journal BmoreArt as a resource. "Be willing to learn for the sake of learning."
Both Hileman and Rabinowitz extol the virtues of the art scene in Baltimore, not least because there are many living artists with whom a would-be collector can develop a personal relationship.
Some of Rabinowitz's acquisitions are from people she knows. One of the first large sculptures the couple bought, "Well," is by Korean artist Chul Hyun Ahn, whom she met when they were neighbors in the city's CopyCat building. Another piece is by Dan Steinhilber, a connection made through the Baltimore Museum of Art. Being part of the community that surrounds art collecting is part of the joy of collecting itself.
Newcomers to collecting may be concerned that this is a pastime only for those with money. While Rabinowitz says it is fair to say collecting is often the purview of the wealthy, it's a little like the stock market or golf—yes, there are monied players, but you can get in at any level if you really want to.
And while there is money to be made by buying art as an investment, Rabinowitz says the people who seem to have the most success buying art that holds its value are the ones motivated by a love of the work, not aspirations of asset appreciation.
"I believe you can have an amazing collection at any price point," says Hileman, adding that easy access to the Maryland Institute College of Art, our many local academic art programs, and D.C. makes Baltimore a prime spot to find emerging—and potentially more affordable—pieces. There are also community-based and nonprofit art spaces, like the Creative Alliance and Maryland Art Place, that offer opportunities for both engagement and investing.
Being part of the community that surrounds art 

collecting is part of the joy of collecting itself.
Another distinction between those who buy art and those who collect is that many collectors set aside a certain amount of money for this pursuit.
Bedolla suggests that would-be collectors "establish a budget. This will help you prioritize your purchases." She adds, "Don't be shy about asking if the gallery offers a payment plan. Most galleries do, especially those that cater to novice collectors."
That doesn't mean you can't stretch that budget for a special piece, though. "Acquire the best piece you can afford," says Bedolla.
"There's a bit of a myth that if you meet the right people at the right time, you can buy something for nothing and make a fortune," says Hileman. "It's not that it isn't possible, but there are many reasons, many unpredictable, an artist doesn't realize their potential."
She continues, "I strongly recommend making sure you have other motivations for building a collection, that have to do with feeling joyful, stimulated, provoked, or connected with creative minds, rather than being overly concerned with the monetary aspect."
Once you know what you want to own, think carefully about its care. Rabinowitz loves raising a child with art in the home and says you can purchase things like sculpture that are durable and can withstand having fingerprints wiped away.
Similarly, Hileman says that if you opt for innovative pieces made from fragile materials, understand they may have a lifespan.
"Educate yourself about materials," she says, "and how durable they are and how easy they are to keep in your house."
At the very least, a collector needs to cultivate a good relationship with a knowledgeable framer and set aside a certain amount of the art budget for framing.
And, says Bedolla, "Maintain and protect records of your purchases."
Hileman is currently part of a team writing a book, How to Fall in Love with Art, about Robert Lehrman and Barbara and Aaron Levine, collectors she met through her time working at the Hirshhorn Museum in D.C. The book chronicles the knowledge of these collectors, but also their friendship and shared passion for art.
Hileman says the book, which is expected to publish in 2024, "Is meant to demonstrate that no matter what level you're collecting, you're part of a community and the community is essential to the experience of collecting."
The engine that fuels collecting and that builds a sense of shared experience among collectors, she says, "is finding joy in the beauty that art offers in a world that is often not joyful."