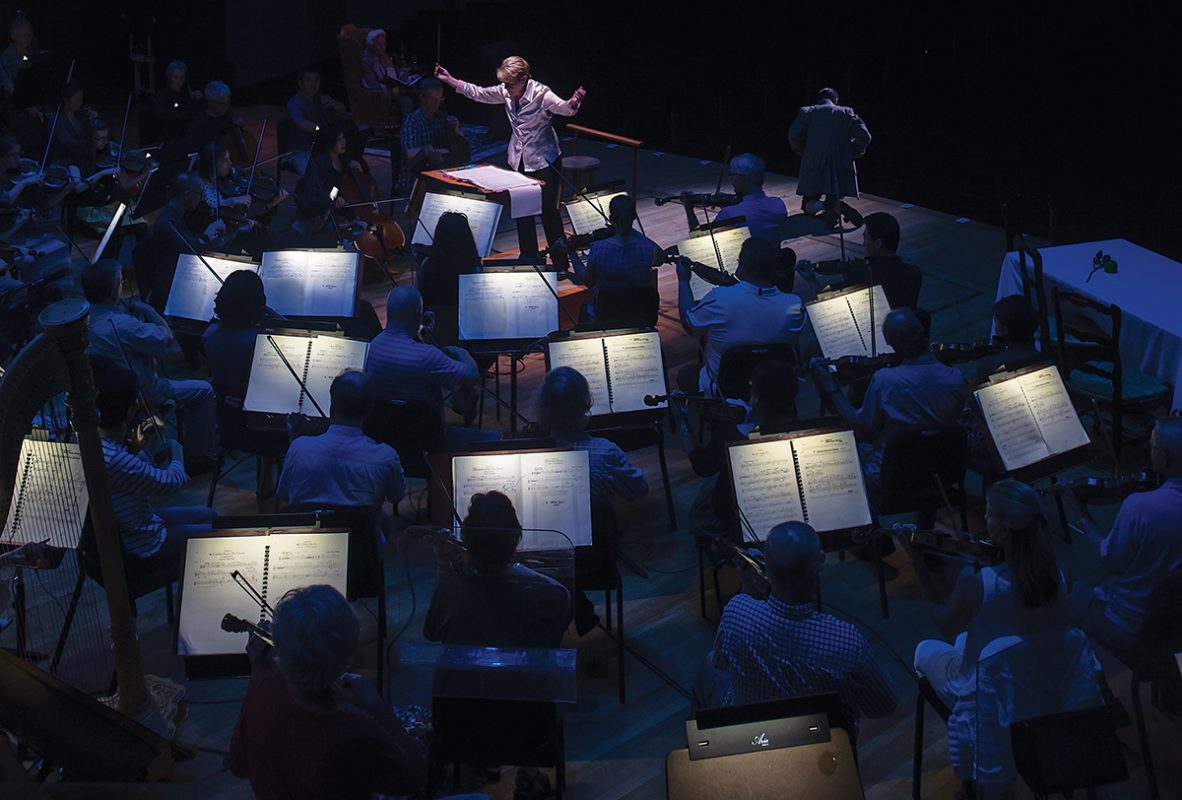 David Colwell
[Editor's Note 6/17/19: Last night, following months of uncertainty surrounding longstanding financial issues, expired contracts between the musicians and management, and the abrupt cancellation of the annual summer season, the Baltimore Symphony Orchestra announced that a lockout of the musicians would go into effect this morning until a bargaining agreement could be reached. The news came after the players finished their last concert of the spring season.]
One week ago, the musicians of the Baltimore Symphony Orchestra had just finished a rehearsal for a Thursday evening concert when they received notice that their upcoming summer concert season—set to start in less than three weeks—had been abruptly cancelled.
"We are stunned and grieved on behalf of our beloved BSO," percussionist Brian Prechtl said to the audience that evening. "We will keep making music with passion as long as management keeps the lights on and the doors unlocked."
The musicians then went on to perform an unscheduled selection, Edward Elgar's "Nimrod," which has historically been performed after death or tragedy.
Such turmoil is nothing new for an orchestra that has struggled with periods of financial constraint and player-management conflict throughout its 102-year history. The contentious, ongoing dispute between the organization's management and musicians has been playing out publicly over the last few months as contract negotiations once again expired.
When that happened this January, the administration had already proposed that the ensemble's 52-week schedule be cut to 40 weeks due to the organization's dire financial state. Such a change would effectively eliminate the orchestra's summer season and, as they are paid weekly, decrease players' base salaries by at least 20 percent. The musicians rejected the proposal, calling the move a demotion of "a full-time, world-class symphony orchestra into a part-time, regional orchestra."
Operations continued under the terms agreed upon in the musicians' expired contract, and the next round of negotiations were set to take place this Tuesday, following a surprisingly promising spring. Three new musicians had been hired in February, an ambitious summer concert series was announced in late April, and new legislature supported by both the musicians and management—the John C. Merrill Act, named for the veteran BSO violinist who passed away earlier this year—was approved by Governor Hogan on Memorial Day Weekend. It allocated $3.2 million in state funding to the organization for the next two fiscal years and required that a committee be instated to both assess the institution's finances and make recommendations for long-term solutions.
But five days after the bill passed, BSO management unceremoniously announced the official cancellation of the orchestra's summer season, effectively reinstating the winter proposal that players had called "draconian." Management cited the orchestra's continued financial challenges as well as uncertainty over whether or not Governor Hogan would release the first half of state funding in a timely manner.
"Despite significant artistic achievements, the BSO has faced financial challenges over the course of many years," says BSO president Peter Kjome via email. "There have been intensive efforts to increase revenues and manage costs, but despite these efforts, we have experienced consistent deficits. Extremely generous gifts to support general operations have not enabled us to overcome annual losses."
"It felt like we were finally riding with the management toward the finish line—working together on the [Merrill Act] and with lots of positive ideas about the future and rebuilding confidence—and it feels like they sat down in the last leg of the marathon," says Prechtl, who is also co-chairman of the Baltimore Symphony Musicians Players' Committee. "It's hard to know exactly what's going on, but the effect is hamstringing the musicians' ability to have any kind of leverage at the bargaining table. They're trying to force us into this terrible situation, and here we are, about to be unemployed in two weeks with almost no notice, while people have families and mortgages."
According to Hogan spokesman Michael Ricci, the Merrill Act is just one of dozens of legislative items with funding currently "fenced off" and under review. Others including $127 million for school construction, $7 million for technology updates at the Baltimore Police Department, and $1 million for Baltimore's YouthWorks program. The governor is also reevaluating the use of funds following projections that show the state could face a $961 million deficit in the next fiscal year.
Last year, the state provided a $750,000 bonus grant to the orchestra and officials are also now in discussions to provide an additional $1 million bridge loan. Hogan's team has also noted that the BSO has received $8.7 million in state funding since 2016 and is the largest single recipient of the Maryland State Arts Council grants program.
Still, even if the funding is released, a reinstated summer season isn't a guarantee. "A meeting of the board will be called to review updated financial projections and discuss next steps," says Kjome. "We recognize that this generous support alone is not sufficient to address the organization's significant and longstanding financial challenges."
Following last week's news, the musicians cancelled their planned contract negotiations on Tuesday, instead appearing on WYPR's Midday with Tom Hall along with Kjome to discuss the latest conflict. Protests have cropped up outside of the Joseph Meyerhoff Symphony Hall and The Sun and Post op-eds have been penned, calling for BSO leadership to resign.
"What management did smacks of bad faith—it kills any good will between not just musicians and the management, but people like us who support the orchestra," says John Warshawsky, a long-time BSO donor and member of the Save Our BSO community committee formed last fall to back the musicians. "A number of people have said they are going to cut back or not contribute at all for the next year. We don't want to be supporting an organization that treats their musicians this way."
Fellow members of the arts community have also been voicing their concerns for what this could mean for Baltimore as a whole. "When you do something that radically endangers the people you depend on to be your frontline talent . . . it's like saying, the schools are in trouble, I bet if we cut half the teachers and quadrupled the classroom sizes, we could make our budget—but what would that give you?" says Rebecca Hoffberger, head of the American Visionary Art Museum, which hosted a fundraiser for the musicians in February. "In a time when Baltimore is already being kicked in the stomach with so many scandals, do we really want to say goodbye to such a beautiful symphony?"
Yesterday, 72 Maryland lawmakers, led by Delegate Maggie McIntosh, a Baltimore Democrat, who sponsored the Merrill Act, sent a letter to Governor Hogan, imploring him to release the funding.
Meanwhile, other legislators have now weakened their stance on the BSO funding, such as Delegate Nic Kipke and Kathy Szeliga, who voted for the passage of the Merrill Act before penning a letter to Governor Hogan last week on the behalf of House Republicans, stating that the the breadth of the organization's financial crisis had just come to light: "While we all appreciated the history and importance of the BSO and want to see it thrive, the state cannot throw taxpayer money at the problem without meaningful reform."
The BSO has an annual operating budget of $28 million, but in the face of issues encountered by symphonies across the country—changing demographics, local economics, declining attendance, and inconsistent fundraising (though revenue from contributions is currently at an all-time high)—it has lost an average of $1.6 million each year over the last decade. The symphony cut more than $1 million from the budget in 2016 through layoffs, administrative streamlining, and the elimination of all professional development, as board chair Barbara Bozzuto noted in a Sun op-ed last fall. Musicians have suggested increasing the annual draw from the organization's $60 million endowment to cover some of the costs, but the endowment trust board has stated that doing so would risk depleting the endowment principal, eliminating the possibility of further support in the future.
At this time, the musicians are not planning to go on strike, but they are considering the reality of an impending lockout. Both scenarios have played out at other major U.S. symphonies following such contentious disputes. A number of the BSO's current players are already looking for other jobs.
"Management wants us to 'negotiate,' but it's hard to negotiate when you have a gun to your head," says Greg Mulligan, a BSO violinist and fellow co-chairman of the players' committee. "We're still considering all of our options. We're still evaluating everything they've put on the table and we're still doing some deep thinking about what our response to them will be. The musicians will remain flexible, but we have to have boundaries."
"It is important that we continue our conversations at the negotiations table," says Kjome when asked about the possibility of a lockout. "We remain committed to working together to reach agreement with our musicians and would not want to speculate on possible outcomes."
For now, the musicians will continue to play, with Mahler's "Symphony No. 9" to be performed this weekend and a live score to West Side Story slated for next week. Over the past several months, they have worked to get the word out with pop-up community performances across the city. They are also currently in talks to still perform the cancelled "Star-Spangled Spectacular" concert on July 3 at Oregon Ridge and the BSO Academy performance at Artscape, as well as an upcoming performance with the Orioles at Camden Yards.
"Management is silencing the music; we're not—we're moving ahead," says Prechtl. "When this city and this state need the healing powers of music, we have been there, and we will continue to be."