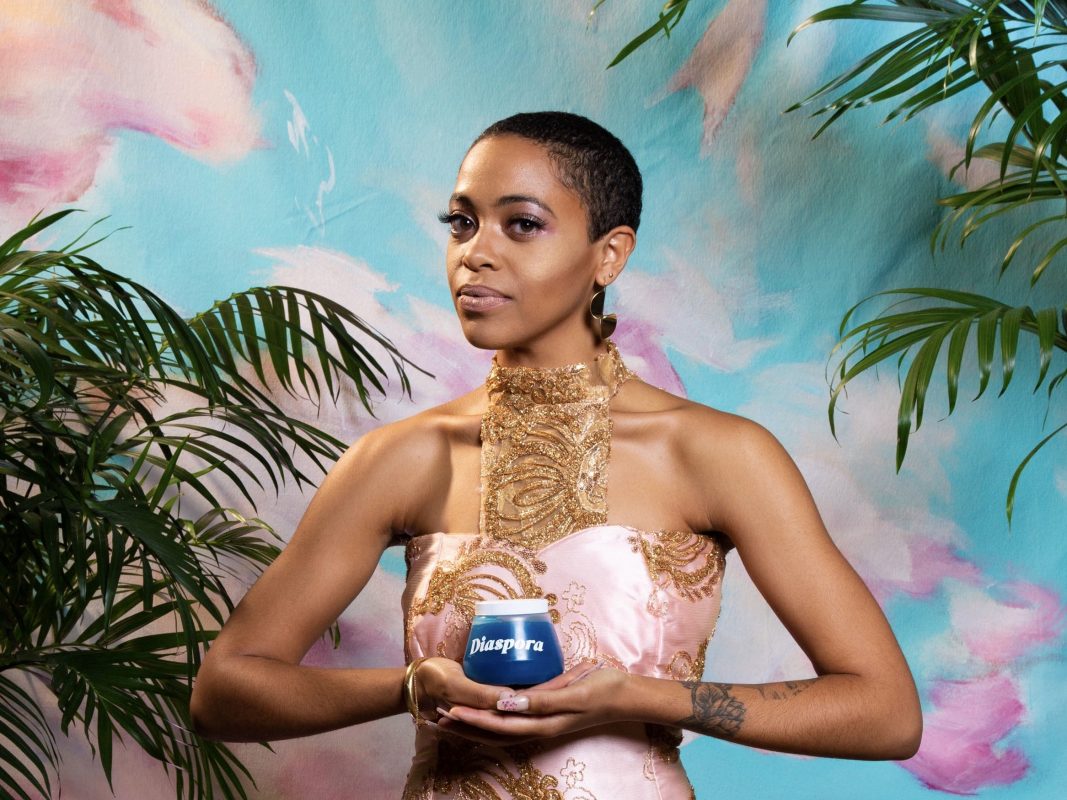 Micah E. Wood
It's been two long years since the soul-shaking release of "Consciousness" by local singer Joy Postell. This first single by the then-23-year-old artist was an instant tour de force, combining fierce lyrics, fiery jazz rhythms, and bold vision, speaking candidly on the injustices faced by the African-American community. Music lovers and critics near and far waited on the edge of their seats for the release of her full-length debut. And now, with searing anthems, throwback ballads, and one hauntingly beautiful spiritual, the just-released record, Diaspora, is a dynamic feat, continuing Postell's powerful fusion of jazz, soul, hip-hop, and R&B with fearless social commentary and life lessons on love and growth. Before the album release show at the Ottobar this Friday, we sat down with Postell to talk about her musical journey, believing in yourself, and always staying true to your art.
---
Did you always know you wanted to be a singer?
At first, I wanted to be a vet, because I always loved animals, but I don't like blood, so that wasn't going to work out. Then I wanted to be an actress. I really wanted to be an actress. I went to Loch Raven [Technical Academy] in middle school and I followed the performing arts magnate. I was a musical theater kid. I always watched musicals. I still like them.
How did you make the transition from musical theater to just music?
I ended up applying to Baltimore School for the Arts and Carver [Center for Arts and Technology] and all these schools and I didn't get in, which really discouraged me. I decided I was just going to be a normal kid. Then years later, in high school, my mom had me record a song on an 8-track—this cover of "Diary" by Alicia Keys. It was the first time I ever heard myself back, which was a crazy experience. You sing live, but then when you hear yourself back, it's like, I sound like that? I'll never forget that. I was kind of freaked out.
Sounds like your mom was always pretty aware and supportive of your talents.
She didn't push me, but she always encouraged me. When I graduated high school, she bought me a MacBook for college, but the catch was: I had to use GarageBand. We moved to L.A. that summer and I started recording covers. I would sing in my room and put the songs on my SoundCloud. I still have that computer today. I was in a new place and I felt like I could be whoever I wanted to be. Then this hip-hop group, Warm Brew, asked me to sing on a track and I recorded my first song, which was basically a mashup of Isley Brothers' "Between The Sheets" and "Me, Myself & I" by Beyonce.
That's pretty incredible. Does that exist anywhere?
It's definitely on my private SoundCloud. I think I had this attitude then, like, I don't know if this is ever going to happen for me, especially coming from a place like Baltimore. In L.A., I was riding by Interscope every day on my way to college. Here, you don't physically see it, and I think that really impacts the psyche. In Baltimore, you have to really believe in yourself. You have to believe in this crazy vision that probably no one else around you will believe; you have to visualize it so much for yourself. For me, it's been a journey of mental strength more than anything. Over the years, I've received so many nos. After no, no, no, no, no, it becomes like, okay, cool, why am I even trying then? It can be discouraging. And I'm probably going to get a lot more nos before I get certain yesses that I want, but I have to keep doing it and believe in myself, and actually believe—not just say it.
You dropped "Consciousness" two years ago, in 2016, but you've been working on this album even longer than that?
The first song I made was "HYD" in 2014! I've worked back-to-back jobs to make this album while trying to pay my rent, which luckily is mad cheap here, but I had to make sure it was mixed and mastered to the highest degree. I'm not thinking Baltimore—I'm thinking the world. If you're playing my song next to Ariana Grande, does it sound like the same quality? If someone wants to spin this on the radio, is it ready?
Tell us about this incredible album cover, shot and styled by fellow musicians Micah E. Wood and Corynne Oysterman.
I had so many different cover ideas, but I kept coming back to the idea of being a black American. As a black American, Africa is an idea. I've never been there. I'm not culturally African. I'm African-American, or American-African. For me, it's about staying true to how you grew up. I grew up seeing black hair ads. I spent half my life in a chair getting my hair done. For black Americans, hair is a staple. You don't just get up and go—whether you're perming it, putting a weave in it, getting it braided, going to the barbershop, you're getting your hair done. It's just part of stepping out. With the vintage sound and paying homage to those that came before me, it just came naturally. And, of course, it goes back to knowing your roots.
You have a number of socially aware songs on this album, but you also have some real-deal love songs. Tell me about combining the two. I didn't want to box myself in as a political artist. People think I'm so political, but I haven't talked about politics once; I don't even follow politics. I just see what I see, especially in Baltimore. It's block by block here—a block of wealth and a block of extreme poverty. Dilapidated buildings, junkies leaned out, an open-air drug market. You can't ignore it. At the same time, I still want love and to have relationships. I wanted to take people through mad emotions because I definitely wasn't feeling one thing throughout this entire project. Over four years, I've grown a lot, I've felt many different ways. Even now, I'm so happy and excited about this project, but I also woke up feeling sad. It's like you just gave birth, and now this thing that was only yours is no longer yours—it's everyone's. No one talks about that side of a project. No one told me I was going to feel this way. And how are you supposed to deal with it? On this album, I'm just about being honest with how I'm feeling, even if its unexpected or uncomfortable for people. I've always been a truth speaker.
What, to you, are the connections between "knowing your roots" and relationships?
Relationships are really all about knowing yourself and where you're at in life. People try to make you choose, but this is who I am. You will never come before this. I know for a fact that I was placed on this earth to do what I'm doing and send a message. I don't know if I was placed on this earth to be someone's wife or to be a mother. That would be tight; I really want that, too. But I'm not going to chase that. I'm not going to chase a human, because humans are so fickle. I'm going to stay in my purpose and hope that whoever I meet can fall in line with that, or maybe be chasing their own thing, too. My art is always going to love me back.
Freedom is a recurring theme in many of your songs, as well.
I just want to be free, and I really mean that. I want to be free of everything—jobs, fake people, anything that burdens me. I don't want to have a chip on my shoulder because of things that have happened to me. I want to truly be free. And I don't know how that's going to happen yet, but it is a true desire of mine.
What do you want listeners to take away from Diaspora?
So often, music doesn't make me feel anything anymore. I enjoy it, but I don't really believe it. It could be pitch perfect with perfect branding, but I'm not convinced. I want people to feel. Just feel. Feel everything. If it gives you chills, if it makes you sad, if it makes you happy, whoever you are, whatever it is. And more specifically, for black people, I want black people to listen to this and feel proud to be black, and black American. There's this shame, like, you don't know where you're really from. Yeah, you're damn right I don't know, but it doesn't mean I have to be ashamed. My roots are in Baltimore, and I'm proud of that. You have to uplift and create your own narrative.