Kevin O'Malley Might Just Be The Most Prolific Illustrator You've Never Heard Of
For more than 35 years, the Towson-based children's book illustrator has been creating a world of curious kids who feel real to him.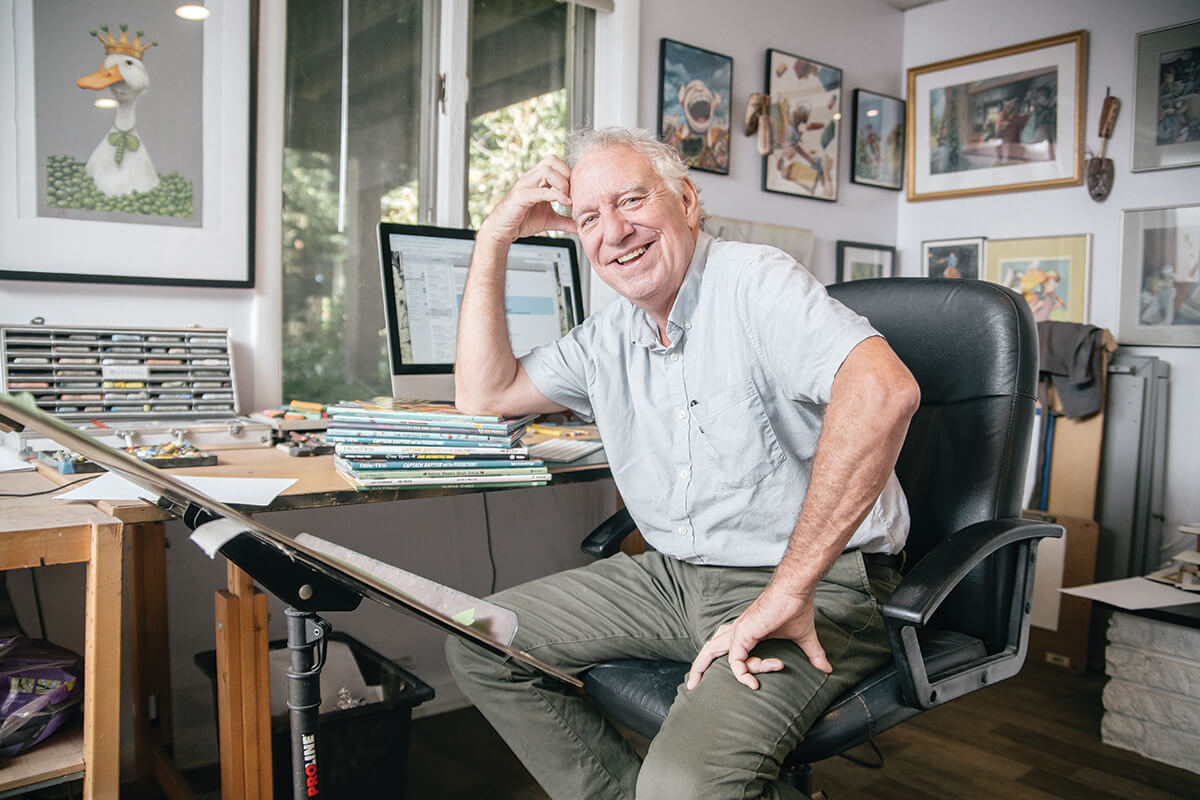 After being banished for misbehaving in class, Kevin O'Malley spent many of his formative years in the library. He'd always loved the illustrations in books, but often the protagonist was unrelatable or pathetic. But one day, while in the stacks of his elementary school library, he discovered Maurice Sendak's Where the Wild Things Are.
"The book has a wonderful picture of a boy in a wolf suit chasing after a dog with a fork—it was the first time I saw a boy acting like I act," recalls O'Malley.
You could say O'Malley has been chasing that feeling ever since. Indeed, creating a world of curious kids who feel real to him has helped the illustrator build a successful 35-plus-year career.
The high-volume illustrator, who works out of his home in Knollwood, has done the drawings for 85 books, including the Captain Raptor and Miss Malarkey series. The secret to his success? That O'Malley—with his piercing blue eyes, big laugh, and self-effacing manner—still has the unbridled joy of a child, even at 61 years old.
His sun-filled studio that backs up to Towson High School's turf field is filled with artist's tools, including Prismacolor pencils in every shade, well-loved pastel sticks—some down to the nub—and a sturdy music stand that holds his latest art piece. Shelves line the back wall, and his own books are mixed among Russell Baker's Book of American Humor and The Adventures of Mr. Toad. It's here in this studio that O'Malley will first come up with a new book concept or read a pitch to illustrate someone else's story.
"Sometimes I've read a manuscript and said, 'No. I just don't see it.' Maybe it's too soft or too sweet or saccharine. I don't care for that."
Mostly he wants to write books that he wants to read. "A lot of children's books don't give a lot of credit to kids. They're written for adults. They're written because adults want to moralize or get a message across: 'Always say please and never just take and you won't be like Kevin and his stack of pancakes,'" he laughs, shaking his head. "A kid knows that's coming. And you can just sort of feel it, cringey, cringey, cringey. I'm being lectured to."
Even now he's often at odds with his editors. They are always trying to get him to end on a "jump up idea"—a lesson. "But I try to write things that amuse me. Mostly I want funny."
The second of six kids, O'Malley grew up outside of Philadelphia, in a rural area he calls Pennsyltucky, with Chevy Novas sitting up on blocks awaiting transmission repairs. One of his earliest memories is watching a Charlie Chaplin movie with his dad and two of his siblings, one still in a highchair at the time, and his dad being concerned that the kids didn't find it funny.
"They don't have senses of humor," he bemoaned to O'Malley's mother. That was when O'Malley first realized that humor was a gift, something that was important in his family, and even as a young boy he liked how he felt when he made someone laugh. He could often convey that with his art, as well.
"My parents saw that I liked to draw—but I was never the best," he says. Math also wasn't a strength: "I got 960 on the SATs—720 was in English and I can't figure out the remainder," he jokes. "I'm not the sharpest tool. I admit it freely." O'Malley is quick with such self-deprecating remarks and it's sometimes difficult to discern if it's a bit or something that goes deeper.
Despite what he thought, O'Malley got into every art school he applied to and arrived at the Maryland Institute College of Art in 1979. It was a big change from his small, sheltered hometown and O'Malley started to really see the world for the first time.
"Art school is great for opening your eyes. I got better at listening, too," he says. While at MICA, he also met his wife, Dara, who works as a jewelry designer. "Never marry an artist," he says with a chuckle. "Marry an accountant so they can take care of you. Don't marry another artist."
Ever since high school O'Malley had been religiously submitting book proposals to publishers and he continued to do so during his time at MICA. But with no bites and desperate to pay off a loan to his parents, he took a job with The Becker Group, creating what's formally known as Santa Reception Areas—or holiday displays—at malls, and hotels, and on cruise ships. "It kind of takes all the charm out of Christmas," he says. "I would add yellow to the snow in the mall—now it looks realistic."
"IF YOU DON'T HAVE A GOOD BEGINNING AND A GOOD ENDING, YOU CAN'T MAKE A STORY."
Despite his submissions, he didn't get published until he was in his late 20s. "I was rejected at least 100 times. I kept all the letters—'thank you but no' and 'while I really appreciate your work, I'm afraid it's not for us.'" The motivation behind keeping all the rejects? "I kept the letters because I was bitter and vindictive. I had hoped to meet [one of the rejectors] one day and have the letter folded into a paper airplane with a sharp point and throw it at their forehead." (You can see why kids love him.)
Luckily, Andy Stewart, the former Mr. Martha Stewart, of the Stewart, Tabori & Chang publishing house, liked O'Malley's interpretation of well-known folk song "Froggy Went A-courtin'" by Tex Ritter.
"He published it because he used to sing it when he went to college," remembers O'Malley. "I said, 'What the hell college did you go to?' He said, 'You're a brazen man, Mr. O'Malley, but I'm going to publish your book.'"
That was 1992 and it remains O'Malley's only book that's been banned by Baltimore County Public Schools. It wasn't a huge surprise, since Froggy robs a bank, evades the law, and spends much of the book drinking and smoking.
The following year, he followed that work with a wordless picture book called The Box, about a cardboard box that rockets a small boy and his teddy bear into space and back again. Next came Bruno You're Late for School, about a rhinoceros, O'Malley's favorite animal, trying to track down his homework. And he hasn't stopped since—though the time may be coming.
"I don't know honestly whether I want to continue making books," admits O'Malley. "I thought I'd get to 100 books, but it's just a number. Most of my books are out of print. Most are Third World fuel. They've been laminated into Ikea coffee tables."
Nearly all are O'Malley's words and drawings, but there's still something electrifying about collaboration. "The thrill of someone else's manuscript is the possibility of the interpretation," he says. Because of this, O'Malley changes his art style on just about every book he's done. "My agent said, 'If you keep changing, no one knows who you are.' I said, 'I don't care. I bore easily.'"
But his agent isn't wrong—it can be hard to pinpoint his style. "I have boxes and boxes of colored pencils. I use them on a lot of things. But [sometimes] I don't feel like using colored pencils…I feel like watercolor. Or I feel like this one is acrylic paint or this one is oil paint. Or this one is done with the computer. It feeds the mania of creating art."
But it might also explain why O'Malley is the most prolific illustrator most people have never heard of. The artist remains unfazed. One of his most popular books, Once Upon a Cool Motorcycle Dude, tells the story of a boy and a girl working through different ideas of how their fairy tale should evolve. O'Malley insisted that the publisher, HarperCollins, should use three different illustrators for the project to reflect the different viewpoints (the kids and the two separate fairy tales). And when Nickelodeon bought the rights to the book, they agreed to do multiple illustrated styles as well. He's proud of the finished product.
O'Malley reads the book out loud, looking at the pages, although it's clear he knows the words by heart. It reads like a conversation between two real children. "That was a wonderful book to do because we gave them honest talk. We didn't play down to them," he says.
And while he might not want to admit to overt sentimentality, O'Malley loves the idea of families reading his books together. "My greatest disappointment is that I never got cameras mounted in people's homes so I can see them reading my books on the couch. There is nothing to me more terrific than curling up with a kid and reading a book. Make it cozy, and then you start reading, and then you stop and talk. It's just so lovely to do that."
"He's a child in old man's clothing," says Fred Rasmussen, The Baltimore Sun obituary writer who has been a friend of O'Malley's for decades. "His personality is just irresistible," says Rasmussen. The two are part of a large crowd that meets regularly at Zen West in north Baltimore. The group often includes retired teachers, editors, and even former governor Martin O'Malley (no relation to Kevin).
"Kevin has a curious habit—a vodka tonic with 19 limes stuck in it," says Rasmussen, who always teases his friend: "Are you afraid of scurvy? We have drugs for that." The two men banter, trying to make each other laugh. "He's very, very funny. He always says the same thing—'find joy'—when he leaves. He brings great joy to people."
That's partly because of O'Malley's ability to hold onto much of the wonderment many of us lose as adults, though he deadpans that his own two sons have "never been an inspiration."
So maybe it's just other kids that inspire him. School visits are his fuel. "I must have been three books in when I realized there were such things as visiting authors," he says. He started going to elementary schools and not just reading his books but really educating kids in how to tell a story.
"The fun part is watching parents laugh, teachers laugh," he says. "The kids are easy. You say 'fart' and you get them."
After the readings, kids usually mob O'Malley like a rock star, sometimes literally climbing all over him. One time he caught a teacher shaking her head at him, amused. "Stand up," she whispered conspiratorially. "Keep the germs below the waist." He never forgot that.
"That's some sage advice. The nose-picking crowd is out there glomming on me. But they're nice. Kids are nice. And they attempt to be funny and work out humor."
That said, not everything is a punch line. He's learned to let his views expand, including being mindful of student pronouns—something he didn't really think about 30 years ago. Another positive? More diversity in his field and the acknowledgement that being a "cis white guy" has given him an advantage. "It's my greatest disappointment, how much better the world would be if we didn't have such prejudices," he says.
In general, these days, it's hard to find the funny. And often that's what O'Malley needs to finish his books. "Right now, I can't come up with any endings. COVID has been very hard. The situation in our world is difficult. If you don't have a good beginning and a good ending, you can't make a story. You kind of have to know where you want to go. And recently I've felt myself turning into a moralist. I don't want to be a moralist. Who the hell am I to think I can tell you how to live your life?"
But he is a role model, whether he likes it or not. Kids often say to him, "How can I be you when I grow up?" "I tell them, 'You try to draw every day.' I have given away probably 4,000 drawings in my time."
The drawings were born out of a particularly rough patch in his life. "I wasn't feeling good in my head," he says. His father said that if the world is going to keep spinning, you may as well bring people joy. That's when he started creating pictures for people. "I will interrupt people at dinner and say, 'You were laughing. I'd like to draw you a picture.'"
So, he turned it into a project. During COVID he drew over 1,200 images. Friends and strangers would request an animal, most via Facebook, and tell O'Malley what they do to find joy. He would draw a dog, a wolf, a horse, a bear playing video games, planting flowers, baking a cake, swimming in a pool. Then scan it and send it out.
"I love giving away drawings and getting to know people—that's where the world gets better. So even the person you don't agree with has a favorite animal. And they have something they do to find joy. I'm on more refrigerators than any artist in this country."
He turns and asks, "So what's your favorite animal?"