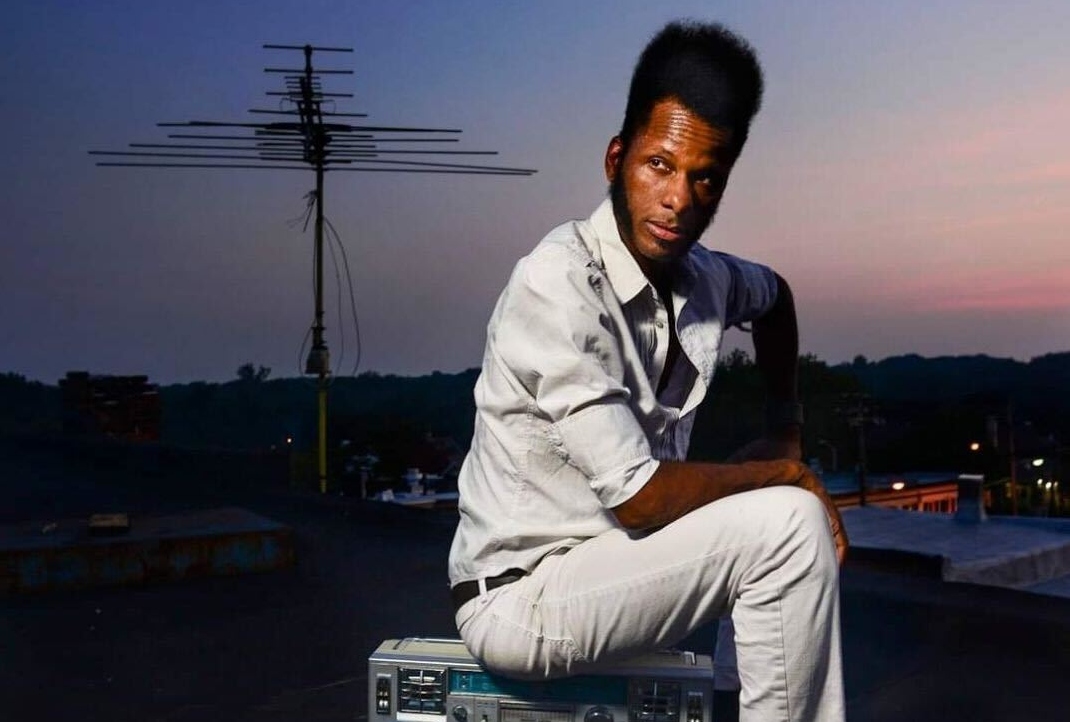 —Courtesy of Landis Expandis via Facebook
William Hicks recalls a memory from years ago, when he saw his friend, Landis Expandis, strolling through Mount Vernon Place with his family. 
"He and his wife at the time were wearing these matching, purple and white fur-lined outfits—and the baby carriage had the exact same fur around it," recalls Hicks, who performs as DJ Cheeky Willy and owns Mount Vernon Records. "I'll never forget that day. Landis has always been an artist. His persona is larger than life."
For 35 years, Expandis—who grew up Landis McCord in New Haven, Connecticut before moving to Baltimore to study painting at the Maryland Institute College of Art (MICA)—has been a steady presence within the city's art scene. 
He's perhaps best known as the drummer and lead singer of rock and soul quintet All Mighty Senators, but has also performed with local experimental groups Flo and F City and made his mark as a DJ. As a visual artist, his surreal and abstract paintings have been featured at venues such as Hamilton Art Gallery and Max Gallery in Butchers Hill. Throughout COVID-19 lockdowns, he even launched a Facebook Live painting series to help artists get their creative juices flowing in some of our darkest days. 
Now, the community is giving back to him. Expandis was diagnosed with lymphoma this past May, which has resulted in liver and kidney complications that placed the artist in intensive care. He's now stable and undergoing chemotherapy in a rehabilitation center, but faces a long road to recovery. 
"I'm learning how to walk again—I've been in the hospital bed for three months now," Expandis said in a video update posted to Facebook earlier this week, in which he profusely thanked those who have supported him throughout his healing process. "Basically, my name is Landis, and I'm here, damnit," he summed up.
Soon after the diagnosis, Nic Berg, Expandis' friend of more than 20 years, created a GoFundMe that has since raised more than $40,000 to assist with medical expenses; cover lost wages for Expandis and his spouse, Freda; and fund travel for his son, Imani, to visit during hospital and rehab stays. 
In hopes of reaching the total fundraising goal of $59,000, Berg has organized a tribute show at the Ottobar this weekend. On Saturday, July 1 at 7 p.m., Baltimore greats including indie rockers Super City, rapper Eze Jackson, and DJ Cheeky Willy—as well as Washington, D.C. native darkwave band The Neuro Farm—will take the Remington stage to perform their takes on Expandis' work. 
"It's his dream to see other people covering his music," Berg says of the show, which will be filmed so that Expandis can experience it, too. "Before he was sick, I wanted to create a tribute for him, almost like a small version of the Kennedy Center Honors. Because of the amount of love that he's given to the city and the creative community, I wanted to give him a little dose of what he gave to us." 
The evening will also feature merch sales, as well as a silent auction with items from local vendors like The Charmery, The Sound Garden, and Dangerously Delicious Pies. Ottobar favorite Mama Saray will be dishing out Jamaican cuisine, and all downstairs bar sales will be donated to Expandis' GoFundMe page.
Aside from funding his recovery, those closest to Expandis are most looking forward to evoking his lively, loving, experimental energy at the event. 
"If everybody played on the stage at the exact same time, it would sound like a Landis song," says Jeff Bradford, president of Big Curve Music, the label that represents Expandis. "It's going to be one of those nights where if someone is watching a band and they go outside to have a smoke, it could be a completely different vibe when they come back—which is just like seeing Landis live." 
That unpredictable talent is what makes performing with Expandis so special, according to All Mighty Senators guitarist Warren Boes.
"He's always had this great ability to improvise lyrics on stage," says Boes, who hopes to get the band back together again at some point. "He'd come up with some sort of vocal line and we'd just jump in. That made the audience feel extra included, because they were watching it happen."
When asked about her hopes for the fundraiser, Berg says that she "wants what Landis wants—for everyone to come together."
"It's like he says in his F City song, 'Ton of Bricks,' 'The city needs a new layer of love,' and this is where we bring it in," she says. "It's the layer of love of all of these people who are coming together for this person who's done so much. He's been finding magic longer than a lot of us have been on earth. It's my hope to continue that."