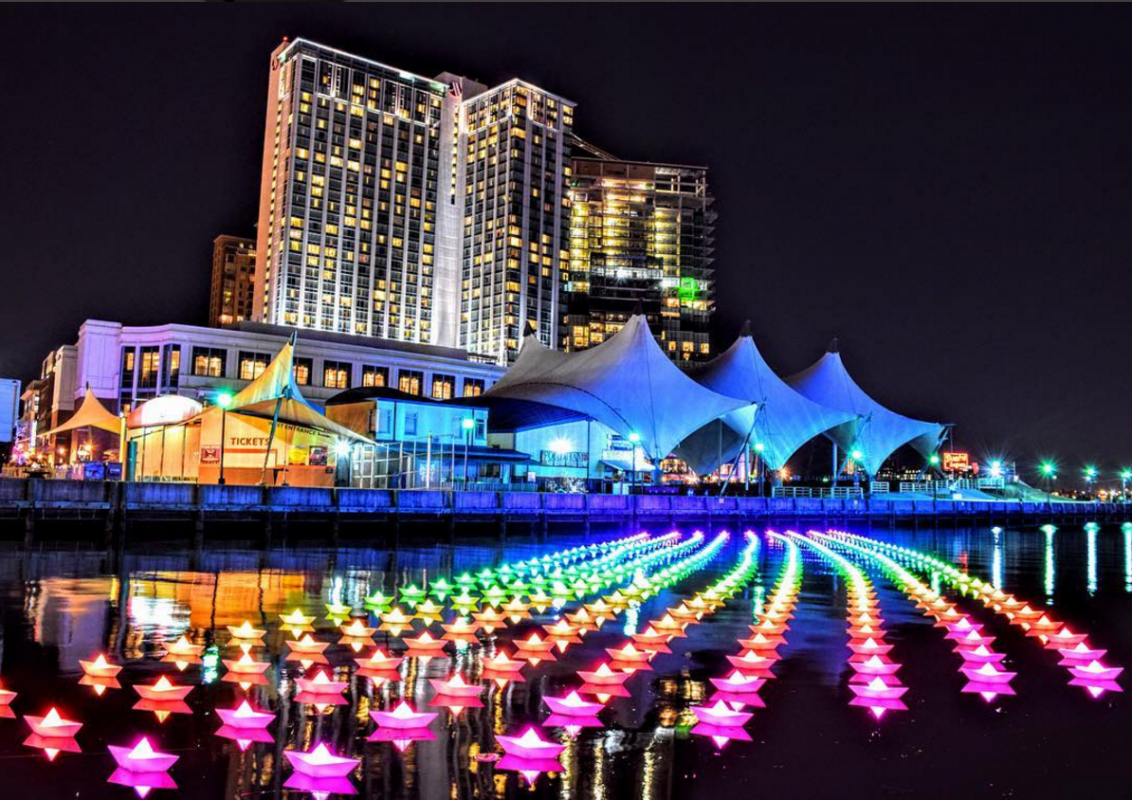 Photo vis @charmcity_photos
Two of Baltimore's most celebrated festivals, Light City and the Baltimore Book Festival, will join forces next year. Both events will merge into a 10-day mega festival in 2019 that will run November 1-10, centered at the Inner Harbor with more events scattered throughout town.
At first blush, this might seem like an odd idea. Why change these two landmark festivals when they've been so successful? But planners believe that folding them into one major event will strengthen them both and ultimately benefit the city and its arts community as a whole.
"We just thought that combining the two festivals would have such a tremendous impact on the city, and we could have a greater reach," says Kathy Hornig, COO and festivals director with Baltimore Office of Promotion and the Arts (BOPA). "There's really nothing else like it in the entire country."
At its core, Light City is known for its elaborate, large-scale art installations that light up in various ways along the BGE Light Art Walk. Many are site-specific and created by artists from across the globe, as well as right here in Baltimore. In the past, artists have incorporated the harbor itself into some of the pieces. Others feature interactive, musical, and even kinetic elements. The Inner Harbor Promenade becomes a wonderland of lights under the festival's spell—and all of that will continue.
So, too, will the Book Festival's variety of panels, readings, book signings, open mics, and other activities.
The change is being made, in part, because BOPA heard from Light City attendees who wished the festival occurred later in the year. Some festival-goers suggested pushing it back to allow kids time to wander along the Inner Harbor Promenade and enjoy the light installations earlier in the day—rather than having to wait until 8 or 9 p.m. for the sky to darken so that they could see them in all their illuminated glory.
Booksellers had a similar need. Book Festival partners, such as The Ivy Bookshop, explained that an influx of books are published during the fall each year, and a September book festival is sometimes slightly premature for authors who have books being released in October, November, or December.
Pushing both festivals back further in the year and combining them "just seemed to check all the boxes," Hornig says. "We just had an 'ah-ha' moment."
Light installations will be on view for all 10 nights, and literary events will also occur each day of the festival. (As for an official festival name, organizers are still working on it.)
Neighborhood Lights, where local artists make site-specific illuminated pieces in several of Baltimore's neighborhoods, will still be part of the event, but books will be a focus, too. In order to connect with each featured neighborhood, BOPA has partnered with Enoch Pratt Free Library to offer literature events at several of the 22 library branches within Baltimore City.
Another slight variation to the combined festival will be the elimination of [email protected], the coinciding panel discussions that occur throughout Light City's run. Instead, Baltimore Book Festival readings and speaker series will take place throughout the day.
Some of the favorite [email protected] events, like the Pitch Competition for entrepreneurs and the popular Kindling Community Dinner, will continue. These events will be held indoors and outdoors.
"We want to illuminate the city with light during the day and art at night," Hornig says. "As I looked out onto the harbor today—which is a year to the day from the start of this festival—I'm just so excited about all the possibilities for Baltimore and our arts community."