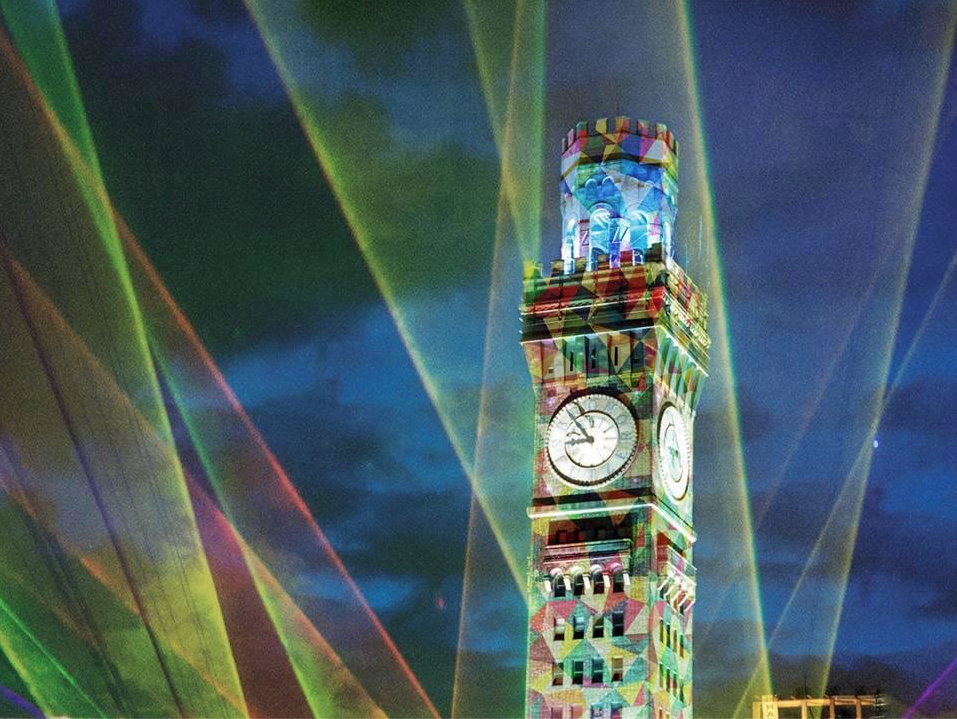 Courtesy of Light City Baltimore
Imagine a 1.2-mile stretch of the harbor lined by performance stages and 29 large-scale artworks illuminated by light.
That's the vision organizers have for Light City Baltimore, a "festival of bright lights and big ideas," as it is described by the Baltimore Office of Promotion & The Arts. And at an announcement today, we got a better idea of what Light City, which runs from March 28 through April 3, and its accompanying innovation conference LightCityU, will look like.
The festival will feature 50 concerts and 100 performances—with the likes of Dan Deacon, Fluid Movement, Single Carrot Theatre, and the Baltimore Rock Opera Society—during the seven nights of free entertainment. The acts include light puppetry, interactive dance, and percussion performances, as well as theater and music.
The stages, as well as the 29 works of art that incorporate light, will stretch from Harbor East to Federal Hill, enlivening the harbor and its surrounding areas. The artists chosen to create the featured art were winnowed down from 240 entries from around the world, with about two-thirds of those chosen from Baltimore.
"[The festival aims to] shine a light on the Baltimore people who live,
dream, and create everyday," said Jamie McDonald, chair of the Light
City steering committee, at today's announcement.
As for LightCityU, the daytime, ticketed conference will focus on the theme of powering social change and will feature representatives from industries including education, health, and sustainability.
BOPA officials, as well as Mayor Stephanie Rawlings-Blake and the Light City organizers, say the festival will be like nothing else the city has ever seen. Though its focus this year is on the Inner Harbor, artists will collaborate with five neighborhoods—Coldstream Homestead Montebello/Lake Montebello, Hampden, Greater Mondawmin, Little Italy, and Station North—to create public art.
David Fakunle, a doctoral student and performer, spoke about how he had been skeptical about Light City and confronted organizers at a public meeting. But, after they asked him to be part of the steering committee, he began to see how the festival could create missing opportunities for creative minds throughout the city.
"Be a part of this, this is yours," he said. "I've been saying it's a Baltimore's party, but everyone else is invited."
Here's a list of what you can see and hear at Light City. And check out this video that showcases some of those involved with the festival.
LIGHT CITY MUSIC
Baltimore Rock Opera Society and Concert Artists of Baltimore, Classical Music & Rock Opera
Clear For Takeoff, Pop Rock
Dunson, Hip-Hop
Makina Project, Electronic
Red Sammy, Rock
Symphony Number One, Classical
Telesma, World
The Bridge Ensemble, Contemporary Choral Music
The MC Booze Band, R&B
The Palovations, Motown/R&B
To The Moon, Instrumental Rock
Todd Marcus Jazz Orchestra, Jazz
Wordsmith, Hip Hop
LIGHT CITY PERFORMANCES
Atelier Mateo M – Digital Skin Portraits
Fluid Movement – HydroPrismEcho
Jenn Figg, Matthew McCormack and David Fakunle – Making Waves: Kinetic Frenetic – Percussion Project
Katherine Fahey & Annie Howe – Crankie Box Shadow Puppets
Lynne Tomlinson and Colette Searls – Kendra's Bay Digital Images
Michael Owen – Diorama – Interactive Dance
Nina Rutledge – City Lights Stilts
Olu Butterfly and the Dew More Collective – What was in Darkness Must be Revealed in Light – Multi-media Poetry
Revolutionary Motion, Pyrophilia and Luminescent Street Brigade – Theatre of Fire
Sarah Tooley – 901 Arts Drumline
Schroeder Cherry – Baltimore Street Lights Puppet Show
Single Carrot Theatre – Ballet Ballistique
LIGHT CITY VISUAL ARTISTS
Radiance, Pixel Promenade
Kelley Bell & Corrie Parks, Projected Aquaculture
Baltimore Kawasaki Sister City Committee(Artist: Jessica Searfino), Take To-Ro Ripples
Ian Brill, Labrynith
Cheon Kroiz, Artist and Architect Collaborative, Diamonds
Eric Corriel, Water Will Be Here
Lisa Dillin, Natural Lighting Emulator V
Annette Elliot, Constellation
Symmes Gardner, 1,001 Lux
Rachel Guardiola, Into the Zone (Anthology of Accounts and Findings)
Riki Kim, Glacier
Jen Lewin Studio, The Pool
Dashboard, Drone Laser Light Party
Luminous Intervention, TBD
McWharter Lynam, fluorWall
Nick Metzler, TBD
Tim Scofield & Kyle Miller, Peacock
Quentin Mosley, Gateway Baltimore
Design Collective, Inc., Lightwave: Baltimore's Beacon
Thick Air Studios, Dear Baltimore
Scott Pennington, Plaza
Paul Rucker, Walking in the Light of a History
New American Public Art, Blue Hour
Robby Rackleff, TBD
Brian Gonzalez and Nisha Ramnath, Laser Lotus
Aether & Hemera, Voyage
Greg St. Pierre, TBD
Justin Thompson, Dark was the Night
Yandell Walton, Human Effect