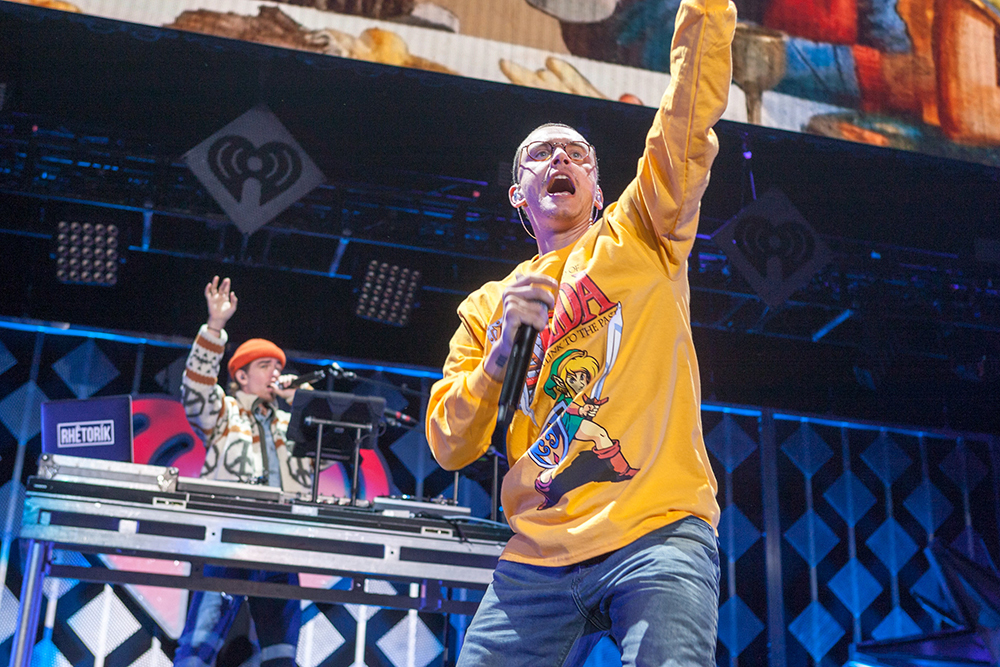 Shutterstock
In one of the most high-profile lineups of recent years, DJ and producer Kygo, Grammy-winning DJ Diplo, and Grammy-nominated rapper Logic will be headlining the 2019 Preakness Stakes. Also joining them on the InfieldFest stage at Pimlico Race Course on May 18 will be breakout hip-hop artist Juice Wrld, DJ and producer Fisher, and rising star DJ Frank Walker.
Since I.M.P. began programming Preakness' music in 2009 and The Stronach Group began operating Pimlico in 2011, the middle jewel of the Triple Crown has been trying to attract a younger audience with its musical acts. Past performers have included Post Malone, Lorde, Bruno Mars, and The Chainsmokers.
"This year's InfieldFest represents the evolution of our entertainment program at The Stronach Group and carries out our mission to deliver world-class entertainment experiences with outstanding talent," said Jimmy Vargas, the group's EVP of entertainment. "This year's InfieldFest lineup brings the excitement of the race track to the stage and encourages a new generation of race goers to experience The Preakness Stakes."
This comes at a time when Baltimore Mayor Catherine Pugh has been blasting the Stronach Group for proposing legislation that would permit funding for one big "super track" in Laurel, not Baltimore.
In a letter to Governor Larry Hogan and General Assembly leaders, Pugh wrote: "Certainly, before throwing away the racing tradition of the Preakness Stakes, the annual 'Super Bowl' of Baltimore city, and a generator of significant revenue for Maryland, [The Stronach Group] should be required to demonstrate that they have the bandwidth to create their recently announced 'super track," referring to the family being embattled in multiple lawsuits.
When profiling chairman and president Belinda Stronach last year, she made it all but clear that their sights were set on that super track they are now pursuing.
"For us, if we're going to make the investment, it'd be better to have one track that caters to everyone," Stronach told us. "Having said that, we totally respect the tradition of the Preakness at Pimlico. It's a complicated question. We don't know how this will unfold, but we're going to do what's best for the sport and the fans."
For this year, at least, the horses will be running in Baltimore and the musical acts will take the stage at Pimlico. Particularly exciting is Gaithersburg native Logic, who has been nominated for three Grammys and shot to stardom with critically acclaimed mixtapes and whose third studio album Everybody was certified platinum.
Diplo has become a global superstar in his own right, working with some of the top artists in the industry like Beyoncé, Justin Bieber, and The Weeknd and has toured the world solo, as well as with Skrillex and as one third of Major Lazer. Norwegian DJ, producer, and songwriter Kygo has taken the world by storm, hosting the world record for fastest 1 billion steams on Spotify and is known for his performance during the closing ceremonies at the Rio Olympics.
Tickets can be purchased online now and start at $59 for general admission, with VIP packages featuring an elevated viewing platform, bottle service, and private bathrooms available. Certainly a far cry from the infield debauchery of yore.