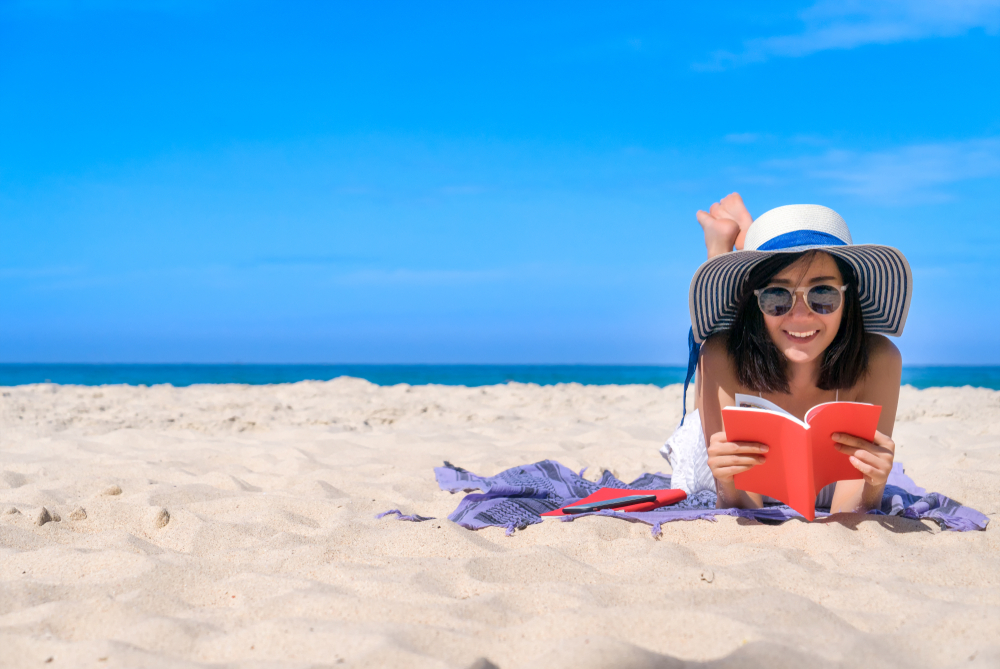 Packing for a beach vacation always starts off simple: sunscreen, a beach towel, that hot new bikini, and a good book. Except, when you reach for a good book, you may notice your reading list has gone off the page with titles you meant to read this winter but never really got a chance to reading. So, how do you choose?
We've consulted with Julia Fleischaker of Baltimore's beloved Greedy Reads to get her take on this season's reads, including both local writers and some other popular titles from around the globe. "These are perfect summer reads," says Fleischaker, "whether you're on an exotic beach or taking your lunch break on a park bench."
FOR THE BOOK OF THE SEASON
Normal People by Sally Rooney
According to Fleischaker, this is a summer go-to. Running in different social circles, Connlel and Marianne's connection is both confusing and undeniable. Readers follow the two as they grow up through college, navigating the emotional rollercoasters of first-loves, the intricacies of social class, and the value of friendship.
FOR A TRIP TO THE PAST
Daisy Jones & The Six by Taylor Jenkins Reid
So vividly depicted and wildly imaginative, this coming-of-age novel feels more like a true biography. Reid crafts together a story from fictional anecdotes as told by Daisy, her band, and the comers and goers of her fantastical rise (and fall) to fame that transports readers to the heights of the 1970s rock 'n' roll scene. It's a novel that's spellbinding, that's fun, and a perfect read to just let loose.
FOR A VOICE FROM BALTIMORE
We Speak for Ourselves by D. Watkins
"What a wealth of talent we have in this city," Fleischaker reflects. Her first recommendation for a voice of Baltimore is a collection of essays by D. Watkins. In this book, we are given truths of the economically disadvantages communities and lessons learned from Watkins' journey between his world at home and the world of the public figures.
FOR AN ADVENTURE
The River by Peter Heller
Nature versus man, Heller's adventure story follows two college friends on a trek up the Hudson Bay. Along the way, the boys are matched with the unrelenting temperament of the woods, suspicious strangers, and the haunting realities of home. It's a novel that will captivate you into the whirlwind of survival that Jack and Wynn must endure.
FOR AN INSIDE SCOOP
The Ghosts of John Hopkins by Antero Pietila
Not much is known about John Hopkins's personal life other than that he was incredibly wealthy and had much to do with the development of Baltimore City. Pietila digs into history, telling a story of how Baltimore became what we know it as today: its social history, its infrastructure, and its politics.
FOR FAMILY TRIUMPH
The Care And Feeding of Ravenously Hungry Girls by Anissa Gray
Anissa Gray's debut novel is timeless story of triumph over strife that you won't want to put down. Told from the perspectives of three sisters, the book follows a family navigating heartbreak, unfurling secrets, mental health, and the true meaning of family. Though emotionally gripping, it's an entrancing read you can breeze through.
FOR A MURDER MYSTERY
The Suspect By Fiona Barton
The mystery around two missing teenage girls in Thailand unravels as a reporter digs into the case with a personal agenda attached—to find her son who had set out to explore Thailand and whom she hasn't heard from in months. A timeline that jumps and perspectives from heart-sick parents, a determined reporter, and a detective needing a distraction will keep readers wondering at the edge of their seats.
FOR BALTIMORE NOIR
Lady in the Lake by Laura Lippman
Out in July, Lady in the Lake is set to be a fascinating look at 1960s Baltimore from the prolific local writer. Fleischaker describes the book as "a murder mystery with the noir elements that Lippman does so well, and an affectionate ode to local newspapers and the people who work there."