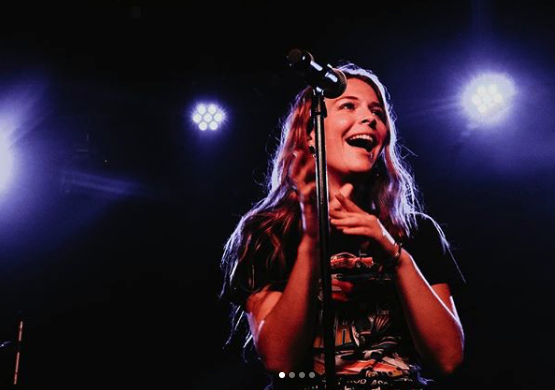 Photography by Erica Tello
It's been a long, strange trip for Maryland native Maggie Rogers.
In 2016, the Eastern Shore singer skyrocketed to stardom after an infectious video made its way around the internet of the then-21-year-old student and her fellow New York University music classmates being surprised by special guest Pharrell Williams, the hip-hop superstar behind hits like "Happy" and "Get Lucky." Rogers played a song she wrote—her now hit single "Alaska"—and Williams' reaction was priceless—his eyebrows raised in astonishment, his head bopping along to the folk-pop beat, eventually comparing her sound to the originality of the Wu-Tang Clan, Stevie Wonder, and even the Reese's Peanut Butter Cup. "Wow," said Williams, when the song ended. "I have zero notes for that. . . I've never heard anyone like you before."
Needless to say, the rest is history, and in two short years, the Easton-born singer has released her own acclaimed EP (and documentary film), rocked her way onto the lineup of big-name music festivals (Firefly, Lollapalooza, Governor's Ball, Glastonbury, etc.), and sold out nearly all of her shows, including her most recent hometown visit at Baltimore Soundstage (where her dad introduced her on stage—it was magical). "I'm having a lot of fun," Rogers told us last spring. "At the end of the day, I'm a college graduate with a job, working for myself, doing what I love, and that is pretty awesome."
And now, before she releases her debut full-length album, Heard It In A Past Life, due out in January, and embarks on her first world tour next spring, Rogers takes the stage this Saturday, November 3, as the musical guest on the legendary late-night comedy show Saturday Night Live alongside actor-host Jonah Hill. In a few years of many firsts, "My, how my world has changed," she recently said on Instagram. "And how I hope it always will."
The show airs at 11:30 p.m. Eastern Time on NBC.