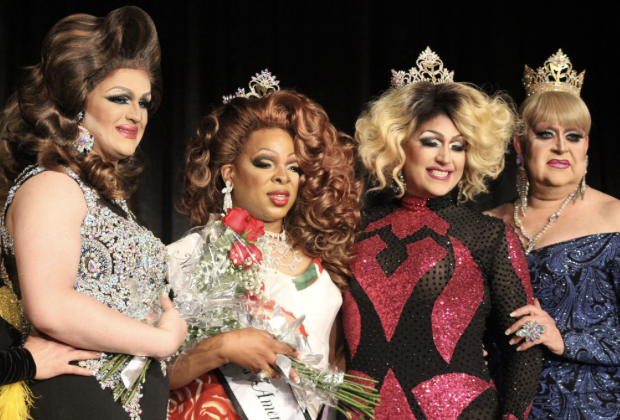 Photography by Michael J. Palmisano
When he was 21 years old, three years after coming out to his parents, Tom Marston took his mom, Joann, and his dad, Ralph, to the second-ever Miss Gay Maryland America pageant at the iconic Club Hippo. It was 1986, when the Hippo was a pillar of Baltimore's underrepresented LGBT community, and the annual drag pageant was how he and his parents fell in love with the art of female impersonation.
"That night, when I told [owner] Chuck Bowers that the people I was with were my parents, he said to them, 'You will never have to stand in my club again. You will always have seats,'" remembers Marston. "They were so accepting and that was so rare back then. But all three of us were hooked."
Marston, who is now the owner of the Miss Gay Maryland America pageant, will continue his parent's legacy and passion for drag at this weekend's contest, where eight contestants will compete to be the 34th Miss Gay Maryland America.
"It makes my parents live on. I know they're watching and loving it," says Marston. "The people who will be on stage this weekend are the true representation of wanting to make sure others understand the love and history behind drag."
This Saturday at the Horseshoe Casino, local drag queens, including preliminary titleholders like Miss Gay Cumberland Valley and Miss Gay Northern Maryland, will model, interview, and sashay across the stage for the chance to win $500 and the opportunity to compete on the national stage at the Miss Gay America pageant on Oct. 3-6. The five judges, who range from a pastor and a bodybuilder to past Miss Gay Maryland America winners, are looking for a contestant who excels in each of the competition's five categories and is a well-rounded representation of the LGBT community.
The first category, male interview, takes place hours before the doors open for the 6 p.m. show and requires contestants to complete a question-and-answer session while presenting as a male. Since the Miss Gay America pageant system requires competitors to be "100 percent male from the neck down," this part of the competition measures how they will represent themselves outside of the pageant.
Rob Mansman and Micheal Dutzer, who own the Miss Gay America pageant and lived in Baltimore for 10 years, said the male interview is the judges' first impression of the contestants' personalities.
"The title of Miss Gay America is a symbol of excellence," says Mansman. "We want them to be fashionable and entertaining, yet humble enough to go out and talk to people and make an impact on their community."
After the audience has filled the ballroom and the lights have gone down, the contestants will join past winners for a high-energy opening number set to the theme "Kinky Boots, Maryland style." Based on the smash-hit Broadway musical, they will appear in costumes that embody their glammed-out interpretation of Maryland symbols such as Old Bay, Domino Sugar, or the Baltimore Ravens.
Mansman and Dutzer said they added this category, presentation, across all Miss Gay America contests to challenge contestants to express their creativity through the chosen theme.
"Often times, people were bringing to the table what they thought would win and they weren't being themselves," says Mansman. "Now that we've included that category, it's nice to see the contestants flourish as who they really are."
Although only one queen will be crowned Miss Gay Maryland America, Marston says the purpose of this long-standing pageant isn't to win prizes or titles.
"We have queens who have done this for years, or younger ones just starting in drag, and they want to do it for the art, to entertain, and to make a difference in the world by showing that they're not crazy for wanting to dress in women's clothes," says Marston.
The pageant is a labor of love for everyone involved, from the contestants who spend thousands of dollars on studded costumes to Marston and his team who strive to put on a show that will introduce new audiences to the art of female impersonation. He wants everyone who attends, whether they're seasoned veterans or it's their first experience with drag, to leave with the same lasting impression he and his parents did 30-some years ago.
"If it takes a good ol' drag show to get people together to forget about all the things happening in the world and to just have fun for those few hours, then let's do it," says Marston.