Christopher Giese
There's a particular brand of close-up magic happening on stage at Everyman Theatre's new production of Agatha Christie's Murder on the Orient Express, the story of famed detective Hercule Poirot and the mysterious death of one of the train's wealthy passengers en route from Istanbul, on stage now through January 5.
It's not uncommon in a show with as many twists and turns as this one to have a few sleight of hand tricks here or there, but the design team at Everyman has created something of a puzzle box out of the stage itself. What look to be solid walls are suddenly transparent with a change of the lights. Scenery flashes by on false windows, and sliding pieces of a club car, or compartment, or hallway in the Art Deco train move smoothly on their own tracks to reveal more and more surprises.
The stage, like Christie's iconic whodunit, is layered with secrets. Though the puzzle itself is the work of Everyman's resident set designer, Daniel Ettinger, it's those in the backstage shop who are tasked with putting it all together.
Just a little more than 24 hours before opening night, the theater was buzzing as the final few feet of a half mile-worth of brass trim adorning the historic train were laid. We dodged gold paint in the halls and stumbled upon more than one unfortunate train passenger (what's a murder mystery without a corpse?) on our way to the back, where Scene Shop Foreman Trevor Wilhelms and his team have been essentially hiding a train on an upstairs ledge for the past few weeks.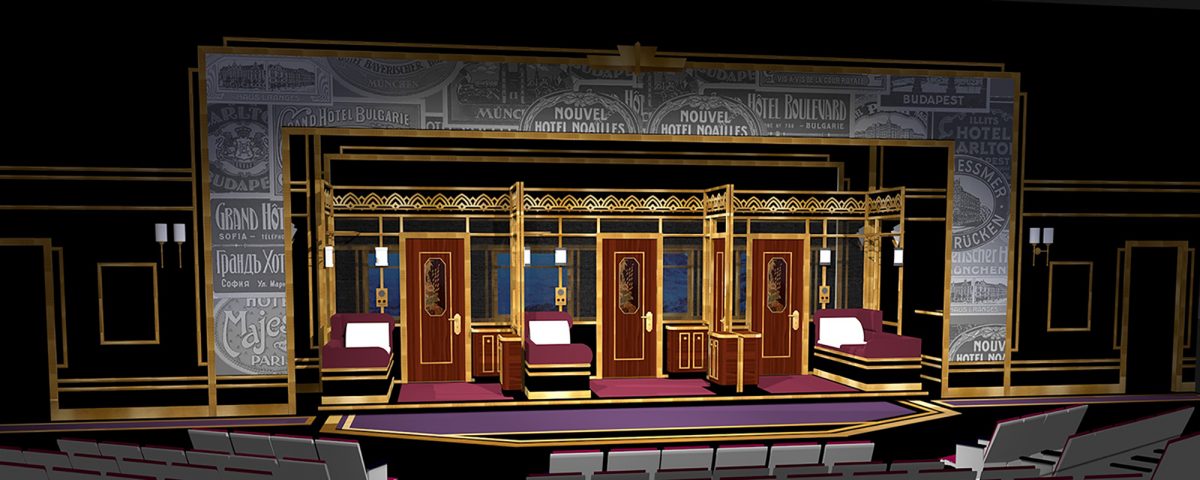 "There's a total, including a chandelier, of about 20 large moving pieces of scenery. It's wild," Wilhelms says. "Our projection designer, in collaboration with our set designer, has just built incredible things. There are moments where you'll really feel yourself moving along with the set. That kind of interplay between some more digital based work and practical effects and gags is what really sells so much of this show and just takes it into a whole different world."
Like the crime in question, it all happens right under the audience's nose. The first few rows are practically on the train themselves, with just feet separating them from the first glimpse at the Orient Express' opulent compartments. It's a tight space, but the challenge helps lend itself to the thrills that come with being trapped on that fateful train in the snow.
"So much of the aesthetic quality of not just thrillers, but the Art Deco sort of era, is angles and sharp lines and everything else, so we're obviously taking advantage of every square inch to get as many dramatic shots as possible," Wilhelms says. "We use a lot of our digital work to create a lot more depth than it feels like when you're standing here. When you're out and you're looking through a window at mountain, snowy hills and everything a ways away, it really does just stretch."
It's all part of creating an atmosphere to match a story most people first read in high school, while still offering a few twists along the way.
The experience extends out of the theater, as well. Director of Patron Experience Corey Frier-Ritsch is responsible for the rotating cast of specialty drinks at Vinny's Bar in the lobby. This show's cocktail list, his tenth, is inspired by Christie's famous characters and the time and places from which they're pulled.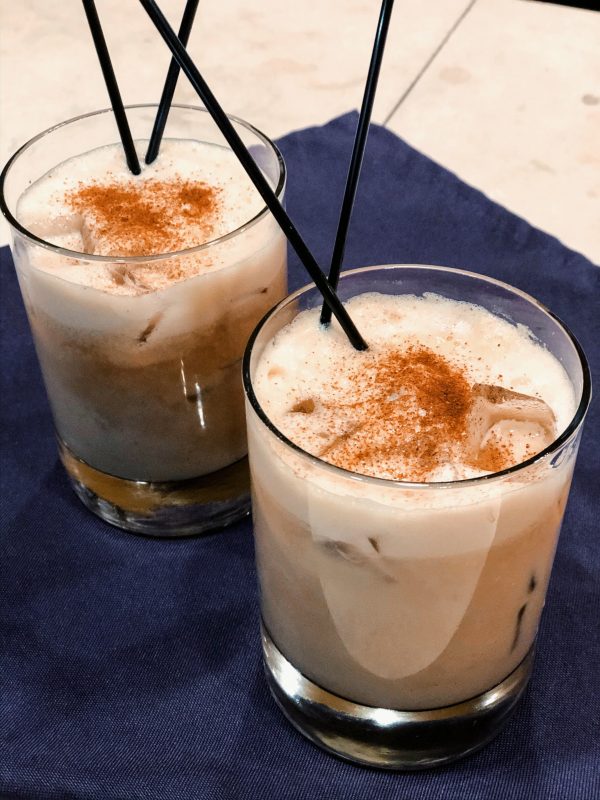 "I love the history, and I I look at some of the dramaturgy and sit in for first read and try to look for key points or things that could possibly be the names," he says. "My liquor distributors also get really involved in it…they get really inspired."
Prohibition-era flavors such as gin and elderflower are highlighted in the "Poire de Poirot," and a spicy, creamy, Turkish coffee-inspired creation aptly named the "Istanbul Not Constantinople" feels right for the holidays while avoiding a straight-up eggnog sweetness. A twist on an Aviation inspired by the opening curtain's travel stickers, the "Hotel Excelsior" features the requisite crème de violette but swaps Ketel One for gin and and a blueberry garnish. And in a nod to the bourbon-sipping American actress on the train, "Death at Mrs. Hubbard's Door" blends Redemption with vermouth, Hum liqueur, hibiscus, and pomegranate for a drink that packs a punch.
"I've only been here for a year, but last year's holiday show, [The Importance of Being] Earnest, was the biggest hit for the bar, as well," says Frier-Ritsch. "And I predict the same thing happening if it's anything like the last two previews that we've had. I'm pretty excited about the families coming in, just all of the energy around the holiday show. This show is visually stunning…It's unbelievable. It's beautiful. It's sexy. I'm excited to see it all together."