Music Reviews: January 2018
The latest from F City and ​Legends of Et cetera.
F City 
Agenda/World of Good (Okay Recordings)
F City cannot be put into a box. The music of singer Lala Anderson, drummer Landis Expandis, and bassist Paul Joyce hits you like a brick, and their new double-sided record acts as a true testament to the trio's genre-bending versatility. On one side, Agenda is a punk-rock witch's brew with scuzz guitar, breakneck drums, and hot-blooded vocals giving each thunderous track a raw energy and ferocious soul. Think Janis Joplin meets The White Stripes with a hint of Southern Gothic voodoo. On the flipside is the frenetic electronics of World of Good, featuring a wild fusion of funk, soul, and hip-hop as guest star Eze Jackson calls for revolution. With sharp rhymes, playful vocals, and an unbridled spirit, it sounds like Rage Against the Machine meets Run-DMC—with a touch of The B-52s. Both albums speak to old souls, with the latter's dance-inducing hustle and the former's rebellious rock-and-blues roots, while also looking toward the future. As a whole, it is a powder keg, waiting to erupt.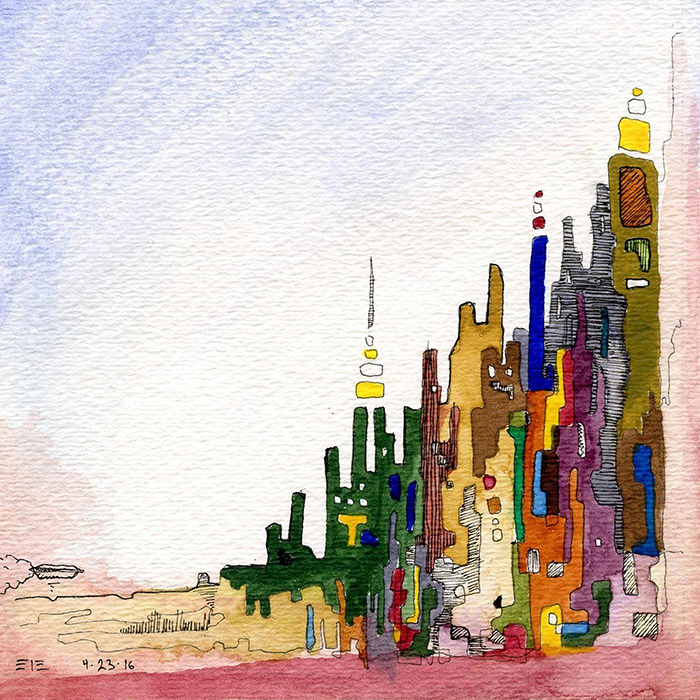 Legends of Et cetera
Cardboard City (self-released)
It's hard to believe that the opening track of this album was created by teenagers and 20-somethings. A lush, symphonic melody, "Querétaro" sweeps in and consumes your senses with the hush of rushing mist and the brilliant trill of birds at dawn. It's like watching the sunrise through your ears. Despite the promise of Legends of Et cetera—sold-out shows at WTMD, packed crowds at The Ottobar, and a smashing debut record—the indie-rock trio announced shortly after press time that, with heavy hearts, they would be breaking up. But alas, this new album lives on, its themes still standing up as humanly universal. As high-school and college students, these young musicians and School of Rock graduates created this album on the cusp of new beginnings, finding themselves at a sort of sun-drenched, angst-riddled crossroads as they bid goodbye to their adolescence. (Legends literally grew up together, with their roots dating back to middle school and even infancy, as lead singer Serena Miller and bassist Graham vonBriesen are cousins.) On this second EP, they reckon with growing up and leaving home, using tight guitar rhythms, rollicking drums, and emotionally honest lyrics to bottle up that melancholy jubilance that comes when the urgency of youth straddles the unknown terrain of adulthood. With two of the three band mates still pursuing music degrees at the Peabody Institute and Berklee College of Music, we hope to hear them again one day. Until then, we have this record, and we wish them the best of luck.