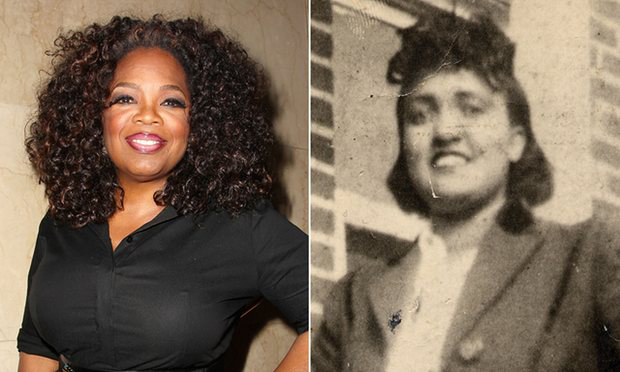 Courtesy of Deadline
The story of Henrietta Lacks—a Turner Station resident and wife of a Bethlehem Steel worker—is certainly one of those cases where truth is stranger, and more complicated, than fiction.
On January 29, 1951, Johns Hopkins Hopsital doctors took a biopsy from Henrietta, who had an aggressive form of cervical cancer. Though she passed away eight months later, the tissue that was used without her consent went on to establish the cell line HeLa—the first immortal human cells ever grown in a culture, which have been invaluable to medical researchers ever since.
But, for 60 years, the Lacks family had never been consulted when researchers used this genomic data, something heavily profiled in Rebecca Skloot's book The Immortal Life of Henrietta Lacks. Since then, the NIH made a privacy agreement with the family to use a "controlled-access" database of the HeLa cell genome, governed by a panel that contains two of her grandchildren, both still living in Baltimore.
And now, Oprah Winfrey and HBO are teaming up to bring Skloot's book, and Henrietta's incredible story, to the big screen. Winfrey and the cast, after several weeks of shooting in Atlanta, have made their way to Baltimore, where they have been spotted filming in Harbor East and Fells Point. There are shoots in the area scheduled until Thursday.
"It's an incredibly visually exciting story," Harpo Films executive Kate Forte told Skloot. "The science of it all is told in an amazing way. [Oprah] couldn't put it down."
Also involved in the project are Six Feet Under and True Blood creator Alan Ball, director George C. Wolfe, and Tony Award-winning Hamilton star Renée Elise Goldsberry, who plays Henrietta. Winfrey herself will be playing Deborah Lacks, the daughter that Henrietta never got a chance to know. No doubt that Henrietta's granddaughter, Jeri Lacks Whye, who lives in Owings Mills, will be happy to see her grandmother's story continue to get the attention it deserves.
"We are happy to be in the conversation now," Lacks Whye told us in 2013. "This is important in the legacy of Henrietta Lacks as a person."