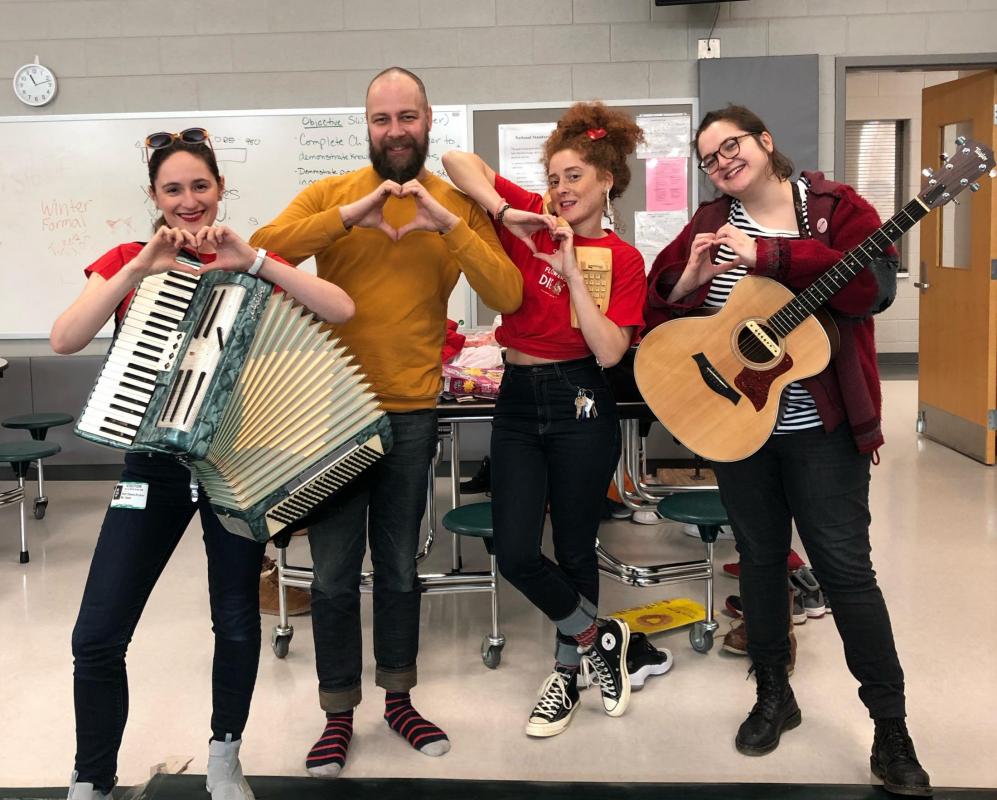 L-R: Britt Olsen-Ecker, original Valentonez member Paul Diem, Melissa Wimbish, Christie Macdonald. —Courtesy of Outcalls
They made synthy-sweet waves with the release of their debut EP No King back in 2017. But when they met five years prior, Britt Olsen-Ecker and Melissa Wimbish of the local, baroque-pop duo Outcalls had another gig going. The classically trained musicians—known for their svelte soprano sounds and lush harmonies—were two parts of PB JAMZ (the B and the M, respectively), performing hits from the '80s, '90s, and aughts.
"We did covers around the city and then we started to write some of our own songs, and Valentonez was born," says Wimbish. She's referring to the live singing Valentine's delivery troupe she and Olsen-Ecker formed in 2012 while arranging new music for the short-lived cover quintet.
"We didn't realize how much of an impact it was going to have," Wimbish says. "We just thought 'Whatever. This is a great way to make money.' But some of the most memorable Valentine's Days of my life were spent delivering these." 
For nearly a decade, The Valentonez have shown up in restaurants, bars, and workplaces to greet Baltimoreans with lovestruck, genre-swapped sets. And after a hiatus last year prior to COVID-19, the troupe is back this Valentine's Day for a special—and socially distant—revival.
"Valentine's Day is going to be weird this year, just like all the other holidays have been weird," says Olsen-Ecker. "It's been a really hard year and there's been so much loss that we were like, 'This is the perfect time to do it.'"
Joined by guitarist Christine McDonald, she and Wimbish will travel up to 15 miles outside of Charm City next Sunday, Feb. 14 (those interested can book via email by Sunday, Feb. 7) to perform from a list of nostalgia-packed numbers. In addition to taking special song requests for a small fee, The Valentonez will be accepting orders for "video-gramz" to be recorded and delivered via DM on Valentine's Day. 
On a day notorious for spurring mixed emotions, especially for those who might be spending it alone, Olsen-Ecker says she looks forward to not only singing to couples, but friends—and maybe even enemies. (Because why not?)
"It just brings out good feelings in everybody," she says. 
Well, for the most part.
"I mean, there have been some Valentonez that haven't been very successful," Olsen-Ecker says with a laugh. "We call those 'The BreakupTonez.'"
But when they make their rounds next weekend to serenade locals with hits—ranging from Outkast and Sonny and Cher—she and Wimbish hope that the singing grams will be a source of much-needed cheer—and embarrassment—for recipients. 
"It's just such a fun feeling to have a happy surprise that makes your face turn red and makes you feel unexpectedly warm," Wimbish says. "I feel like I have the coldest, brutal heart. But when I got surprised with a Valentone, even though I was in the Valentonez, I remember being so happy."
Adds Olsen-Ecker: "It's just wonderful to make people smile—especially when we're in person—and embarrass them. And then once they get over the initial shock, they can enjoy the music. It's a really special thing."