Released 50 Years Ago, John Waters' 'Pink Flamingos' Flouted Tastes and Social Mores
Today, it's on the prestigious National Film Registry.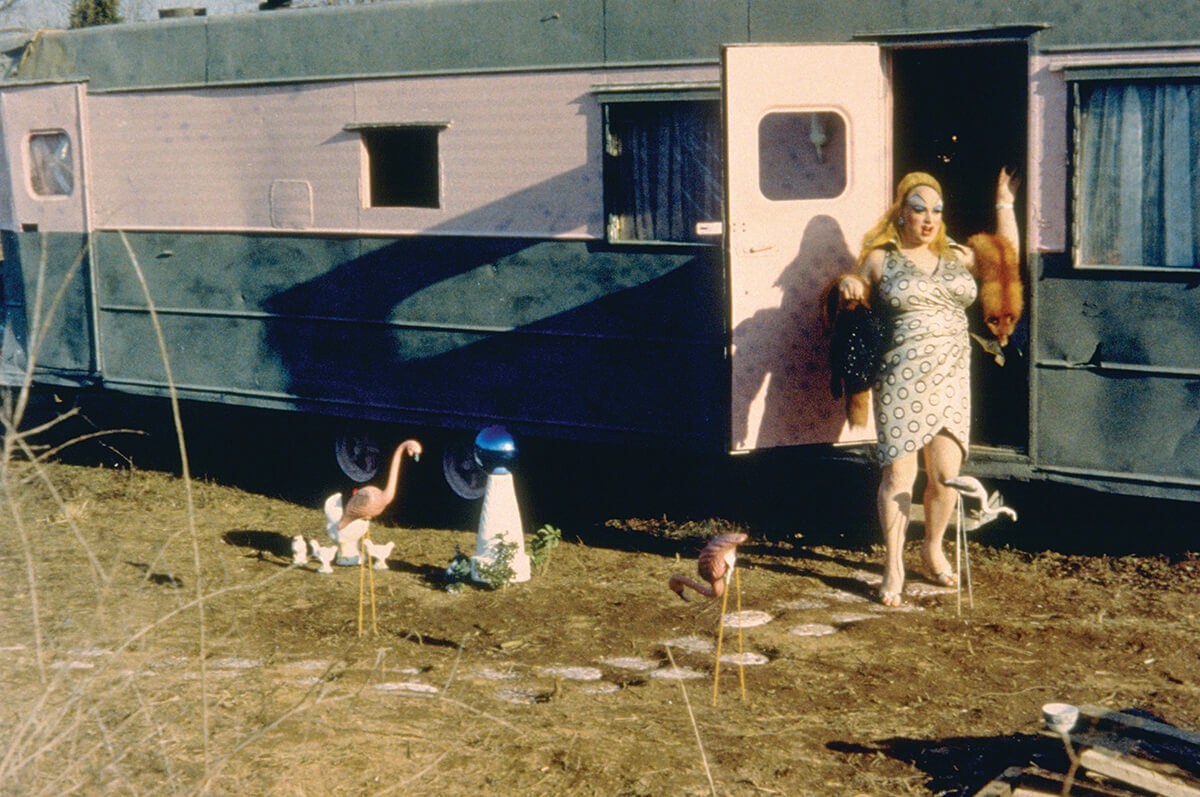 John Waters was not of legal drinking age, which was 18 in Maryland, when he first ventured downtown to the now-legendary Martick's Tyson Street Tavern. He was still in high school. "My mother would drive me from Lutherville to Martick's and drop me off in the alley next door," Waters says. "My mother was kind of amazing. She didn't understand me, but she said, 'Maybe you'll meet people like you here.' My parents were conservative, upper-middle class. How would she even know about a place like Martick's?"
In mid-century Baltimore, a lunch-pail city no one yet described as quirky, charming, or artsy, Martick's was one of few LGBTQ-friendly bars around. Although that term obviously wasn't part of the vernacular of the early 1960s, when the crowd there included beatniks, cross-dressers, transgender individuals, and poets, artists, and musicians of all shapes and stripes.
His mother's intuition proved spot on. Waters hung around outside and regulars snuck him drinks. When owner Morris Martick wasn't around, they'd bring him inside. Waters not only met his tribe at Martick's, but many of his future filmmaking co-conspirators. Among them: Emmy-winning casting director Pat Moran, who was then studying dance; actor, projectionist, and later Fells Point theater owner George Figgs; and bartender and model Maelcum Soul, who starred in two of Waters' first films, Roman Candles and Eat Your Makeup and died at 27 of an overdose. "A true beatnik goddess," says Waters, glancing at a framed photograph of Soul in his home office.
At the same time, Waters became friends with a heavyset, gay, neighborhood teenager named Harris Glenn Milstead, later famous as the 300-pound siren of Waters' early films and by his stage name, Divine. As Waters' circle grew, he was introduced to Van Smith and Vincent Peranio, who studied painting at the Maryland Institute College of Art and took up make-up artistry and set designing, respectively. He also met hairdresser-actor David Lochary, and actress Nancy Paine Stole, whom he nicknamed Mink. Childhood pal Mary Vivian Pearce was part of the crew and cast, too, all of whom shared an interest in art, film, and marijuana, and who Waters coined the Dreamlanders.
Notably, it was also at Martick's where he met Harvey Alexander, who launched the Baltimore Film Festival in 1969. He showcased the fledging Waters' short film The Diane Linkletter Story in 1970, and two years later, a certain outrageous, funny, sexual, gross, and occasionally banned movie named Pink Flamingos, officially released 50 years ago this month. (On St. Patrick's Day, a nice coincidence for Waters and his subversive band, many of whom like him were rebelling against the heavy-handed Catholicism of their youth.)
Waters describes the film—made with $12,000 borrowed from his father—as "a terrorist act against the tyranny of good taste," a pretty accurate tagline. The scandalous comedy was the first in Waters' iconic trilogy, with Female Trouble (1974) and Desperate Living (1977), earning him the endearing moniker, The Pope of Trash. It was also an immediate underground hit in Baltimore, selling out nine shows over its first three days of screening.
"People who never came out of their closets came out [to see it]," Alexander told The Evening Sun, calling Pink Flamingos "the freak event of the year."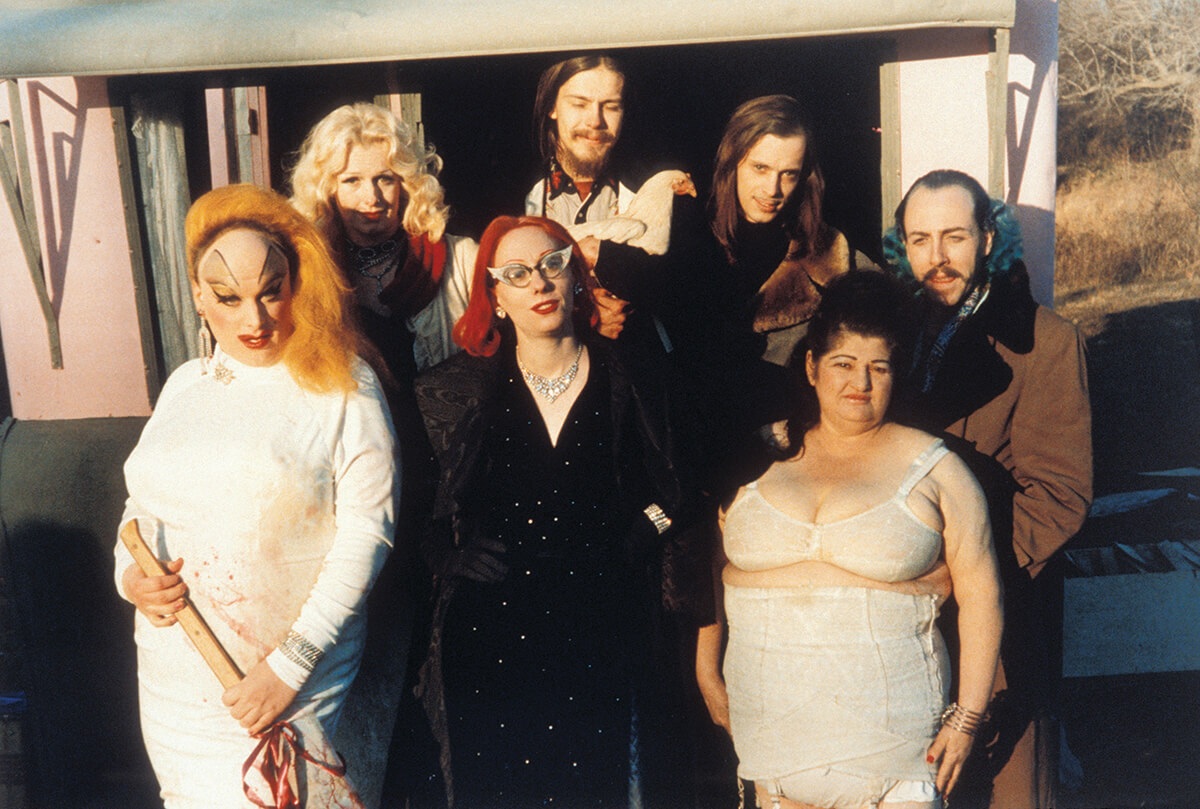 For those who haven't seen Pink Flamingos, a quick plot summary is in order. It may be disturbing, but it is not overly complicated. Divine plays an underground criminal femme fatale, who the tabloids have labeled "The Filthiest Person Alive." Hiding out in a pink trailer on the outskirts of Baltimore County, with, yes, a pair of pink flamingos in the yard, she seeks anonymity (as if such a thing were possible) under the pseudonym "Babs Johnson."
She lives with her mentally-ill mother, Edie (Edith Massey), wayward son, Crackers (Danny Mills), and companion, Cotton (Mary Vivian Pearce). Meanwhile, a pair of resentful rivals, the Marbles (David Lochary and Mink Stole), who deal heroin to inner-city children and kidnap and impregnate young hitchhikers—selling the offspring to lesbian couples—scheme to usurp Divine's title. Voyeurism, vomiting, rape, castration, cannibalism, masturbation, murder, and more ensue.
Notoriously, Divine consumes dog feces in the closing scene. One of her birthday party celebrants, played by David Gluck, who remained anonymous until he passed away in June 2020, lip-syncs, if that's the right term, The Trashman's hit "Surfin' Bird" with his anus for a full minute. It was the only movie appearance by Gluck, who became a Social Security computer analyst.
"When we had the 25th anniversary and Pink Flamingos was shown in regular theaters," Waters told The Baltimore Sun, "he'd go to the movies and when his scene came on he'd tap the per- son on the shoulder in front of him and say, 'That's me.'" It is an anecdote as good as any that illustrates the weird but good-hearted humor beneath all of Waters' films.
If you're not a Baby Boomer, or Baby Boomer adjacent, you wouldn't remember the rise of the cult classic and midnight movies, or that Pink Flamingos played a starring role in the 1970s phenomenon, predating The Rocky Horror Picture Show and David Lynch's Eraserhead by several years. In fact, Pink Flamingos was the second original midnight film ever screened, after Alejandro Jodorowsky's acid western El Topo, at New York's innovative Elgin Theater, where the madness got started, and the first to receive national exposure.
Even if that were Pink Flamingos' only cinematic contribution, it would have been remarkable. Banned in several cities, and several countries, the movie left an indelible mark on the cultural landscape that reverberates to this day. With its DIY ethos, retro, thrift shop wardrobes, neon-haired villains—try finding film characters before Raymond and Connie Marbles with similarly wild dye jobs—it was at once a precursor to the '70s punk movement and a seminal example of independent filmmaking.
The sets were inexpensive. The furniture was what became known as midcentury modern. The whole thing has an anarchic Technicolor feel. Even the soundtrack blended genres, juxtaposing rockabilly, surf music, and the '50s doo-wop of Waters' youth. And with her bawdy, larger-than-life, and at times menacing presence—coupled with a touching vulnerability—Divine altered the course of drag and beyond, inspiring not just current smash hit RuPaul's Drag Race but Ursula the Witch in The Little Mermaid, a Disney film of all things.
By 1971, a time of great cultural upheaval, there seemingly wasn't much left to knock down regarding social mores and traditional "values," one of Waters' lifelong artistic themes. Whatever mores were left standing in 1971, he took a chainsaw to with Pink Flamingos, brandishing his own personal, peculiar, subversive sense of humor. If "flower power" hadn't fully shaken suburban America from its slumber and stereotypes, perhaps raw shock would. In Waters' films, the outcasts—the obese, homosexual, and neurotic—were depicted as family-oriented protagonists worth rooting for long before gay marriage, transgender rights, and body-positive campaigns were on anyone's radar. Self-righteousness, jealousy, intolerance, cruelty, and pretentiousness were the enemy.
The irony is that several months ago, a half-century after it was derided by so many—in 1974, Variety called it "one of the most vile, stupid, and repulsive films ever made"—Pink Flamingos was named to the prestigious National Film Registry. The Criterion Collection also plans to restore the film and re-release it as part of their acclaimed trove.
"I wish I was from Baltimore," says Susan Arosteguy of the Criterion Collection, by way of expressing her appreciation for Waters' films. "It was a time and place that couldn't happen again."
"Pink Flamingos was a reaction to everything happening in the fall of 1971 when we made it," says Waters, who was 25 when he wrote, directed, and produced the film. "Horror and exploitation movies were in theaters. Not just European art-house nudity, but pornography, too. Nothing was illegal. Nothing was against the law. That was the challenge."
Pink Flamingos is such a part of the film canon, it's almost impossible to remember how terrified "the squares" were by it. One person never amused by Waters' films was Mary Avara, the ultra-conservative head of the Maryland State Board of Censors. During her tenure, from 1960 until the board's demise in 1981, she became a celebrity in her own right for making things miserable for Waters. Once called "America's Mother Superior of Censors," she appeared on network TV defending her cultural gatekeeping to Dick Cavett and Johnny Carson, among others. "Waters!" she told one interviewer. "I don't even want to discuss him. Makes my mouth feel dirty."
"We really all did love film," says Pat Moran, an original Dreamlander, who went on to win Emmys for casting on Homicide: Life on the Streets, HBO's VEEP, and HBO's Game Change. "We took it seriously. Although I'm not sure why," she adds with a laugh. "We knew enough to show up on time and know your lines. We didn't know what a gaffer was or any of the positions. It wasn't happening in a vacuum, however," Moran adds.
"We knew Andy Warhol, Jonas Mekas, and Jack Smith and the films they were making in New York."
Waters, as most of his fans probably know by now, got kicked out of New York University's film school for smoking pot. In expelling Waters, the university informed Mr. and Mrs. Waters that their son needed psychiatric counseling. Ambitious, smart, gay, artistic, and compulsively well-read, he found that his outrageous films were all the expression and therapy he required. As many Waters admirers also likely know, he was a puppeteer before he was a filmmaker, which he notes is rather common among directors. He served as the primary camera operator on all his films before Polyester in 1981 and refers to his earliest works as "my film school."
"MY FAVORITE CHARACTERS ARE PEOPLE WHO THINK THEY'RE NORMAL BUT THEY'RE NOT. I LIVE IN BALTIMORE, AND IT'S FULL OF PEOPLE LIKE THAT." —JOHN WATERS
Less common were his eclectic influences. He took equal pleasure and influence from high-brow, art house films—going to Ingmar Bergman films at Goucher College as a teenager—as well as sleazy exploitation films in downtown Baltimore theaters. "I was attracted to any type of extreme," he says.
The 50th anniversary of Pink Flamingos has provided Waters the occasion to reflect on its making, which was a grind at times. The kind only possible when you're young, he says. The outdoor scenes were shot during winter, often on weekends at Divine's friend Bob Adams' local farm—and 12-to-15-hour days was the norm. Divine and Van Smith would awaken before dawn to apply Divine's makeup. At least with Pink Flamingos, no one was arrested during the shooting, as had been case during the making of Mondo Trasho.
"Pink Flamingos is an assault on the senses, but it's not just an assault on the senses," says Mink Stole, who would appear in nearly every Waters film over the course of a wide-ranging career. "The set designs, the juxtapositions, the color compositions of everything, the wardrobe—it was also a feast for the senses. I do also find it astounding, and I'm grateful, that 50 years later it is still out there and considered outrageous, and people give a whatever about what we did so long ago."
Marketing and getting the film screened was another kind of creative process, and also a complete guerrilla operation. Not all filmmakers possess both skill sets, but Waters always has. Initially, that meant screenings in church basements, on college campuses, at art galleries, and tiny independent theaters. The goal in those days was simply making enough money to keep making films.
"With Pink Flamingos, I got the University of Baltimore to rent me directly the whole auditorium, and we had the premiere there," Waters recalls. "There were posters and everything. It was Friday, Saturday, and Sunday shows at eight, 10, and midnight. And all three were filled out every night, and I could tell from the reaction that it worked. But then it took me years really to find the real distributor to put it out."
The official trailer for the film eventually put out by then-new New Line Cinema remains a treasure. There's not a single clip of the actual film, just reaction interviews on afterward with people leaving the theater in various states of shock, disgust, and delight.
Meanwhile, the censorship battles along the way were in real courtrooms with real judges and juries. As late as 1990, an Orange County, Florida, grand jury indicted a local video store for renting it to a 14-year-old. Inevitably, those episodes tickled Waters, well, pink.
"We never ever won a case, even though the Museum of Modern Art bought a print right in the beginning, which was pretty amazing," Waters says. "I thought when they bought it for the permanent collection it would get us off with every jury.
"[Juries] weren't impressed, because as I've said forever, but it's really true: At midnight, with a group of people, Pink Flamingos is joyous. At 8 a.m., when you are being sworn in with strangers for jury duty, it is most definitely obscene."