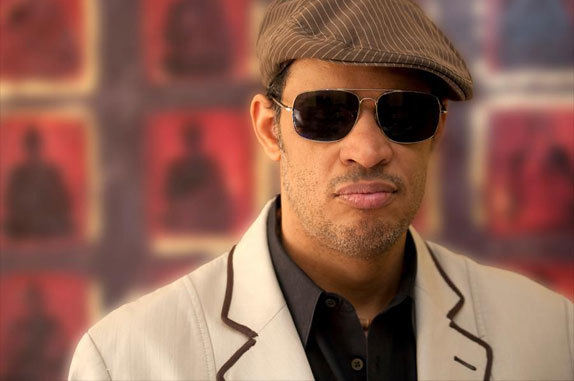 You grew up in New Mexico but now live in Columbia. What brought you to Maryland?
We bought a house here almost eight years ago, wanting to be near relatives. I love where we are, I love our house—my wife pushed me to build a studio here, which was the best thing I ever did—but I do miss the city.
Do you get into Baltimore often?
We like to take the train to Gallery Place and walk around the harbor. I've performed at the Baltimore Soundstage and been to shows at The 8×10. I must say, Maryland is a great place for venues. You have Baltimore, Washington, and Virginia, all within driving distance. There's Constitution Hall, Wolftrap, Rams Head. You have a lot of people who want culture, and for someone like me, you have to be around people who want culture. If you're not, you're going to end up playing to nobody.
You perform at the Creative Alliance this Saturday, January 27. Will this be your first time there?
It will. But I'm glad that places like that exist. It's important for people to be able to see different kinds of music and art. Performing in small venues can be fun because of the intimacy with the crowd. 
At age 52, you have just been nominated for your first Grammy—your 2017 record, Bad Ass and Blind, is up for "Best Jazz Vocal Album." But how was it that you first got into music?
It was something that I gravitated toward from a very young age. At 4 or 5, I remember being really into the record player. My father was very encouraging of my music interest and he started getting me guitar lessons when I was very young.
What was it about the guitar for you?
It was just around. If there had been a big grand piano in the middle of the living room, I'd probably be playing that, but we happened to have a little guitar hanging around the house. It's also a very intimate instrument. You hold it in your hand. You literally hold it up against your body. And it's made out of an organic material.
You lost your sight as a newborn in the 1960s. How do you feel that your blindness has made you the musician you are today?
I don't think being blind makes you a better musician. My family had the mantra of you can do anything, and whatever you choose to do, try to be the best possible. What blindness did for me is focus the mind. I didn't have the luxury of a backup plan—I can't wait tables, or get a job in a retail establishment—but I've always been very ambitious. I wanted to be a good musician from the beginning. Then I realized I wanted to be a good musician and successful. I didn't want to play in a local bar; I wanted to play all over the world.
You spent many of your formative years in Miami.
I went to the University of Miami, which has a pretty well-known music school that's particularly focused on jazz. Afterwards, I stayed for a while doing what we call session work—sort of commercial studio work—singing background vocals for a lot of big artists. In the '90s, there were a lot of Latin artists that wanted to cross over, so I ended up being on a lot of pretty famous recordings. I did an almost two-year stint with Shakira that got me into touring, which I'd never done before, and I started to realize that I was getting bored with Miami. I didn't want to work for other people for the rest of my life.
You eventually got a solo record deal with Warner and moved to New York.
In Manhattan, I was determined to do my own thing—not just go there and take any gig that came my way. I moved there specifically to enhance my career. If I couldn't do what I wanted to do, I would just go back to Miami, where it's warm.
But you made it work.
In New York, it's so much harder. There are so many musicians. It was like starting from scratch. Nobody gave a damn about all the stuff I sang before . . . But I have this theory that artists have to have a certain amount of delusion to even try this. When you think about what the odds are, it's absolutely daunting. They have to have a confidence that's verging on insanity, and I had this insane confidence. What New York responds to most of all is talent but also difference.
In full circle, after your show at the Creative Alliance, you'll be headed back to New York to attend the Grammys at Madison Square Garden. Was this award something you could have ever imagined?
For every musician, any kind of prestige or accolade really helps. Even if you don't win, it puts you on the radar. It can lead to opportunities. It can lead to people returning your calls. But, you know, this is a seven-day a week job. Right now I'm sitting in the studio, working on something I've written, and that doesn't change whether you win a Grammy or not. What will change is probably that I'll get better gigs. [Laughs.] But for those of us who are in this for the long term, who forged our own path, it goes on.