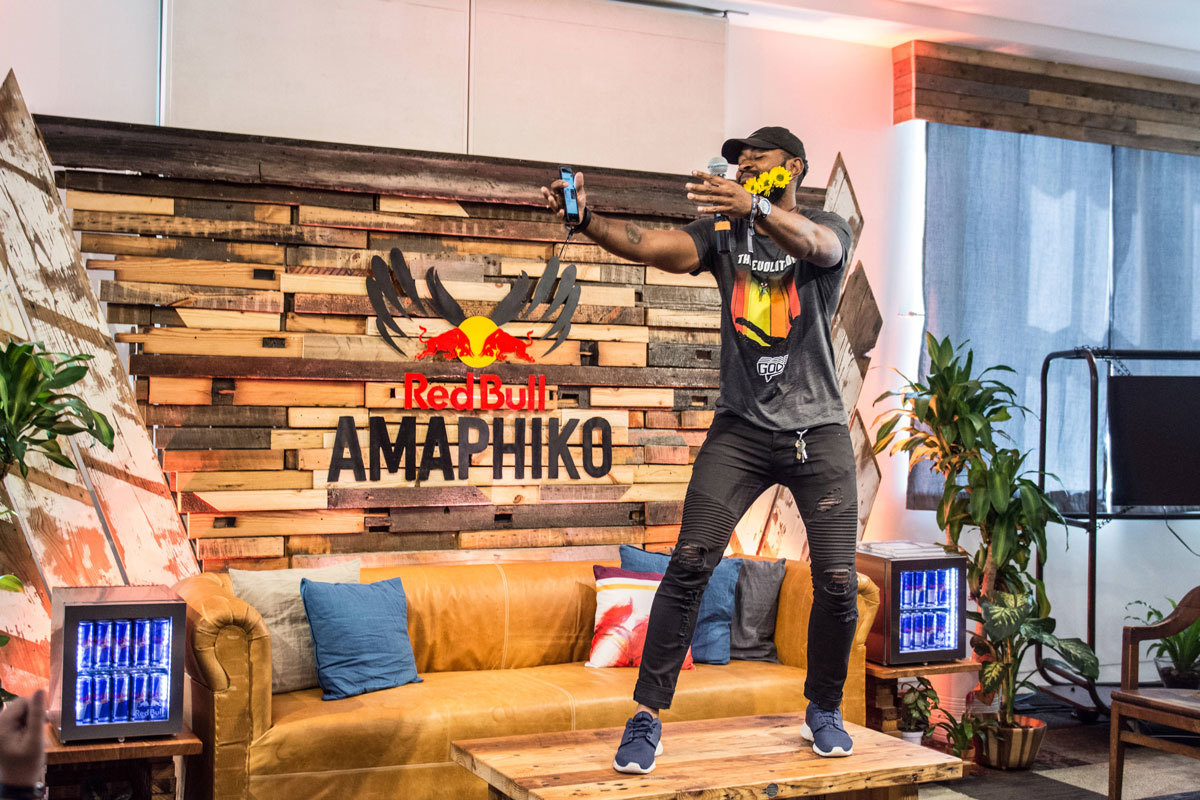 Red Bull Amaphiko
Last year, Red Bull came to Baltimore to host its first-ever Amaphiko Academy to help entrepreneurs in the city. No one quite knew what it was or what they were doing. It turns out that the company known for its energy drink that "gives you wings" spent 10 days with 15 fellows—six from Baltimore—in an immersion of lectures, entertainment, innovation workshops, and creative collaboration. The fellows went on to participate in an 18-month mentorship program that is still ongoing.
"It was like a business 101 breakdown," said Walker Marsh, 2017 fellow and owner of urban farm Tha Flower Factory. "I was so deep into the farming and gardening world, but when it came to the business side, I didn't know what I was doing. It's really helped change me in so many different ways."
In the spirit of continuing to "give wings" to local social innovators, beginning on August 17, the Amaphiko Festival—which is the Zulu term for "wings"—will return to Baltimore for three days of workshops, performances, and events celebrating the innovation and creativity in the city. While the Young Entrepreneurs Workshop, led by Baltimore-based entrepreneurs, is not open to the public, it will feature skill-building courses for more than 150 young Baltimore entrepreneurs.
"We have serviced close to 3,000 students, been able to hire 8 dirt bike riders to serve as instructors and placed riders in stem education careers since working with Red Bull," said Brittany Young, a 2017 fellow and founder of B-360—which uses dirt bike culture to teach STEM education—who is speaking at the workshop. "Having the festival annually here also allows communities to come together and showcase all of the local talent and genius in a fun way."
There are a few events that are free and open to the public and here's a rundown of what festival goers can expect:
August 17: The Medicine Show at Arena Players
This event will feature local artists sharing the stories of the city's most inspiring social entrepreneurs—including Valeria Fuentes of Roots & Raices, Ava Pipitone of Host Home, Kyle Pompey of Perspective Baltimore, Liliane Merkol of Mera Kitchen, Nicholas Mitchel of Noisey Tenants, Michael Battle of The Rich Program, and Red Bull Amaphiko Academy alumni Young and Marsh. Think Stoop Stories with a twist. Each social innovator has been paired up with an artist who will tell their story using a specific medium.
"I lucked up and got the comedian," Marsh said. "He's telling my story and Tha Flower Factory story. It's going to be dope, he's going to tell it in a way that I never could."
Other performers include Nia June, Kondwani Fidel, David Fakunle, Joy Postell, Amy Reid, Ezee Jackson, Sir Alex R, and Hoesy Corona.
August 18: Luv's Art Project Block Party
The community party in Hollins Market will feature an all-female lineup of performers including DJ Diamond Kuts, TT The Artist, and DJ Trillnatured with free food from Viola's Southern Cuisine. New Beginnings barbershop will also be open for patrons to kick back and relax and the City of Gods clothing store will have some retail available for sale.
August 19: The Sunday Summit
With programming curated by Motor House, Impact Hub, Pipe Dreamz, ArtsCentric, and GRL PWR residents will be able to join in on a series of conversations and performances detailing the connections between arts and social innovation at YNOT Lot. The event will also feature lectures from Red Bull Amaphiko alum Changa Bell of the Black Male Yoga Initiative and Dominic Nell of City Weeds.