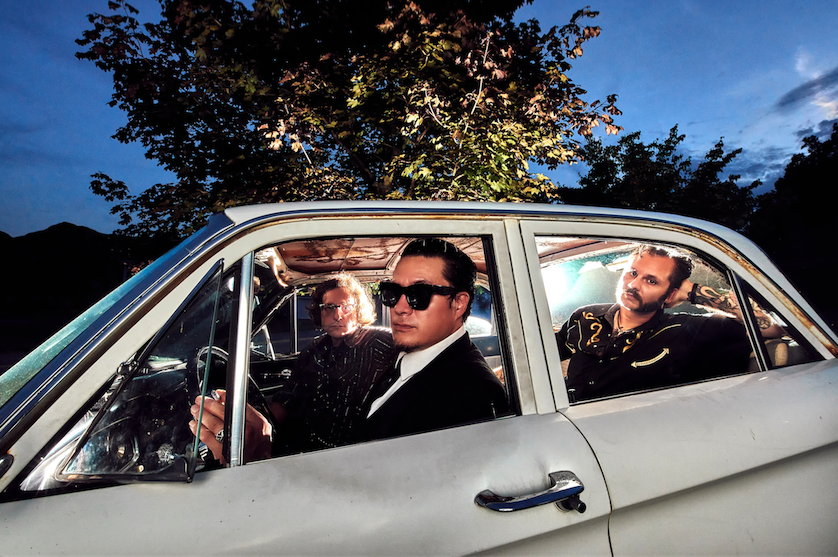 Shane Gardner
Maybe you've been one of the lucky ones to stumble down the cobblestone streets of Fells Point one late Tuesday night and hear a heart-wrenching sound pouring out of a neighborhood dive bar that it literally stops you in your tracks. This is the power of old-soul troubadour Sean K. Preston, who has been toting his country-tinged rock-and-roll around Baltimore for at least the last decade.
He's undoubtedly one of this city's best-kept musical secrets, writing the sort of songs for both saints and sinners—from lump-in-your-throat ballads to earth-scorching barnburners—that just don't get made like they used to. On the eve of Forgive, his accomplished new album with his band The Loaded Pistols, we spoke with the singer-songwriter about sad songs, Johnny Cash, and finding his own voice.
Your music is inspired by a medley of genres. Which was your entry point into making music?
When I started playing music, I was a teenager and into punk rock. I was drawn to it immediately because of the energy­—because it was something you could do right away. You didn't have to be trained; you didn't have to be rich or famous. You just had to find a guitar and some friends and make a lot of noise.
I got into country music on accident. I had a construction job in the Baltimore area, and they would listen to country music at the job site. I just really liked some of those songs and the lyrics. They were very emotional and sentimental and economical poetry. Not overly wordy, but direct and honest, and I found myself crying on the job. It was like 7:30 a.m., somewhere in the middle of nowhere, I'm swinging a hammer, and I hear this song about heartbreak, and it's making me sad, and it's perfect.
Do you remember what the song was?
I don't think I've told anybody officially, but it was a song called "Love, Me" [by Collin Raye]. It's beautiful. It's a love story. It's a metaphor for dying. Like, I'll see you on the other side. It freakin' killed me. But that was pretty much the start of me liking country music, and that eventually led back to discovering all the old stuff. But I didn't really want to admit it to anybody, because it wasn't punk rock.
You didn't start performing country until you were living abroad in Ireland in the early 2000s, busking on the streets.
At the time, the music I was listening to and writing was heavily influenced by bands like The Cure and the Pixies and Jeff Buckley. One day in Ireland, somewhere along the way, I started playing some Hank Williams, and that afternoon, I made a lot of money. People would stop and say, 'Hey, that's really good,' and then of course the movie Walk The Line came out.
Do you think you found the courage because you were in a place where no one knew you?
I think it gave me a bit of courage, being an American, playing American music. I started to dress more cowboy all the time, wearing hats and boots, which made me stand out but also felt a little bit like a barrier that protected me. If you project that up front, then people don't have to see what's going on behind the scenes.
Is it still a protective barrier for you?
I've actually made the conscious decision to stop wearing the cowboy hats. I still like them and have plenty of them and I wear them on occasion. But I decided that putting on a persona might have been good for a while, but now I'm taking that off. Maybe I feel more confident now. I decided to start looking presentable and get a nice haircut.
Of course, over the years, you've had a lot of comparison to Johnny Cash.
I'm flattered when people say that, but I think that it's just an easy point of reference for people. I don't think I have that much in common with him, except lately I've been wearing a lot of black. There are definitely artists that were more important to me, but sure, he was an influence. You can't say anything shitty about Johnny Cash.
And now you're coming back to Baltimore to release Forgive, your much-anticipated fifth album, and your first through a record label. How does it feel?
I'm very proud that we're releasing this record and that we're going to have a physical artifact that documents this time. We worked on this album in five different recording studios in three different cities over the course of two years. I'm really proud of it and I want lots of people to know these songs. I hope that people listen to the album all the way through, because there are so many kinds of songs on it.
You'll be releasing it on Thanksgiving Eve at the Ottobar. What's it like to come back and play in your hometown after being on the road for so long?
I guess we'll find out. When I've come home before and played our final show of a tour, it feels really good. We've picked up a lot of support and fans in Fells Point over the years, but I think we've reached the top of our game in that neighborhood, and I hope this record reaches a wider audience.
This job is difficult. It does get lonely and it can be very melancholy at times. Many of these songs have elements of longing or homesickness. But it feels like people back home are watching what's happening out here on the road, and I think they're proud of us.
Catch Sean K. Preston & The Loaded Pistols live at the Ottobar on November 21.