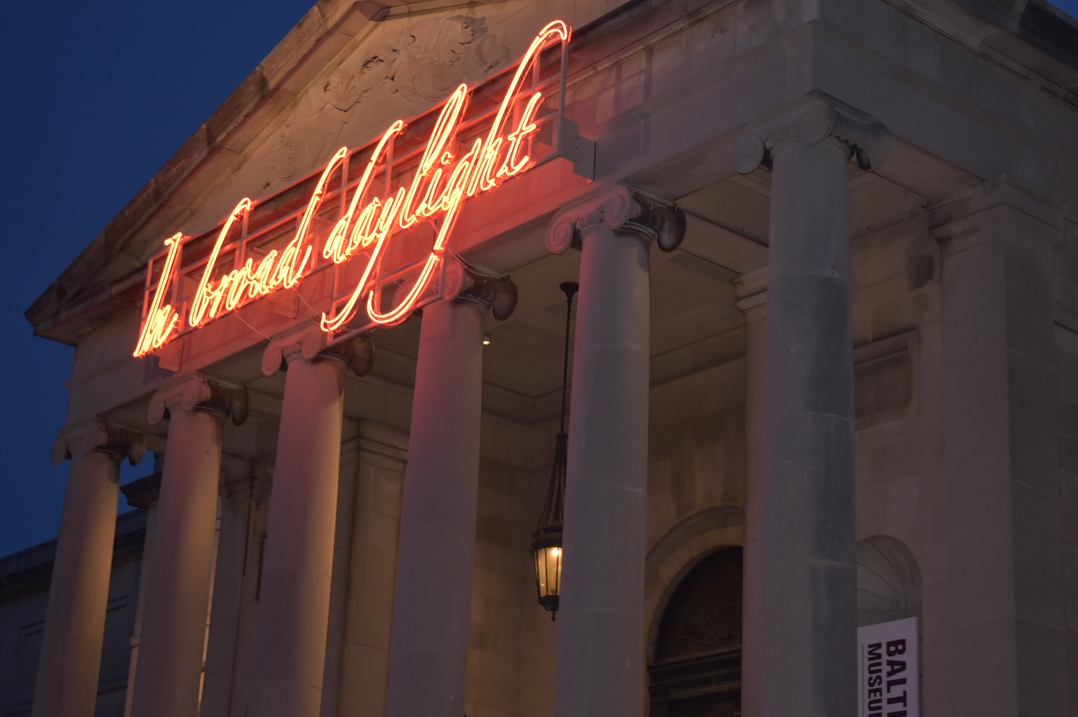 Instagram- kvng_z3k3
Last Wednesday, hordes of art lovers gathered on the sidewalk of Art Museum Drive to take in the illumination of Tavares Strachan's exhibit In Broad Daylight. Above the grand columns and staircase of the Baltimore Museum of Art, the orange letters came to life in front of everyone's eyes. And, thanks to social media, everyone following along at home also had a front row seat.
Not only has social media been great for promotion and education, but it's also redefining how the art world operates.
"It gives everyone equal access digitally to get their work out there and to get the word out about what they're doing," said Andrea Boston, the social media manager for the BMA. "I use social media to share facts about an artist or to share the history behind the work of art. It creates this experience with art and what's going on behind the doors in real-time."
Aside from artists using it to sidestep galleries to make a name for themselves, social media also makes it easier to sell their work. Boston says that she's actually purchased prints from artists through Instagram and notices that some even forego professional websites for Facebook and Instagram accounts instead.
"Social media requires strong imagery and a compelling message, which is perfect for art," she said. "Particularly Instagram, which is a platform that is pretty much designed for beautiful, well-curated photos. That's the perfect soil for artists to grow a following."
For local visual artist Hoesy Corona, he believes that social media is a game changer for the art world. By opening up the possibilities that were once limited to reach potential audiences, it's helped him to establish his brand on his own terms.
"I tend to use it as a professional extension of my studio practice—a virtual marketing assistant of sorts," he says. "I can give both insight into my studio process, as well as keep my audience informed about my goings-on."
Strachan himself has a complicated relationship with social media. While he believes that it's beneficial to his craft, he also knows it's hard to escape. As an artist, he has to make sure that his work remains the most important thing.
"The art world and being an artist has become kind of global I think," he says. "It allows for us to stay connected."
Corona shares a similar philosophy about the influence of social media and believes that it will only continue to help open the doors for artists and patrons alike.
"Just a handful of years ago, artists were limited by the ways in which they could reach potential audiences and had to rely on discriminating middlepersons to sell their goods or gain access to show their work," he explains. "Social media gives artists plenty of exposure without the help of predatory arts professionals which allows smaller independent artist run spaces to carve a niche for themselves and build a wider audience."
The BMA has seen that happen quite literally. In just one year, their Instagram followers have grown from 8,000 to nearly 17,000 due to what Boston describes as "growing interest in the dope things the museum has been doing." By using Instagram and other social media channels to share what's new or coming soon, they have been able to draw in more visitors than they would have a decade ago.
"Our numbers show it," she says. "It creates this immediacy and accessibility that we didn't have before. It opens this portal to art and discovery that may have felt exclusive or roped off in the past."