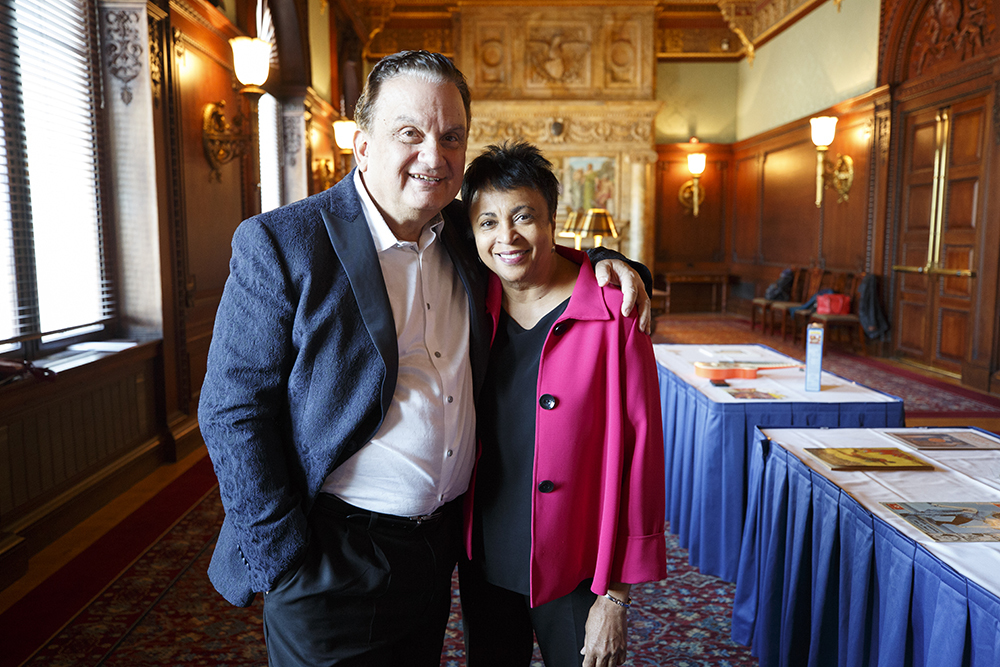 Shawn Miller / Library of Congress
Baltimore magazine publisher Stephen A. Geppi was the toast of the beltway today at the press preview of his extensive multi-million-dollar collection of comics and entertainment art donated to the Library of Congress earlier this year.
Looking natty in a navy brocade jacket with black satin trim, Geppi was emotional about seeing his collection for the first time since the Library of Congress staff came to the Geppi Entertainment Museum to pack up more than 3,000 items of comic books and memorabilia. Standing in the shadow of the U.S. Capitol in the private "Members Room" with its gold-leafed vaulted ceilings and richly carved wood panel walls, the former mailman was all smiles.
"Whether you knew it or not, you were influenced by comics and they told the story of our country," Geppi said.
The mint-condition collection, which is the largest of its kind in Library history, will be on display starting November 6 will find a more permanent place in an exhibit space in the years to come. Memorabilia includes the original storyboard for the creation of Mickey Mouse, Joe Simon's concept drawing for the superhero Captain America (created in 1940 in reaction to World War II), and the hand-carved prototype for the first action figure G.I. Joe, developed during the Vietnam War in 1964.
Nearly two years ago, Geppi came to visit the Library to see Carla Hayden, the Librarian of Congress and a friend from Baltimore. She arranged for a private viewing of the original 1962 illustrations of Amazing Fantasy No. 15 (which depicts Spider-Man for the first time). Geppi was dazzled by the existing collection, but as curator Georgia Higley put it the feeling was mutual. "He likes to say he was so in awe of us," she said today. "But really it was the other way around."
With his encyclopedic knowledge of comics, Geppi regaled the room, including Hayden and various curators, with stories about the origins of Mickey Mouse and Captain America, as he showed off the original drawing of the superhero.
"Comics were around for a long time but when newspapers became popular, kids loved reading the funny pages," said Geppi. "One day, in 1933, someone said, 'If they sell so well, let's put a cover on them and sell them separately'—and that was in the middle of the Depression. Who would start a comic-book business, let alone any business at that time? It's a crowning achievement of our industry having the collection here."
Of course, Geppi tipped his hat to his beloved Baltimore and the place where he got his start and went on to own the largest comic book distributorship in the world.
"Baltimore has had the exclusive for 23 years," he said, referring to the collection. "And literal tears were shed when the museum closed on June 3. But so many collections sit in the basement waiting for a flood or fire to destroy them and never get displayed. I can't live forever but wanted to put it somewhere where it could be forever."