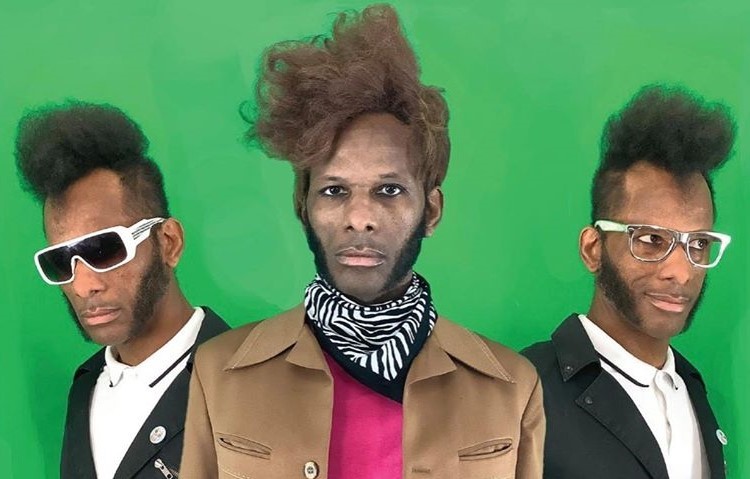 Landis Expandis
Each month, we're amazed by the musical talent of this city's artistic community, but never has it been more apparent than in the age of coronavirus, acting as both a salve and a source of hope. Even from quarantine, artists are continuing to hone their craft, and their fans can still show their support by purchasing music and and merch. In this month's The Big Baltimore Playlist, we showcase 10 local songs to listen to right now, ranging from pandemic jingles to iconic cover songs and uplifting original hip hop. Check back each month for new top songs of the moment, and follow our Spotify playlist for a soundtrack to the city.
---
"No To Corona" by Butch Dawson
Leave it to Butch Dawson to drop the city's first coronavirus anthem. Over a murky, moody beat, the punk-infused rapper and tongue-in-cheek wordsmith turns a hand-washing jingle into hard-knocking hip-hop. Along the way, he covers all the bases: personal hygiene, social distancing, disinfectant products, protective equipment, and more. It's a touch of levity—and legitimate advice—in the strange times of COVID.
"Haven" by :3ION*
Few musicians know how to pull our heartstrings quite like Elon Battle, or :3ION, whose electronic R&B melodies continually evolve the modern love song. On this ethereal new single, the singer-songwriter's falsetto vocals float light as a feather, lilting over a twinkling melody that glitches in and out like the state between sleep and wake. The repeated decrescendo lyrics reassure romantic loyalty, even or especially through hardship, which could likely be related to by many a listener these days.
"Now I Live in Truth" by Greg Hatem*
Local musician and Natural Velvet drummer Greg Hatem has released a new solo album, Springlight, that loosely recollects a psychedelic journey, with this final song marking the trip's end. Swirling in effusive synth and technicolor soundscapes, it's a futuristic pop melody, shedding the deep, dystopian tones of the record's previous tracks, arriving with spring-like newness at a place of buoyant clarity. It seems to remind us: there's always light at the end of the tunnel.
"Quarantined Sax" by QueenEarth*
One of the cures for coronavirus anxiety? We don't have a medical degree, but we think it's safe to say: Jazz. And thanks to acoustic singer-songwriter QueenEarth, we now have a whole album of instrumental, jazz-influenced tracks from her new Queer Core: Songs for Isolation. We found this fifth track particularly soothing, fueled by serpentine saxophone and sprightly keys, allowing us to finally unwind in its instrumental interplay. Be sure to check out "Piano Lesson" while you're at it, too.
"Back the Hale Up" by Landis Expandis*
And just like that, another quarantine track we never knew we needed until now, thanks to musical dynamo Landis Expandis, or rather, LHL—aka Landis-Harry-Larry—with the beloved DJ/singer's two alter egos also in tow. The music video for this funky, infectious tune is half the fun, with Landis's doppelgängers performing bubbly synth over a steady drum machine beat in matching outfits in the middle of a grocery store aisle. Meanwhile, the lead singer's playful lyrics recount a trek to the store and the interactions had there with those folks who just don't get social distancing. You know who you are.
"Everything" by Mateyo, Al Rogers Jr., and Josh Stokes
This winter track by a trifecta of Baltimore talent is, indeed, everything we need to get us through moments of quarantine doldrums and remind us that summer is still yet to come. A boppy, effervescent beat by local producer Matthew Lampart, aka Mateyo, serves as the undulating backdrop for the honeyed chorus croons of singer-drummer extraordinaire Josh Stokes and the feel-good, free-flowing verses of rapper Al Rogers Jr., both speaking to the simple necessity of love.
"Quite Some Time" by Modern Nomad
Modern Nomad has become one of our go-to bands for the sort of sun-soaked nostalgic dream-pop that transports us to brighter, warmer, carefree days. Possessing a meditative quality, the local quintet's '70s-tinged tunes can sound like swimming in the mesmerizing flow of a lava lamp or walking in a smoke-swirled haze down a California beach. Lose yourself in this new track, featuring reverberating guitar, peppy keys, and Tom McLean's soft, sleepy vocals, bringing his most intimate truth to light.
"Angel from Montgomery" by Outer Spaces*
In the age of home concerts, our favorites might just be those of the incredible mounting collection of old folk and Americana cover songs by singer-songwriter Cara Beth Satalino. This heartbreaking acoustic rendition of John Prine's 1971 classic arrived at the end of March as news broke that the legendary musician was in critical condition with the coronavirus. He would pass a week later, but his influence remains, as does this ode, with the Outer Space's frontwoman's raw, slow-burning vocals making it all her own.
"Glue" by Shinji*
This shimmering new single from indie-pop quartet Shinji is a perfect soundtrack for the continual daydream that is quarantine. With jangling drums, aching guitar strings, and hazy New Wave synth, it evokes the best of the 1980s and the youthful ennui of other lifetimes. "Alone, on my phone, is where I will be," sings frontman Josh Frazier in distant reverie. Us, too, listening to this tune.
"My Year" by T.Ali
Consider T.Ali a Baltimore artist to watch, with this spring single showing the pure-hearted promise of the rising rapper. A comeback anthem imbued with old-school influence and founded in both hardship and hope, his earnest verses feature smart rhymes and measured flow, with assists from fellow city artists Miss Kam and Chris Cassius. Be sure to also dig into his just released debut album, Since We're Being Honest.
*Not on Spotify. We'll add it to the playlist if it comes online.