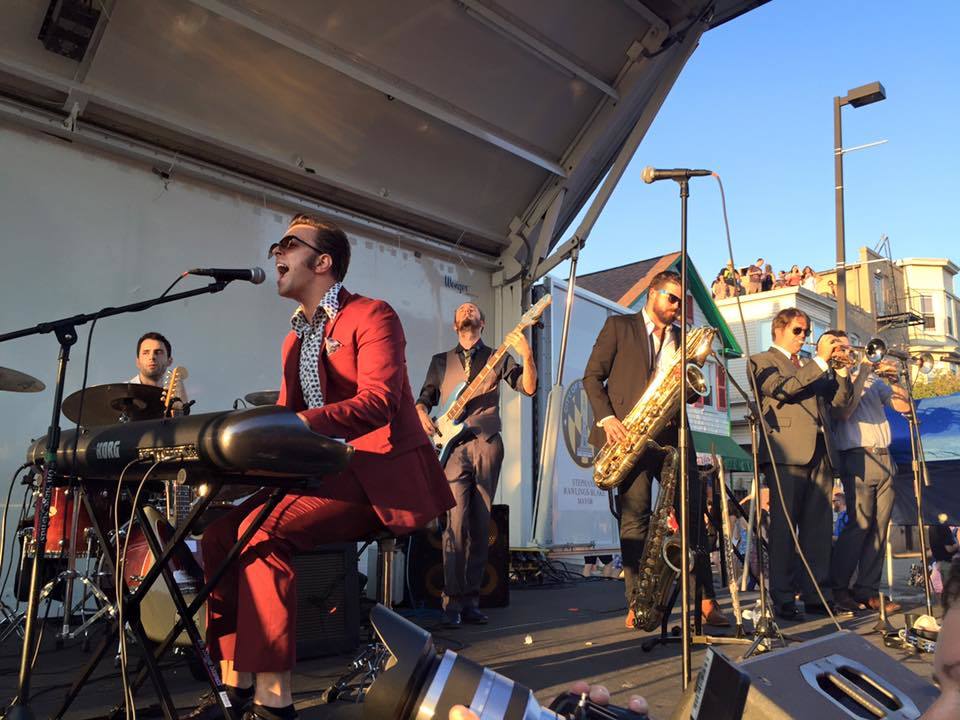 Facebook
In the latest iteration of The Big Baltimore Playlist, we found five local songs ranging from feminist rap and rollicking post-punk to twinkling pop and shimmering summer-ready indie folk-rock. Check back each month for new top songs of the moment, and follow our Spotify playlist as we continue to build a soundtrack for our city.
---
"Unfaithful Cherry" by Black Assets
First, your attention piques for the squealing car wheels that peel off into a raw, jangly melody. The twangy acoustic chords and scratchy rap on the body of a guitar. Then in comes the powerhouse vocals of spoken word artist Ashley Yates, aka Black Assets, and you're officially hooked. "Who is this?" you find yourself thinking as you groove along to the soulful tune. Born in Mississippi before traveling the country and ultimately settling in Baltimore, this under-the-radar indie-rock-and-soul singer have been performing at open mics across the city for over a year now, fusing her rock, blues, funk, and R&B roots into an earthy, authentic sound all her own. Be on the lookout for her upcoming Soul Language EP.
"Diana Ross" by Bosley
We've come to count on local soul sensation Thomas Mayer for his James Browny-worthy croons, high-energy performances, and envy-inducing outfits. The songs on his first new album in four years, Unreal Fire, don't disappoint but they're also a fresh new version of Bosley from the one we've come to know and love. On this disco-ready dance number, he fuses the old and new versions of himself, amplifying his vintage soul revival with a fresh dose of modern-day pop. His powerful pipes remain, and continue to soar, as do the velvety vibes of his funky, feel-good melodies. Recorded live in analog and backed by his elaborate 9-piece band, it's a playful, sparkling tune that would make its title diva proud.
"Boss Moves" by Martina Lynch ft. TT The Artist*
If you've been searching for a summer jam, look no further than the dream-team duo of spoken-word poet/rapper Martina Lynch and Bmore Club queen TT The Artist. On this bass-heavy banger, two of Baltimore's most badass women unite and use their fiery verses, fearless delivery, and stylish swagger to show up the boys' club, solidifying themselves as strong and showstopping as any male rapper in town. "Speaking for all of the women, the game is against us," raps Martina in her female empowerment-focused lines, but both women have the chops to change that. In just over a week in early June, the song made it onto 92Q's Roundway of the Day, and we expect to hear it on repeat from now through Labor Day.
"Less Than Positive" by Michael Nau & The Mighty Thread
Cumberland singer-songwriter Michael Nau has been a man of many bands. Page France. Cotton Jones. A solo artist. And now his 9-piece Mighty Thread. This might be our favorite iteration yet, with a full-bodied sound layered onto his scrappy indie folk-rock, featuring a hint of psychedelia and a twangy touch of old-school country. This new number off the band's self-titled album, out August 3, is a lush, luminous ballad—as big as a rock anthem, as small and sweet as a little ditty. It's the kind of song that inspires movement, adventure, and change. It's the kind of song you want to play loud on a wide, open backroad with the windows down and the wind in your hair and the gas pedal beneath your barefoot toes. It's as if it were tailor-made for the hot, humid days of Maryland summer.
"You Real" by Post Pink*
While we've been sitting around eagerly awaiting Post Pink's upcoming No Problem, Probably EP, the beloved post-punk quartet quietly released this single as they wrapped a West Coast tour with '90s alt-rock gods The Breeders. At first it seems slightly more tempered in volume and tempo than the tracks off 2016's I Believe You, OK, but the tight, rollicking rock song builds into a smashing surf melody, fit for the tumbling cliffs along the California coast. Amidst cascading golden harmonies, Angela Swiecicki's gravely vocals ride low and steady in a distant haze while driving drums and grungy guitar riffs roll forward and gain new speed. In the end, we find ourselves even more amped up for the forthcoming full release.
*Not available on Spotify. We'll add it when if/when it comes online.