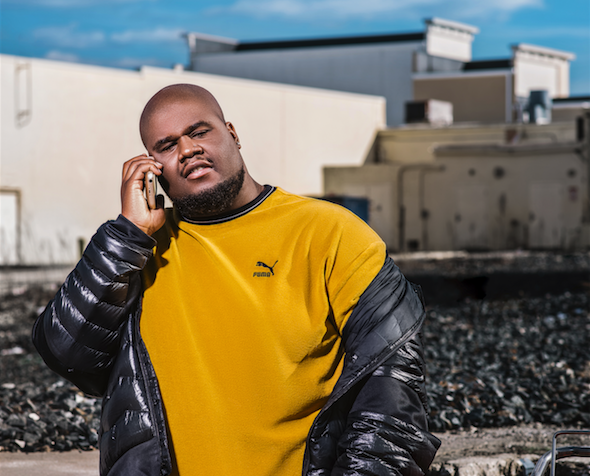 Andrew Mangum
In the latest iteration of The Big Baltimore Playlist, we found five local songs ranging from flavorful hip-hop to punkish slow jams to psychedelic indie-pop. Check back each month for new top songs of the moment, and follow our Spotify playlist as we continue to build a soundtrack for our city.
---
"He Say She Say" by DDm
The first track off DDm's much-anticipated solo debut is finally here, and unsurprisingly, it's a truly addictive bop that bottles the rap artist's bounty of bravado, wit, and humor into one tight package. We've come to know and love this Baltimore-born rapper as an all-time hometown favorite, but this track serves as an introduction for the rest of the world to Emmanuel Williams—his creative vision, his flavor, his fashion sense, his downright fun. It's a taste of what's to come with the rest of his upcoming Beautiful Gowns, due out later this summer. The title chorus says it all: DDm is ignoring the industry hubbub and any and all haters to forge this path on his own. This swaggering single is just the first step.
"World in Blue" by Hexgirlfriends
We love when Hexgirlfriends get loud, as they do in many moments on the electro-femme, pop-punk duo's early spring record, Call Your Mom. In fact, on a few songs, they get downright pissed, calling out the patriarchy—shitty boyfriends, bad dads, creepy dudes. But maybe the band's most powerful moments lie in the quiet ones, like this dreamy tune originally released in late 2017. With single pangs of guitar and flutters of synth, it's a song about the end of love, capturing that feeling of the all-consuming, ocean-like depths that follow. But even in the wake of loss, it's not a sad song. This swimming melody leaves room for renewal and hope.
"One Night" by Modern Nomad ft. Not Charles
This song is a taste of dry California summertime amidst the spring thunderstorms and rising humidity of the East. It makes sense as frontman Tom McLean has spent some time making music on the West Coast, but back in Baltimore, he and his bandmates have carried over the good vibes, imbuing this unhurried groove with hushed vocals, golden harmonies, and rich, aching guitar. With hints of inspiration from '60s psychedelia and '70s funk, it's a jangly slow jam worth adding to your warm-weather playlists, while the band itself is one to keep on your radar for releases to come.
"Moon" by Post Pink*
Three years since their last record, post-punk quartet Post Pink has returned with a bang on their new No Problem, Probably EP. On first listen, this steady song might seem like the release's sleeper hit among the other more rough-and-tumble tracks. But we hear it as pure rolling thunder—an undulating, almost-meditative melody of low-lying bass, live-wire guitar, and persistent drums that gain momentum with each gravely coo or howling cry by frontwoman Angela Swiecicki. "I am howling at the moon," she repeats like a mantra with vigor and varying volume, almost inspiring you to do the same.
"Diamonds" by TT The Artist
We find it fitting that the Club Queen herself has finally released a song about these sparkling jewels. But TT The Artist's latest track, released earlier this year, isn't a braggadocious rap about riches or fame like some of her best past work. Instead, it speaks to finding one's inner-worth and letting it shine, just as she has left Baltimore to further pursue her career on the West Coast. Fitting with the Sunshine State, it's an unfalteringly feel-good tune for all ages and listeners, full of positive affirmations and approachable rhymes with effusive production by local beatmaker Mighty Mark.
*Not on Spotify. We'll add it to the playlist when it becomes available.