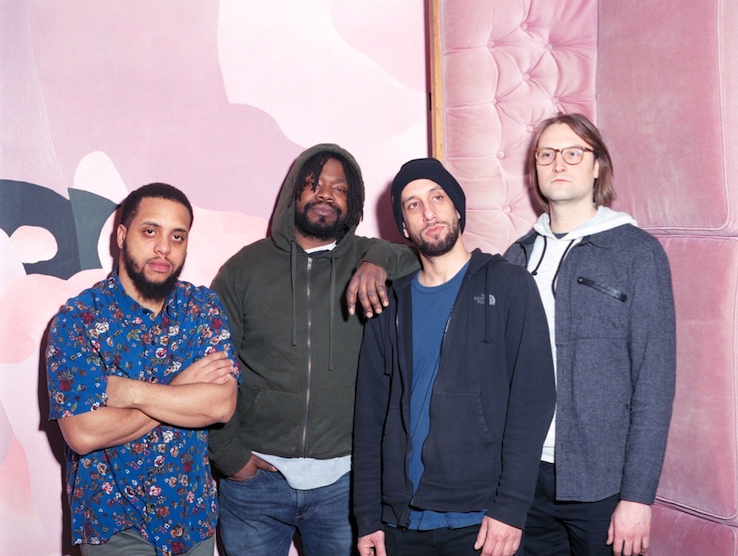 Micah E. Wood
In the latest iteration of The Big Baltimore Playlist, we found five local songs ranging from barebones indie-rock and supergroup dream-pop to explosive, experimental hip-hop. Check back each month for new top songs of the moment, and follow our Spotify playlist as we continue to build a soundtrack for our city.
---
"Mirror Mirror" by Chaunter
Introducing Chaunter, the new Baltimore band you need to know now and the brainchild of art scene denizens Brooks Kossover and Jenghis Pettit. In the new year, the duo, with Kossover on vocals and flute and Pettit on guitar, will be releasing their debut album Dream Dynamics with an aspirational league of Baltimore heavyweights, from Dan Deacon to Sam Herring of Future Islands to Lower Dens' Jana Hunter, as featured here on the record's first single. Through this song and the rest of its idiosyncratic record, you drift through a mythical dream world. It unfurls in reverie—swirling in gauzy synth, smoldering with reverberating guitar, brimming with both Hunter's haunting vocals and grand group harmonies—landing somewhere between the glory-days of Labyrinth-era David Bowie and the golden age of Baltimore DIY dream-pop.
"North Star" by Joy Postell
Okay, so by now you might be tired of us gushing over the new music of local neo-soul singer-songwriter Joy Postell, but too bad. We found the first singles, "Consciousness" and "Water," off her full-length Diaspora debut to be moving portraits with true vision, which imbues the rest of the record. "North Star," for example, could be seen as the album's sleeper hit for its quiet disposition, sparse composition, and only minute-long length, but this breathtaking spiritual sets the stage for the entire record, transporting listeners to a midnight field beneath the big dark sky, perhaps in another era, perhaps right now, all the while preparing you to embark on a transformative journey. Postell's vocals—exposed, ethereal, yet full of power—call for freedom and convey the strength within her music to find it.
"Pretn'd (Drew Scott Remix)" by RoVo Monty
In the 21st century, we can't get enough songs about the misgivings of modern love, where lyrics help us make our way through the maze of dating in 2018. Take this slow-jam by R&B singer-songwriter RoVo Monty, in which the protagonist asserts his desires and demands in the face of the fair-weather relationship. Turning a common trope of unrequited love on its head, this track is about self-empowerment, through and through, with candid lyrics ("tired of knocking boots, how about you show me 'round town?") calling it like it is. And calling out for a simple bit of chivalry. Founded in electronic melodies inspired by fashion, dance, and disco, Monty's confident verses float over a lush, funky melody crafted by local beat master Drew Scott, featuring a fiery guest flow by no-holds-barred Baltimore rap favorite DDm.
"The 2nd Most Beautiful Girl in the World" by Snail Mail*
These days, no one does young heartache quite like Snail Mail's Lindsey Jordan, the Ellicott City singer-songwriter who skyrocketed to indie stardom over the last year for her coming-of-age rock-and-roll. And with this cover of a 1990 song by the little-known Washington duo Courtney Love (no relation to the Hole frontwoman), Jordan might just have outdone herself. Compared to the original's spunky post-punk beat, this stripped-down version features nothing more than a few reverberating strums of guitar and Jordan's vulnerable vox, stretched out to its most elastic, emotive state, pushing and pulling at certain words like the tugs of memory at a broken heart. In the end, and especially on the live stage as we saw at the Parkway Theatre this summer, she reinvents the song as all her own.
"Play Hard" by Soul Cannon
We knew the long-awaited release of Soul Cannon's self-titled album was going to bring the fire, and the experimental hip-hop quartet have more than delivered—on their new record, and especially in this potent time bomb of a track. As in all of the band's music, "Play Hard"makes, breaks, and recreates its own rules from start to finish. The song is an urgent, unruly sprint, with frontman Eze Jackson speaking breakneck truth—a sort of poet-prophet—while the jazz-influenced instrumentation of his talented bandmates both keeps pace and inspires further pursuit. Rapping on the fleeting flicker of life, Jackson's verses zig and zag, running uphill. At the song's peak, with ascending runs of bass and an outright avalanche of drums, it's as if they outrun death itself.
*Not on Spotify. We'll add it to the playlist when it becomes available.