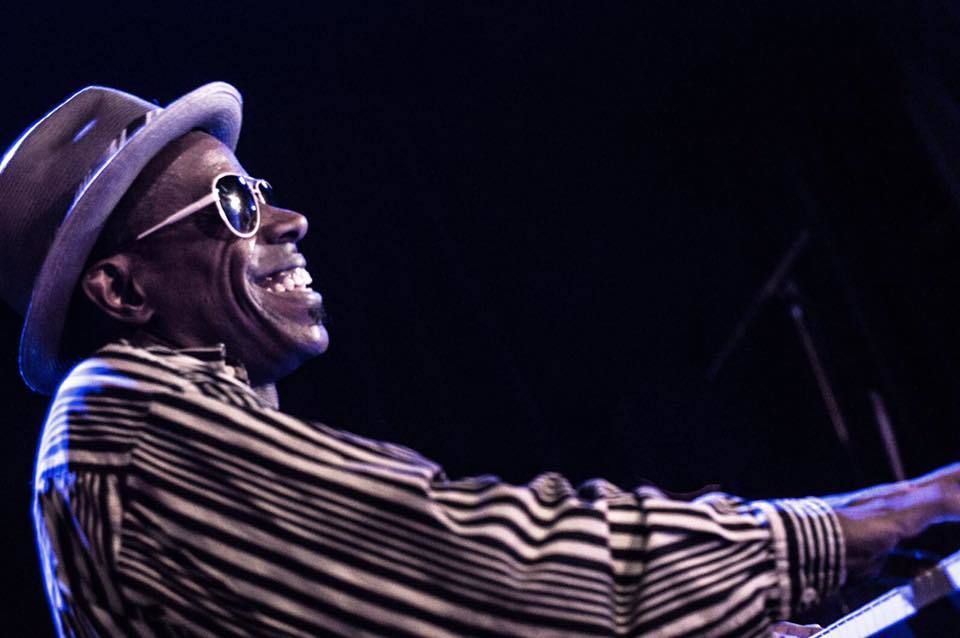 Facebook
In this fifth iteration of The Big Baltimore Playlist, we feature five local songs we can't get enough of, ranging from Spanish-infused hip-hop and legendary modern jazz numbers to one rollicking rendition of Britney Spears. Check back each month for new top songs of the moment, and follow our Spotify playlist as we continue to build a soundtrack for our city. 
---
"Sayno" by Al Rogers Jr.
Al Rogers Jr. has never been afraid to wear his heart on his sleeve, pushing his feel-good, sentimental swooz out into the atmosphere everywhere he goes. That open authenticity has allowed him to make some of the most accomplished hip-hop in the city, which we've raved about in the past. And yet as earnest and honest as the local rapper might be, he always manages to surprise us, from his 2015 Outkast-inspired Luvadocious to the new tracks of his just-released BrightHeartedNigga. This track, made with local producer Kariz Marcel, is our favorite surprise of Al's thus far. It's unlike anything we've heard him do yet—a cantering Spanish melody that tells the story of love lost through hushed lyrics, rhythmic finger-snaps, the quivering heartache of violin, and a final flutter of piano keys. To all of that, we say yes.
"Like Laughter" by Amy Reid
If it were possible to create a musical version of the feeling of bliss, this song would come pretty close. Airy synth swirls around every inch of this lush, lilting melody, as deep-blue-toned tribal drums pulse in and preparie Amy Reid's lyrics for liftoff. On this debut solo project from the local singer, who also performs as half of experimental R&B duo Chiffon, each track transcends the physical realm, with this euphoric number truly sending our heads into the clouds. It loses us in our imagination. It conjures up dreamscapes and ignites distant memories that were forgotten the moment we awoke from sleep. Give into your senses and let the song do the rest.
"Flak Bait" by Calgrove
We dig the lo-fi, low-key sound of this new indie-rock quintet. The Lutherville group was formed as recently as last year, but their hazy Americana music exhibits a musical companionship that only comes from long-time collaboration, which, in this case, for most of the band, dates back to childhood. Born out of bedroom jam sessions, this warm, sunny melody is as listless as the lazy, nostalgic, humdrum days of youth, but there's a backwoods depth that comes with the sinuous twang of lap steel guitar. The gentle talk-sing lyrics lend well to this easy-listening ditty—one fit for hot coffee on a cool dewy morning, an evening porch sit, or a sunset drive. Catch them live alongside other local talents at venues like the Ottobar, Joe Squared, and Millstone Cellars.
"Assume the Position" by Lafayette Gilchrist
If you are anything like us, you've been spending the last month waiting all week for Sunday night thanks to David Simon's new HBO masterpiece, The Deuce. But beyond anticipating the next plot twist, we're waiting for those end credits to roll, when the show fires up that funky, horn-riddled tune by local legend Lafayette Gilchrist. Simon used this 2008 track in The Wire, too, but now the Baltimore jazz pianist's upbeat single has been infused with new life. No matter how dog-tired and dreadful we are of work the next day, we can't help but look alive for those last few minutes, and boogie in our PJs to this bodacious instrumental groove.
"Gimme More" by Natural Velvet*
Leave it to Natural Velvet frontwoman Corynne Ostermann to create such a searing cover of the one and only Britney Spears. This chart-topping pop song came on the heels of Spears' infamous head shaving incident of 2007, which Ostermann once told us was a source of pop culture inspiration for her own band's rebellious music. Now, this pit-ready rendition is everything that the local post-punk quartet does best: swirling live-wire guitar, breakneck drums, and Ostermann's playful breakdown of feminine stereotypes—each howl, growl, and guttural "more" at a time. We only hope that Britney gets the chance to hear it.
*Not available on Spotify yet. We'll add it when it comes online.