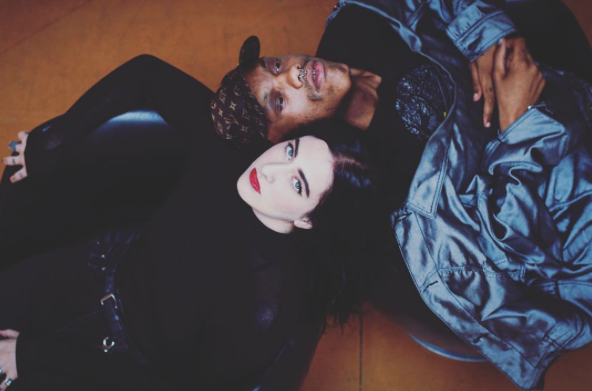 John Andrew Spinnenweber and Friends Records.
In this fourth iteration of The Big Baltimore Playlist, we feature five local songs we can't get enough of, ranging from glittery pop remixes and chill-wave raps to experimental electronica and lauded indie-rock. Check back each month for new top songs of the moment, and follow our Spotify playlist as we continue to build a soundtrack for our city. 
---
"Sightsee" by Blacksage ft. :3ION (Moss Of Aura remix)*
Talk about a quadfecta. Blacksage's Josephine Olivia and Drew Scott produced a pretty stellar album last fall, with its debut Shivers, featuring this sexy snaking number and a handful of other lovely, dark ballads. But in this just released remix, 2016's "Sight See" gets a euphoric, orchestral new look in 2017. The original melody floats through the luminous mist of Moss Of Aura (aka Gerritt Welmers of Future Islands), bringing the angelic vocals of futuristic R&B singer :3ION to the forefront, wrapping the warbling coos of Olivia into a featherbed of synth, and infusing Scott's initial, deep beat with a hefty dose of light. By the end, it transforms from a lust song into a sort of love one. 
"Dead Man Draggin'" by Butch Dawson
If you dig Kendrick Lamar, Childish Gambino, or Tyler The Creator, you'll want to follow Butch Dawson. The local producer and frontman for Basement Rap Records is a reservoir of smart, sophisticated, slow burn rhymes, and he stands on his own as one of Baltimore's sharpest rappers. The beauty of his beats lies in their contrast, as his tranquil melodies are studded with hard-hitting ruminations. On this number (featuring some NSFW lyrics), the jangling chill-wave beat and shimmering timber of hi-hat drums meets lyrics that are listless in their delivery yet complex and contemplative in their content. Through verse and chorus, Dawson seems to address the struggles of our city ("Something ain't right right now, nothing can save my town") and the predicament of being a young black man in Baltimore ("Gotta give it up, I'm just a dead man . . . Can't do much when you're a dead man"). In short, don't sleep on his upcoming album, Swamp Boy.
"Wham City" by Dan Deacon
When this song first came out 10 years ago, Dan Deacon was a quasi-known experimental musician, best known for his Wham City arts collective at the Copycat Building in Station North, still years away from becoming a local household name. Now, Deacon is wedged somewhere between Beach House and Future Islands as one of the biggest and brightest acts to come out of Baltimore. At nearly 12 minutes, this recently re-released track takes you on a journey, from its exuberant bookend melodies through its race-pace electronic heart. In the end, we wind up where we are now: standing in awe of Deacon's musical mastery. Back then, as in today, he turns the unexpected into a beautiful cacophonous symphony.
"Without You" by Micah E. Wood
Last year, we fell for Micah E. Wood's infectious song "Go Away," featuring the aforementioned Butch Dawson. We also adored his prolific portraits of Baltimore musicians bathed in afternoon light, like Joy Postell, Abdu Ali, and Al Rogers Jr., which seemed to be popping up everywhere. Naturally, we were extra excited to hear about Wood's upcoming album, See Me, out September 22, and this new single, featuring a brighter brand of his trademark talk-sing electro-pop. This catchy, bass-heavy beat builds and blossoms into an anthemic chorus that pretty much sums up that jubilant moment of finally getting over a break-up: "I feel alive without you," he sings, drawing that five-letter adjective out into eternity. Even if you're in a relationship, this song makes you feel like you are full of life.
"Thinning" by Snail Mail
This song has been around for a year, but we're adding it to the list anyway in celebration of Snail Mail's badass inclusion in last week's New York Times. In a rad roundtable titled "Rock's Not Dead, It's Ruled by Women," frontwoman Lindsey Jordan keeps it real and, as in her music, comes across as well beyond her 18 years. Over the past few months, this breakout single has caught the attention of everyone from Pitchfork to SXSW to, now, the Gray Lady. It's potent and pure, and its lush, lo-fi melody is laying forth the groundwork for a new era of indie-garage rock. It's everything you felt at that coming-of-age moment before your twenties—her openhearted lyrics read like your internal diary, those gritty guitar chords pull at your heartstrings—and yet it continues to resonate, whatever your age might be today. 
*Not available on Spotify yet. We'll add it when it comes online.