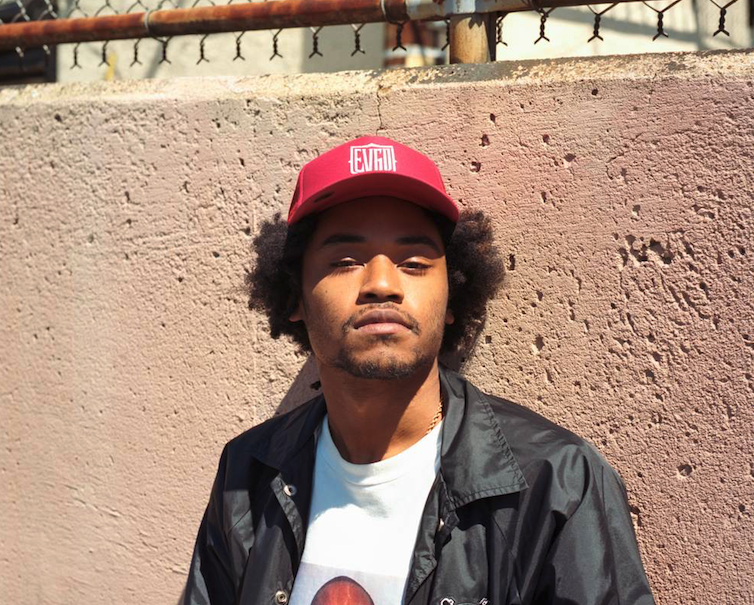 Micah E. Wood
In the latest iteration of The Big Baltimore Playlist, we found five local songs ranging from homegrown hip-hop and hearty folk music to disco-infused pop. Check back each month for new top songs of the moment, and follow our Spotify playlist as we continue to build a soundtrack for our city.
---
"Division St. Blues" by Butch Dawson
It's hard to pick the best song off DIY rapper Butch Dawson's new EP, Swamp Boy. Each song is a mini-masterpiece, like "Feel Nobody"—an instant hit with fans now drowning out the artist himself during the chorus at local concerts—and "Distances," a simply gorgeous dream on which Dawson flexes his singing abilities. But this slow-motion melody paints a poignant portrait. Over a run of piano keys and a knocking bass beat, the 25-year-old unleashes sharp, slow-burning rhymes, speaking to his native West Baltimore, and the steadfast community and confidence needed to survive the city streets. He gives local shout-outs to arts collective Llamadon, hometown favorite New Balance 993s, and of course, the song's titular stretch between Madison Park and Upton. Weary yet unwavering, the song is a beautiful, honest ode, and Dawson has become an important city spokesperson, as seen in his recent feature in The New York Times. Check out the album's full review in our upcoming October issue.
"Pink" by Hunter Hooligan
Summer might be winding down, but this airy piece of pop (yes, more pop!) from local singer-songwriter Hunter Hooligan is like a dewy, star-bright July night. With an updated disco beat, this modern love song exudes a lush, shimmering, 1970s vibe, with breathy backup vocals, hushed verses, and seductive sentiment imbuing every inch of its melody. Roses? Check. Champagne? Check. Produced by Will Lederer of Row Homes, the song was crafted for the fall collection of fashion designer Stevie Boi, premiering on the runway during New York Fashion Week, and its buoyant melody is full of flirtation and promise. Hooligan is an artist on the rise in Baltimore, having collaborated with Bmore Club legends TT The Artist and Rye Rye, and this new track is one of his most fun songs yet. We're looking forward to what he does next.
"Drippin" by Kotic Couture*
Consider Kotic Couture an artist you need to know yesterday. The local rapper is a force to be reckoned with and a fiery live performer, popping up on lineups across Station North, playing MC with DJ Trillnatured during the Version dance parties at The Crown, and becoming an integral part of the DIY scene along the way. We dig his high-energy hits "Go Awff" and "Get Ya Life" but this sparse new beat, produced by Baltimore's legendary Mighty Mark, lays the perfect foundation for Kotic's strengths to shine: swift rhymes, infectious hooks, and swaggering style. It's a take-no-prisoners track, filled with fearless spirit and the trappings of staying power.
"An Eagle" by Marian McLaughlin*
Marian McLaughlin is an old soul, and her songwriting is akin to the folk verses of the 1960s as much as it is the Medieval ballads of the 15th century. The local singer is a true poet, and her labyrinthine lyrics wrap perfectly into her intricate, guitar-forward Americana-chamber music. This song off her upcoming tome of an album, Lake Accotink, named after a reservoir in northern Virginia, represents natural cycles of the environment—leaves falling, trees blooming, life, death, climate change. In a stream of consciousness with the sparse jangle of chimes and bells, her story unfolds as an intimate ode—a vivid country scene with a friend or lover, building into an earthy rumination on love and loss. It's a wild eulogy of sorts, and it showcases McLaughlin's greatest strength: through music, wholeheartedly baring her soul.
"Payroll" by TT The Artist
It seems like everything that TT The Artist touches turns to gold. Who else could create a "hip hop sci-fi musical thriller," set in 2040 featuring strippers, aliens, and androids, and turn it into one of the hottest late-summer jams? As the first release off of TT's new Club Queen Records, it uses a Bmore Club beat, slowly transforming into a dark circus melody equipped with bouncy rhymes by Baltimore native Starrz and heavy beats and production by prolific producer Mighty Mark. Of course, there are swaggering verses and a catchy chorus, infusing the track with fiery female empowerment, which ties into the music video, where women hold the power, neon reigns supreme, and TT transforms into a no-nonsense cyborg boss. While you're at it, dig into her label's debut album, featuring fellow club queen UNIIQU3 and a cameo by Baltimore rapper Tate KoBang.
*This song is not on Spotify. We'll add it to the playlist if or when it comes online.