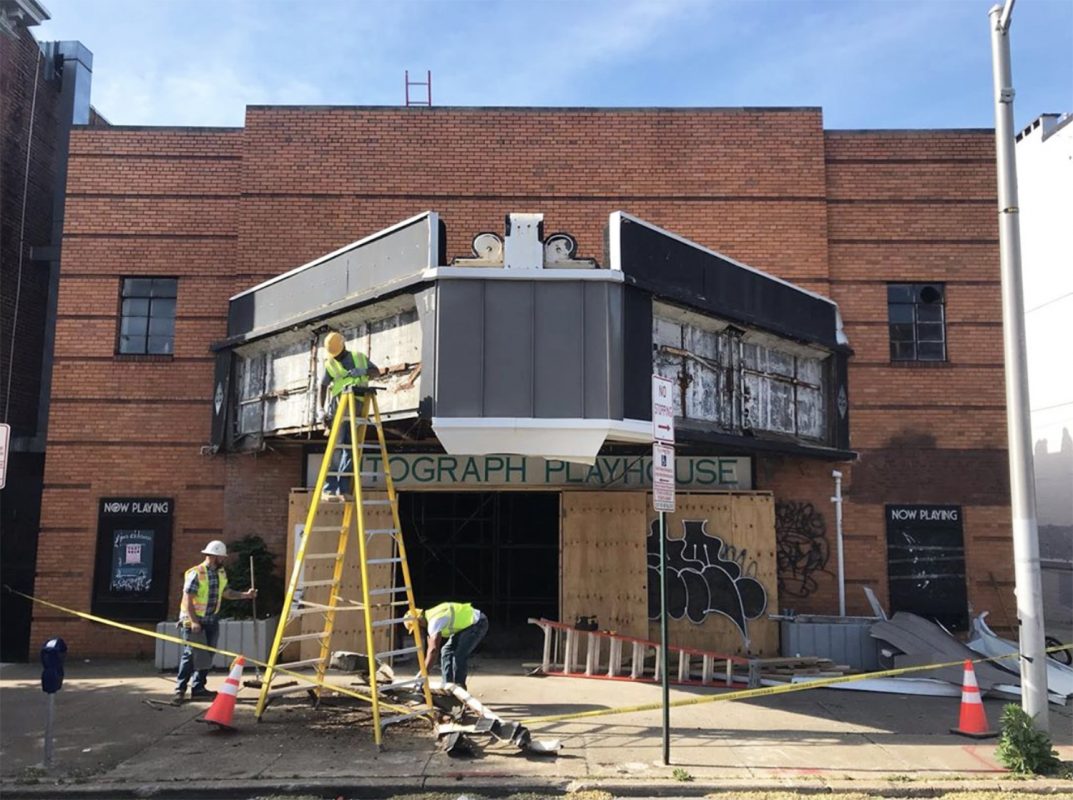 The Voxel
Before Chris Ashworth and a team of builders could install water lines for his new theater concept, The Voxel, they first had to tear through the old trolley tracks on 25th Street in its Old Goucher neighborhood.
Ashworth is the founder of Baltimore-based software company Figure 53, heading a small but mighty team that has expanded to satellite offices in Los Angeles and New York. The company's main focus is creating programs that control elements of live shows like light and sound. An actor himself, Ashworth is in a unique position where his two passions—computer science and theatre—have coalesced into his life's work. Now, he's putting those interests to use in the transformation of the old Voxel theater.
"When I bought the building it was in pretty rough shape," Ashworth says. "Now it has this potential to come back to life."
Dating back to 1946, the building started as the Homewood Theatre and then became The Playhouse, a place to see movies. Part of a post-World War II boom, the theater was there for people who were feeling celebratory and ready to come back to a sense of normalcy.
Because it was later shut down due to safety concerns, the renovation project has become a massive undertaking. Neighbors have made it a point to recount stories of the theater's past life to Ashworth and inquire details about the project. But he doesn't plan to overextend himself.
Though Figure 53 isn't going to completely pivot into becoming a production company in this new venture, Ashworth's fingerprints will be on all aspects of the theater's design.
"We're going to do the interior design in what I hope is a subtle and classy way," Ashworth says. "We tried to do the best we could with what we had and with the budget that we had."
As for the production calendar, Ashworth has heard from fellow actors who are excited about performing in the space. When it opens around its target date of early next year, he anticipates that it will be a home for the city's growing DIY theater scene, providing for local companies and productions that are additive and not necessarily in competition with other spaces. Comfortably accommodating audiences of 70-100, the venue could also feature live music performances.
"I suspect it would be a mix," he says. "We're not trying bring in national touring shows. A lot of the folks who work at Figure 53 have roots in the DIY theater scene. We're gonna learn as we go. I have some stuff I want to aim toward, but I also want to leave it a little open-ended to learn about which direction fits us and Baltimore."
There are also plans to nod to the theater's history, including displaying its original projector in the lobby—which will feature theatrical typographic design cooked up by local company Post Typography.
Builders had to essentially gut the theater completely to get it to a point where it would be usable—a task that has been harder than anticipated, but has given Ashworth a new appreciation for the intricacies of theater spaces.
In some ways, Ashworth feels that the space is a nice complement to what Figure 53 does. The company will use it to host classes, where Ashworth and his employees teach how to operate their software and develop products themselves.
"It's very natural—especially at this point in our growth as a company," he says. "We have increasing numbers of people asking for training and we've never been able to host it ourselves. This gives us a space where we can set up to be just what we need."
When it's completed, The Voxel will be many things—a living relic, a working space, and a place for new and exciting theater productions in an area eager to take it all in.
"This is a passion project," Ashworth says. "We can try some stuff and see what works and what doesn't. I want it to be a resource in Baltimore."