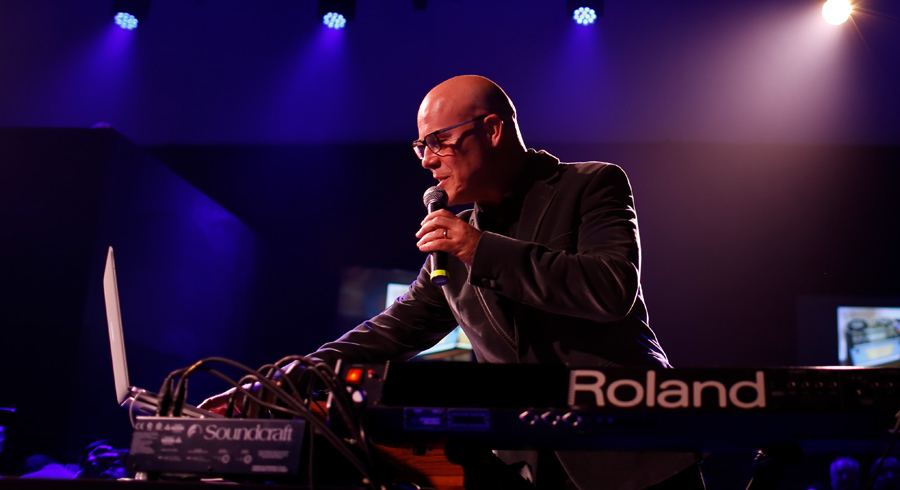 Center Stage
On August 8, Thomas Dolby will bring his tour home to Baltimore armed with a classic Roland TR-808 drum machine (the 8/08 date is no coincidence), a projector screen, 40 years of experience, and no setlist.
For the final show of his tour, Thomas Dolby: An Evening of Music and Storytelling, Dolby will take apart hits and deep cuts as chosen by the audience and put them back together again using a couple of keyboards, a drum pad, and a laptop. The whole process will be shown onscreen behind the artist, giving those in attendance an exclusive look inside the creative process.
"In many cases, my songs sound quite complicated and sophisticated," Dolby says. "But when people see them built from the ground up, they realize that actually they're built on quite simple building blocks. They can see on those large video screens the output from my laptop, and then see me actually building the songs as I go and hear the components and then hear them performed in full, so it gives people a very powerful insight into the process behind those songs."
While most people might recognize Dolby from the video for his 1982 hit "She Blinded Me with Science" or 1984's "Hyperactive!," he says he actually gets the strongest response from fans with deeper cuts. Luckily for them, they're the ones choosing what direction the night at Center Stage might take. And there are many paths to go down. Some lead to anecdotes about playing with Roger Water at the Berlin Wall, others toward memories of performing at Live Aid with David Bowie, who introduced him to the estimated 1.9 billion watching as "very brilliant."
Whichever direction the audience decides to go, Dolby is prepared with his setup and a lifetime of photo and video archives to help illustrate his long and collaborative career.
The show caps off a summer of touring, but there won't be any rest for Dolby, who has been at Johns Hopkins University's Peabody Institute since 2014. This fall, he welcomes his first class of students in the Music for New Media program, many of whom he personally recruited. These students will be the next generation of experimental musicians, learning to compose for virtual and augmented reality.
"Linear media like film and TV have a hundred years of history and legacy behind it, but with a VR experience, for example, there is no formulaic way to approach it," Dolby say. "So it will be fascinating to see how the students take it on. They'll be the ones that will create the new guidelines, not people of my generation."
How do you teach a line of work that is only just getting it's start? Well, that's the tricky part. Students and teacher will be learning the intricacies of composing for new forms of media together, but Dolby's lifetime of experimentation and looking at problems new ways will lend themselves to the task.
"These are super smart kids," he says. "Some of them are brilliant virtuoso violinists or concert pianists that have been trained in a classical sense to far higher degree than I ever was. But what I have to share with them is a career of experience and a sort of willingness to experiment with new technology and techniques. And that's hopefully what will rub off on my students."