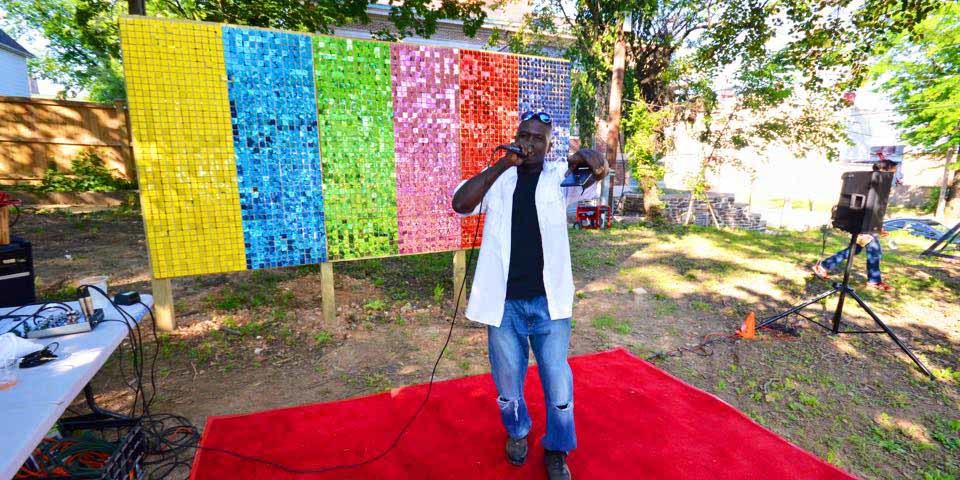 CHM Sculpture Park
Once a dumping ground for garbage, the vacant lot on Homestead Street in East Baltimore is now a beautiful sculpture park.
Dubbed The Coldstream Homestead Montebello Sculpture Park, the new installment had its grand opening on June 3 as a part of the Baltimore Office of Promotion & The Arts (BOPA) and the Baltimore Office Baltimore Office of Sustainability's Sustainability's Growing Green Initiative's Lots Alive grant program that supports the creation of temporary public art projects on vacant lots. 
"We ask artists to look for lots and work with community leaders to see which ones they would like to see activated," said Growing Green Initiative coordinator Jenny Guillaume, who added that funding comes from the Department of Housing and Community Development's blight fund, used for post-demolition greening of abandoned lots. 
This year, Baltimore-based artist, Lisa Dillin was awarded $10,000 in grant funding from the program to repurpose a lot of her choice. Dillin selected the Coldstream Homestead Montebello (CHM) area from an "adopt-a-lot" list provided by the city, in which residents are able to lease city-owned lots for one year—sometimes for community gardens or simply to maintain them.
"This community wanted art," Dillin said. "So we've been working really closely with them to be sure that everything is what they envisioned."
Instead of just creating the art alone, Dillin decided to develop a fellowship program that allows eight artists to display their work for six months in the park. Wanting to include local artists, she passed out flyers in the neighborhood. 
"I was really hoping to find non-traditional artists that didn't go to MICA—ones that live in the neighborhood," she said. "I imagine there are makers who just can't stop, or even hobbyist painters that could imagine themselves trying sculpture."
Before the artwork could be installed, the lot had to cleared of all trash and debris and a volunteering landscaping crew worked for nearly three months.
"There were at least 100 bags of trash that we collected," she said. "The plants and weeds were up to your knees—you could see nothing except vines and grass."
Since then, trees and flowers have been planted and eight pieces of artwork have been installed. The sculptures range from an iceberg made of Styrofoam to a blue man in tighty-whities to a bird's nest that could fit a pterodactyl. Each piece of work is meant to reflect current events in not just the community, but also the world.
For example, fellow Alice Gadzinski's piece Recess—a wall of 72 1×1-inch colored panels arranged to resemble the test pattern on classic television—represents a break in "regularly scheduled programming." Gadzinski, who is currently undergoing cancer treatment, wants this piece to encourage people to take pause and take a look at what the world has become. It also doubles as a backdrop for a performance space that can be used for public events. 
Currently, the CHM Sculpture Park is free and open to the public seven days a week with events and sculpture workshops taking place until October 1.
Other artists include D.C.-based Lorenzo Cardim, who came up with the idea of "stitching" the park with metal. 
"I was thinking about mending, and connecting the community," he said.
Baltimore artist Leanna Wetmore, an environmental activist and master gardener, applied because she wanted to help beautify the neighborhood and show her fellow residents the possibilities of what the vacant space could be.
Her piece, Home, is a large nest made of metal and leftover debris from the park that she repurposed to create a representation of what the neighborhood has meant to her for the last decade.
"It made me feel at home," she said. "My nest is this neighborhood."