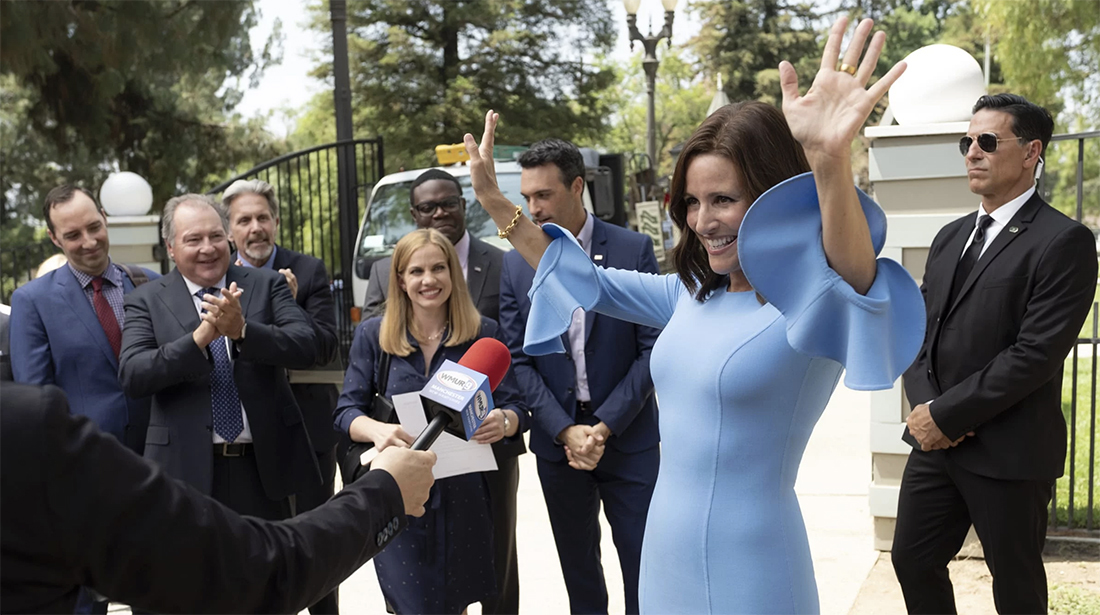 HBO
Scott Clackum has worked as a location scout and producer on television and film productions all over the world, but when he reflects on his time in Baltimore working on Veep—which ends its run after seven seasons on Sunday—he has nothing but fond memories.
"Out of all the places I've worked, and I've worked in a number of states and places around the country and outside of the country, Baltimore is a top three town ever to work in," Clackum says. "I thought the crew was fantastic, but just the people in general, everybody was just really easy to work with and appreciated the novelty of filming on their corner instead of feeling disrupted by it. There was a general welcoming feeling about it."
Veep, which has won a Peabody Award and countless Emmys, filmed on location in Baltimore for four years, with Charm City often masking for Washington, D.C. The cast and crew stayed in town at the Homewood Suites and the Ritz Carlton in the Inner Harbor, in what Clackum says was a "dorm room atmosphere."
They had a group text to make plans: go out to eat, see a movie at Landmark Theatres. The cast and crew would visit and discuss their trips to the American Visionary Art Museum and get together at Woodberry Kitchen for festive dinners. Tony Hale, who plays Gary Walsh on the show, told us on two separate occasions that he was "crazy about Baltimore," and that he loved shopping in Hampden and eating at Thames Street Oyster House, another Veep favorite.
Clackum says that he, Hale, and Timothy Simons, who plays Jonah Ryan on the show, loved going to Golden West Cafe in Hampden—"we've eaten there at least 100 times." He says that he found the city extremely walkable, and that this lended itself to humanizing conversations about the challenges and processes people on all sides of production faced. "There was something about the incubating, gestating, familial properties of Baltimore that really forged and annealed these relationships," he says.
As for the production itself, Veep had its home base at soundstages in Columbia. The show would often film at spots around town like The Belvedere, The Wharf Rat, and Bond Street Social. Casting director Pat Moran, who, along with Allison Jones and Meredith Turner, won an Emmy for her work on the show in 2015, says that the crew included "the very best of Baltimore." As she tells it, the set was a communal and profusely creative atmosphere—one person's success was everyone's success. She recounts a phone call with Julia Louis-Dreyfus, congratulating her on her Emmy win.
Naturally, there is going to be excitement when stars like Louis-Dreyfus are staying in the city and being spotted at places like Whole Foods. But by all accounts, Baltimoreans were respectful of both the production and the actors' personal space.
"The thing about actors and Baltimore is that they feel very comfortable here," says Debbie Dorsey, director of the Baltimore Film Office. "They can move about without a lot of attention. Baltimoreans are very welcoming and they can go to the book festival and do different things around town without being like pointed at and gawked at."
It just so happened, too, that House of Cards filmed in Baltimore at the same time as Veep. The actors of the two shows would run into each other staying at the same hotels, and there were even joking talks now and again of a inter-show softball game.
As Veep reaches its end, it cements itself as one of the network's greatest comedies. It has the hardware to prove it, and Baltimore is a part of that legacy. "There are two kinds of shows in my business, and that's a good one and a bad one," Moran says. "[Veep] was a good one."
During one of Veep's early seasons, rock group Band of Horses made a cameo on the show. Clackum is friends with lead singer Ben Bridwell, and when the show wrapped for the day, he decided to show them around the city he had grown so fond of, taking them to since-closed Fells Point bar Bad Decisions. After that, he says, for one member of the band, things get a little hazy: "The Band of Horses drummer—it was the most tequila he's ever consumed."