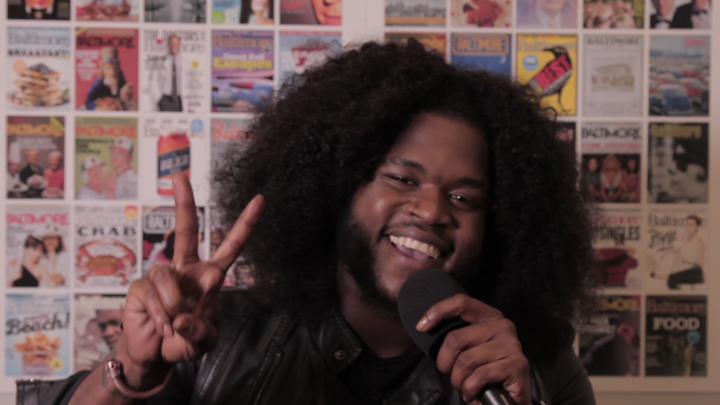 Jennifer Hudson threw her shoe at him. Adam Levine refused to sit down. Miley Cyrus's jaw dropped. And Blake Shelton said, "You deserve to win this show." All four judges were equally impressed with Baltimore native Davon Fleming's blind audition for season 13 of NBC's The Voice. Singing his rendition of Amy Winehouse's "Me and Mr. Jones," Fleming wowed the audience and coaches, receiving the coveted four-chair turn.
"You're praying that they turn around," Fleming told Baltimore. "When they do, you can't get excited and stop singing—so I just smiled really big and kept going."
Each coach was given a turn to plead for him to join their team, but after singing a Whitney Houston song with Hudson, there was no doubt in Fleming's mind that she would be his coach. Since then—under JHud Productions—he's won his battle round and, most recently, the knockout round. Next he will compete in the playoff rounds which air on November 13. Should he make it through, he will perform on the live shows that begin November 20. 
On Fleming's recent visit to the Baltimore magazine, we learned so much about him—he has a twin brother (Tavon), he wasn't accepted to attend the Baltimore School for the Arts (gasp), and he wants to be the male Whitney Houston. (The magazine's staff was also lucky enough to witness an intimate performance of his right in our lobby.)
Back in Los Angeles, Fleming has had plenty of memorable moments, namely meeting Hudson's musical advisor, singer Kelly Rowland. Fleming's reaction to seeing Rowland was a mix of shock and raw emotion, crashing into the door as he caught a glimpse of her.
"We didn't know about Kelly—they don't tell us who the advisors are," he said. "Kelly was so sweet. It's so cool to see that the people you grew up listening to are actually like that in real life. I couldn't help but cry—it was humbling."
Aside from meeting new people, making life-long friends, and working with some of the most successful artists in the world, Fleming has grown as an artist since being on the show. He's more assured than ever of his true purpose in life.
"Win or lose, I've already exceeded my expectations," he said. "My goal isn't to win, it's to just be a light and inspiration in my community—to let people all over know that you don't have to be a product of your environment."
Having grown up in Park Heights, with a background rooted firmly in the Bethel Temple Church of Christ on Rogers Avenue, Fleming took a chance when he chose to perform a rendition of MercyMe's "I Can Only Imagine." The advice he received from guest advisor, singer Kelly Clarkson, helped him to win the round and stay true to his beliefs at the same time.
"I knew it was risky doing a gospel song, but I wanted to show my faith," he said about his performance. "She told me that I'm the 'vessel for my message.' I started in the church, and I want to be able to cross over and still bring Christ to them."
Since the episode of his blind audition aired, Fleming has returned home but will be traveling back to California for the live shows this week. His life has been forever changed since being on the show—including pure pandemonium on a routine visit to Mondawmin Mall—but he wouldn't change it for the world.
"I love the love," he said. "I will never turn down a picture, or an autograph because I'm always going to be that little kid from Park Heights that wanted to sing."