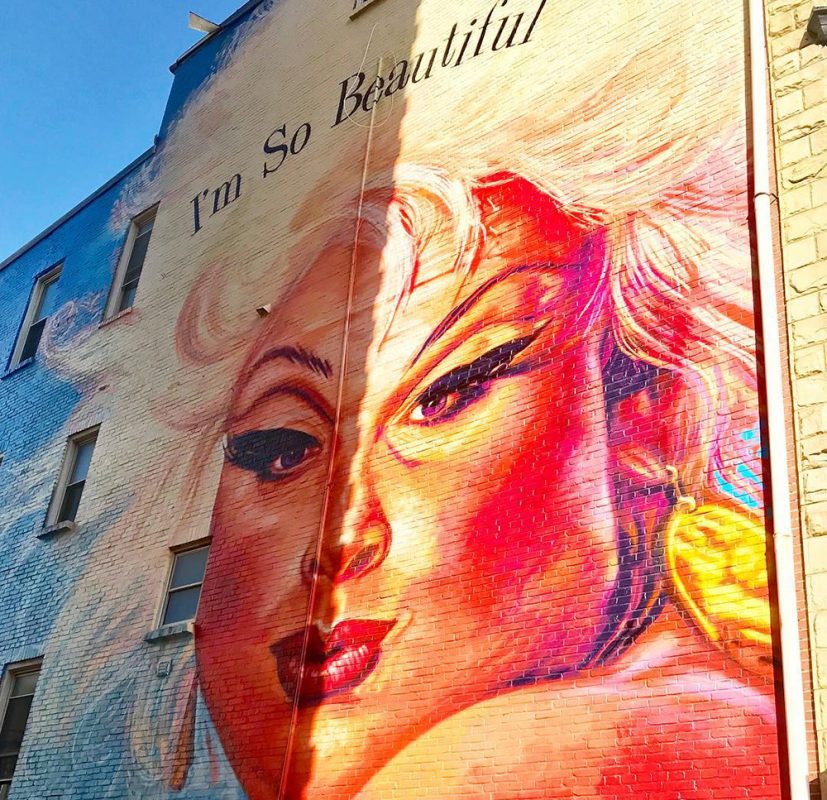 Baltimore City Murals
Editor's Note: This story was updated to reflect the results of the November 13 Commission for Historical and Architectural Preservation hearing.
Jesse Salazar and Tom Williams approached acclaimed street artist Gaia about a year ago to ask if he would be interested in painting the side of their Mount Vernon rowhome. But the couple couldn't have planned a better week to finally get their three-story portrait of Baltimore-bred drag icon Divine.
An unplanned break freed up Gaia's schedule this month, and he called Salazar and Williams to see if they wanted to pull the trigger on the ambitious private commission before he headed off to the Netherlands on October 24. They did.
The stars seemed to have aligned. The project began October 15 and, four days later, the day Divine (born Harris Glenn Milstead) would have been 73 years old, Gaia was painting. Just two miles straight north, a John Waters retrospective graces one of the Baltimore Museum of Art's special exhibition galleries.
"The timing is perfect and it's strange," Gaia says. "It's sort of surreal that there isn't already a monument to her in the city."
The image chosen for the mural is from the cover of Divine's 1984 single, "I'm So Beautiful," and photographer Greg Gorman's graphic style fit right in with Gaia's aesthetic. But Salazar says the message is for those both familiar and unfamiliar with that particular track.
"We asked Gaia to create this mural as a tribute to Divine and the city's queer history," he says. "Our feeling was that, at a time when LGBT rights are being threatened, we hoped that beauty would inspire others to know that they, too, are beautiful, and the message that she's sending to Baltimore I think is timely and important. For those who know Divine, it's a celebration of her strength. And for those who don't know her, I loved the image of this bold woman saying 'I am beautiful.'"
The piece feels even more timely in the wake of this week's news that the Trump administration is considering defining gender in a way that would threaten the rights of transgender and gender nonconforming people across the country.
As members of the LGBTQ community and its allies proclaim "we will not be erased," this image has emerged in one of Baltimore's historic "gayborhoods" to celebrate queer history, identity, and acceptance.
While Salazar says support for the mural in the neighborhood has been strong, the work has run into some trouble with the city. During the final day of painting, Gaia was approached by a city inspector who said there had been complaints about the mural. The piece was never authorized by the Commission for Historical and Architectural Preservation, which head of CHAP Eric Holcomb says must approve all exterior changes in local historic districts. Salazar is now working with the city to submit an application to keep the mural in place.
"There's probably no other person you could paint and have it be this important, that I can think of, for that location," Gaia says. "Whether or not the city wants to fight a monument that should exist is like, just don't. The kind of compliments I've been getting, you can tell it's really touching people."
As it stands, the mural on East Preston Street is the only such work dedicated to Divine in the city. (Though there are constant unofficial tributes to Milstead at his gravesite in Towson.) Previous public efforts to create a monument made it through the bureaucratic hurdles only to be derailed by a lack of funding. As news of the mural has spread, support has poured in from Divine's fans and public art supporters from Baltimore and beyond.
The image was shared multiple times by the official Divine Instagram account, and John Waters visited to pose with the mural Tuesday afternoon. Noah Brodie, CEO of Divine's estate, sent a letter to CHAP in support of the new piece. In it he says, "It's an inspiring message for counter-culture types, the LGBTQ community, and those affirming body positive representation. In many ways, she represents the strength of Baltimore's character, and serves as a reminder of the city's perseverance and authenticity. Divine is brassy, bold, and beautiful; just like Baltimore."
The statement was echoed by Christian Larsen, associate curator of modern and contemporary art at The Met in his own letter of support. "The message your city sends of diversity, difference, acceptance and even celebration of one of your most daring and bold personalities is exactly what these dark times call for," he wrote. "We are every day more at risk of falling prey to fear, prejudice, and discrimination against any and all communities that don't conform to an increasingly narrow definition of normal. Baltimore is anything but normal. It dares to be different. Out of respect for all your citizens, please keep it that way."
On November 13, CHAP met for its monthly hearing. Last on the agenda was a request from Salazar for retroactive approval of the "I'm So Beautiful" mural. In addition to the multiple letters of support and 4,200-plus Change.org petition signatures Salazar provided as evidence for why the mural should stay, Holcomb had requested two questions be answered in Salazar's testimony: First, whether the mural could cause damage to the existing masonry, and second, whether the mural would detract from the historic Mt. Vernon streetscape.
Testimony from Sherwin-Williams scientists was read, and community members came out both in support of and in opposition to the mural. A statement from John Waters was presented by an assistant. It read, in part: "I'm kind of mystified as to the controversy and hope today's hearing is merely a technicality…I had read in the press that the neighborhood association is concerned that this well-intentioned mural would overwhelm the historic character of the neighborhood. It seems to me that the negative national news about the crime rate in Baltimore is much more apt to overwhelm our streets than Divine, and I know it's a crazy world out there, but like it or not, Divine is historical now, and I think most of Mount Vernon is proud of Divine's history here. What better development in neighborhood crime watch than Divine? Looking down beautifully over the passers by on Preston Street and keeping them safe."
The committee found itself in a catch-22 of sorts in deciding whether the mural should stay or go. On one hand it was in violation of a rule stating that historic unpainted masonry should not be painted over. On the other, a second rule states that well-adhered paint should not be removed from historic walls to avoid the risk of damage to the structure. While the mural probably would not have been approved had it been brought in front of CHAP to begin with (a situation Salazar acknowledged and apologized for in his testimony), its existence on the wall means that CHAP would now have to break another rule to take it down.
While that may seem like a major loophole, city residents shouldn't get any bright ideas about painting their own tributes on their historic homes. Salazar testified that he did not realize that works of art were in the same category as painting the exterior of a home only to change its color, and during the course of deliberation, Commissioner Larry Gibson presented the plan that would end the nearly hour-long discussion of what to do about Divine's vivid visage.
"I think we should keep the mural, but for none of the reasons that I've heard up until now," said Gibson. "I think the fundamental reason is, and this is a one-time thing, I accept the owner's statement that they did not know—that somehow our rules with respect for murals are ambiguous or uncertain. There's some distinction between just painting and changing color and an artistic work of art. But going forward, there should no longer be that ambiguity."
Those looking to put up enormous works of art in their neighborhoods won't get as lucky as Salazar and Williams have, it seems. "The press is here. Nobody in the future can tell us they didn't know," Gibson said, eliciting laughs from both the commission and those gathered to testify. "This is a one off."
After several testimonies, much deliberation, and a few moments of confusion during the vote, the retroactive approval of the "I'm So Beautiful" mural on East Preston Street was unanimously passed, to applause and a couple of whoops from the crowd.
For the next couple of decades, at least until the paint begins to fade ("a topic for future commissions," quipped CHAP chair Thomas Liebel), Divine's arched eyebrows will continue to peek out from the alleyway overlooking a pair of dumpsters. It would be an odd location for nearly anyone else, but for the Queen of Filth, it feels just right.