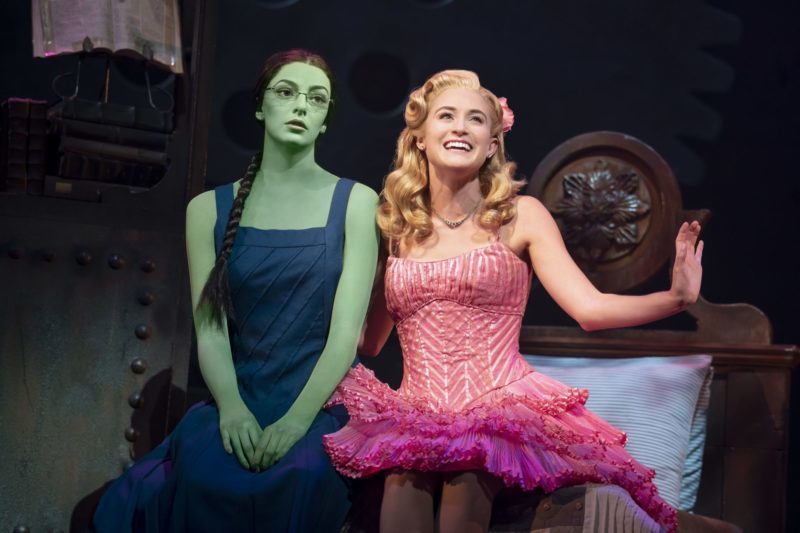 Wicked, the musical tale from Oz that L. Frank Baum didn't tell, returns to the Hippodrome this week, and with it a colorful, magical cast of characters. At its center are two good friends—two best friends—the verdant Elphaba, destined to become the Wicked Witch of the West, and Glinda, the popular girl with a bubblegum personality who would eventually float down in her bubble to guide Dorothy to the Emerald City.
Before that bubble descends on Eutaw Street for the show's month-long run, we caught up with Glinda actress Allison Bailey to chat about why people still want to travel to Oz and what it's like to have a dream come true.
You've been on tour with Wicked for quite a while now. How has it been?
I have! I understudied [as Glinda] for over three years, and I was only home for like six weeks and then got the call that I was coming back to lead the tour. So I've been leading the tour for about five months now. We're definitely in the middle of our run, and we're so excited.
What are you looking forward to as you bring the show to Baltimore?
I'm really excited to see the little local things that make Baltimore tick. I'm hoping to visit the aquarium and the little coffee shops, and I have heard the crabs are very good. I'm very excited about that. I'm just so excited just to come to Baltimore. It's a dream, and I've never been, so I'm just looking forward to being able to be there for a month.
Having understudied as her for so long and now leading the tour as Glinda, can you tell us a little about what it's like to get to share this character with so many different audiences?
I mean, honestly, it's a dream. The role is so iconic. I've dreamed about playing this role since the musical came out when I was 12 years old and I saw it at the Gershwin Theatre in New York City. It's nothing short of a dream, just because I think this is a character that so many little girls look up to. It's an honor to be able to play that every night.
Glinda really goes through such a journey in the two and a half hours that we see her. She goes from being such a shallow, surface-level college girl, and then we see the hard lessons that are learned throughout. And I think she has such a strong character arch that makes it so interesting to play every night eight times a week. It's funny, because we see the Wicked Witch, and we see that she's perceived differently than how we really see her in the movie. And so they almost discount Glinda because it seems like she has such a happy facade. But when we see her throughout the show, she really goes through so many different changes.
Do you have a favorite number in the show?
I love "Popular." I love my pink fluffy dress, and it's the first time that you see the friendship between the two girls and really see them bond. You hear an audience reaction every single night, and it changes from night to night. It just makes it so much fun.
Why do you think this show persists and continues to be so popular?
I think it has so many messages that resonate with the age group from 8 to 80. I think people find themselves in the characters and identify with them on stage. We see bullying and not judging a book by its cover, and I think everybody can find themselves in one part of the story.
There's so much heart to it. There's so much spectacle with magic and flying and the bubble, but there's so much heart at its core. I really can't wait to bring that joy to every single person who comes to see the show.