Zora's Den Creates a Hub for Black Female Writers
The writers' group is aimed at cultivating and celebrating "Black sisterhood" in Baltimore and beyond.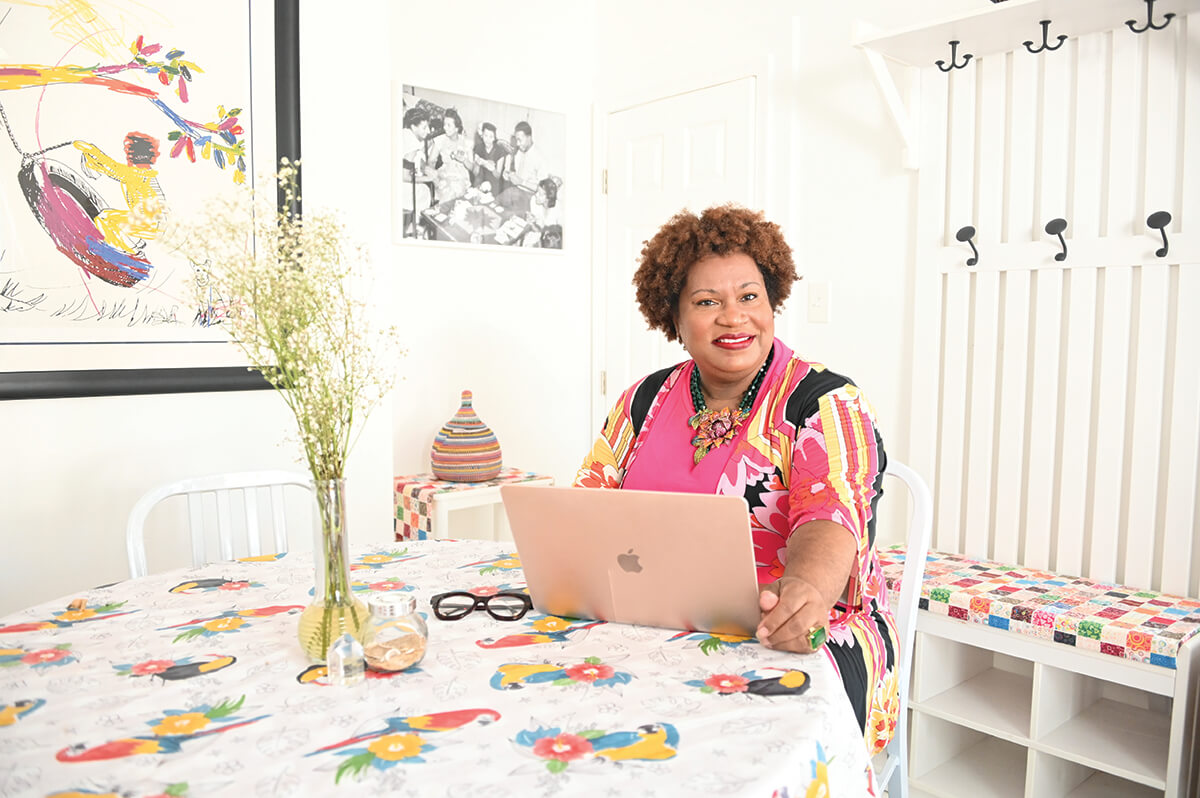 Victioria Adams-Kennedy labels herself a late bloomer. The Baltimore native hails from an artistic family—her brother is renowned visual artist Derrick Adams and her son is True Laurels founder Lawrence Burney—and in her twenties, she left a journalism career path at Towson University to pursue singing in a local reggae band. The pursuit of writing was left on the back burner.
Now 58, Adams-Kennedy, pictured, has returned to the written word, having recently earned a graduate degree in creative writing and publishing arts from the University of Baltimore, where she "fell in love" with works by Nobel Prize-winning novelist Toni Morrison.
"I also fell in love with the idea of a sisterhood of other Black women who were writers and looking for a sense of community, like those that I learned about in undergrad," she says, referring to activist groups like the Black Arts Movement. "Their work was reflective of the times they were in. I wanted something like that."
So, after graduation, Adams-Kennedy founded Zora's Den and enlisted local writers like Clynthia Burton Graham and Melissa Brooks-Cuffee. As its name suggests, the writers' group is inspired by belletrists like Their Eyes Were Watching God author Zora Neale Hurston and aimed at cultivating and celebrating "Black sisterhood" in Baltimore—and beyond.
"As a Black woman and writer, your stories might be different because your experiences are different," says Adams-Kennedy, noting the common experience of Black writers having to defend slang and other culture-informed content in their work to non-Black writers. "Zora's Den is a safe place for that—for you to be true to those things without having to feel like you're too different for somebody else to accept or understand."
Each month members of all ages meet for readings at the Eubie Blake Cultural Center on Howard Street. The group has also published collections of poems and stories, with a second volume of The Fire Inside available in paperback and e-book. Online, Adams-Kennedy leads writing sessions, offers story prompts, and provides virtual followers from all over with chances to share triumphs and rejections, even in the wee hours.
"When I write my 'goodnight' post, which could be anywhere from midnight to 3:30 a.m., I usually add an image of a lit lantern—just to [let the members know] 'you're not by yourself, somebody might be burning the midnight oil with you,'" says Adams-Kennedy. "Members will tell me that they look out for that lantern every night. It reminds them that Zora's Den is there."