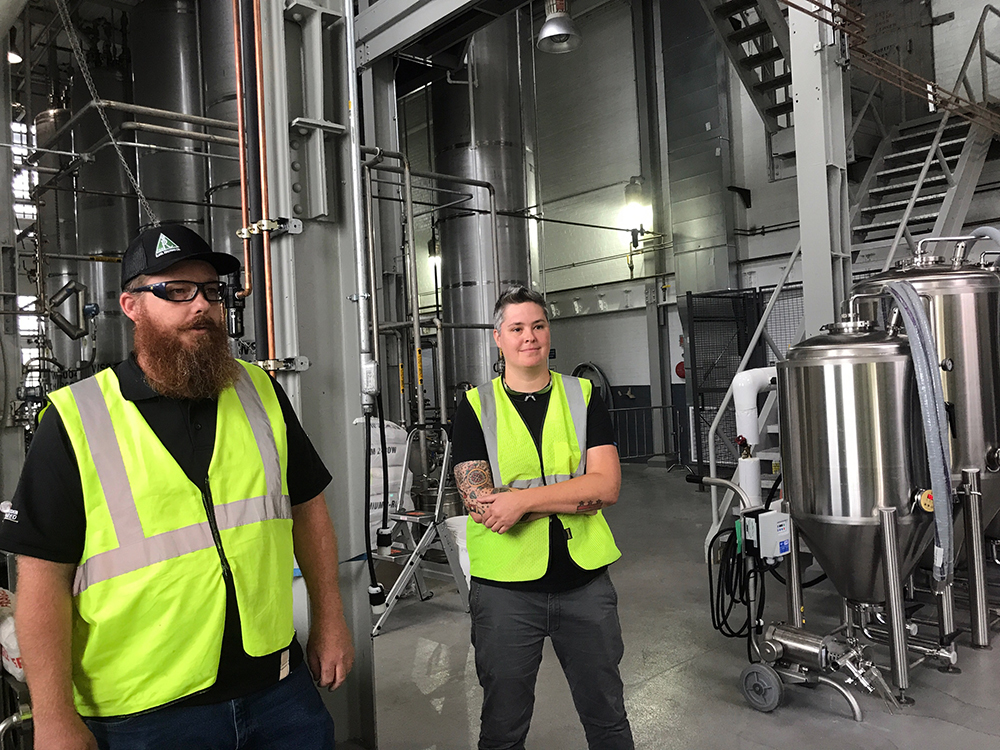 Jess Mayhugh
The misting rain and overcast skies felt a little more Dublin than Baltimore on Wednesday morning, which was fitting as local media gathered to get a first look of the new Guinness Open Gate Brewery & Barrel House. Located at the Diageo headquarters in between Halethorpe and Relay, the site will be the first Guinness brewery on U.S. soil in 60 years.
While the entire operation won't be complete until spring 2018, head of Open Gate Brewery Andrew Beebe announced that a test taproom will be open to the public in late October to give guests an idea of what the brewery is making on its two-barrel pilot system.
"This is an incredible project two years in the making and it's now really starting to take off," he said. "The test taproom will be a great way to say hello and give the community a first taste of our beer."
Guinness has already hired two brewers, Peter Wiens of Stone Brewing in San Diego and Hollie Stephenson from Highland Brewery in Asheville. The duo is anxious to start brewing on the pilot system in the next couple of days to make their twist on the Guinness Blonde Ale, as well as an American-style IPA, and a sweet porter.
"The first beer I bought when I turned 21 was a Guinness," said Wiens. "And when I first met my wife, I told her one of the things I always wanted to do was work for Guinness. So this has been a dream 20 years in the making for me."
The brewers said that they are looking forward to joining the growing beer community in Baltimore and already confirmed plans to make a collaboration beer with Heavy Seas, which is less than two miles down the road.
"I actually lived in the D.C. area seven years ago and that was before the Baltimore beer scene blew up," Stephenson said. "Coming back and seeing this vibrant brewery community has been really exciting. I have been hitting up all the local spots and everyone has been super welcoming."
The test taproom, which will offer flights and pints to visiting patrons, is just the very first step in the large-scale Open Gate Brewery. Plans for the project also include a 22,000-square-foot customer experience center, where guests can see the brewing process, experience tours and tastings, shop in a retail space, and even dine in a full-scale restaurant featuring upscale pub food.
"Guests will be able to see what we're making in our 10-hectoliter system, as well as what we're barrel aging," Beebe said. "And on the third floor will be our restaurant. When you think about Guinness history, you think seafood, crabs, and oysters—so Maryland is the perfect place."
Additional brewery elements will include a building with a 100-hectoliter system, which will initially pump out Blonde Ale, and a high-speed packaging line. There will also be a massive grass field (in the shape of a Guinness pint glass, no less) where outdoor events and concerts will take place.
The entire $50-million construction project, which is set to open in late spring 2018, will provide 70 manufacturing and hospitality jobs in the community. The team has already been meeting with local neighborhood associations in Relay and Arbutus, who have been excited about job creation and economic impact, though have shared a few grumbles about traffic.
"People have been incredibly positive so far," said site director Erin Lauer. "They had a lot of questions about jobs since this has been a site of industry since 1933. They are excited that it's going to remain a place for manufacturing."
Though Guinness is a massive international brand with a presence in nearly 50 countries, the brewery is anxious to have a hyper-local approach—already planning events at the Maryland Zoo in Baltimore and a possible pairing dinner at Dylan's Oyster Cellar.
"I am a Baltimore native and couldn't be more excited to have this project in my backyard," says Guinness brewery ambassador Ryan Wagner (who also happens to be the Orioles announcer at Camden Yards). "It's my job to get out in the community and introduce us to the neighbors. I'm really excited to add an American chapter to a book that's 250 years old."